Are you searching for some easy to prepare breakfast recipes that your kids will simply adore? You are on the right place, because the following five recipes from the gallery below will help you to prepare the most delicious kids breakfast in less than ten minutes, and believe us, your kids will pleasantly give you the "master chef" title. Scroll down the page to see how you can make your kids dream of breakfast.
1.Kielbasa, Potato, and Onion Scramble
You need 8 large eggs, kosher salt, Pepper, 3 tbsp. olive oil, 8 oz. Yukon gold potatoes, 1 small onion, 6 oz. kielbasa, 2 oz. pepper Jack cheese, 1/2 c. chopped fresh flat-leaf parsley. In a large bowl, whisk together the eggs, a little water and salt and pepper. Put oil in a pan. Add the potatoes and cook for about 8 minutes. Add the onion and sausage. Once they are fried, set them aside. Then add the egg mixture and fry. Mix in the previously prepared mixture.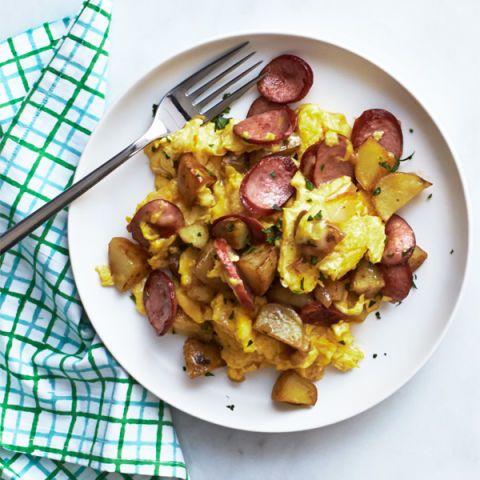 source
2.Bacon and Eggs
To prepare this recipe you need 9 large eggs, 1/2 lb. bacon, 1 tomato, 2 green onions (scallions), 1 c. diced cremini mushrooms, 1 c. chopped arugula, 1 tbsp. fresh thyme. Heat the oven. In a bowl, whisk the eggs, add the bacon, green onions, tomatoes, mushrooms, thyme. Divide the resulting mixture into muffin tins. Bake for about 20 minutes.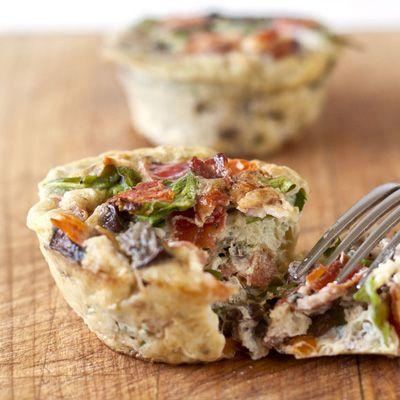 source
3. Caprese Avocado Toast
Ingredients needed for preparation of these toasts  are 1 avocado, 1/2 Juice of 1/2 lemon, Kosher salt, Freshly ground black pepper, 2 thick slices sourdough, toasted, 1/2 c. halved cherry tomatoes, 1 c. mozzarella balls (such as Ciliegine), Flaky sea salt, 2 freshly sliced basil leaves, Balsamic glaze, for drizzling. Make avocado porridge in a bowl. Season with salt and pepper. Apply the avocado mixture on a piece of bread. Garnish with tomatoes and mozzarella.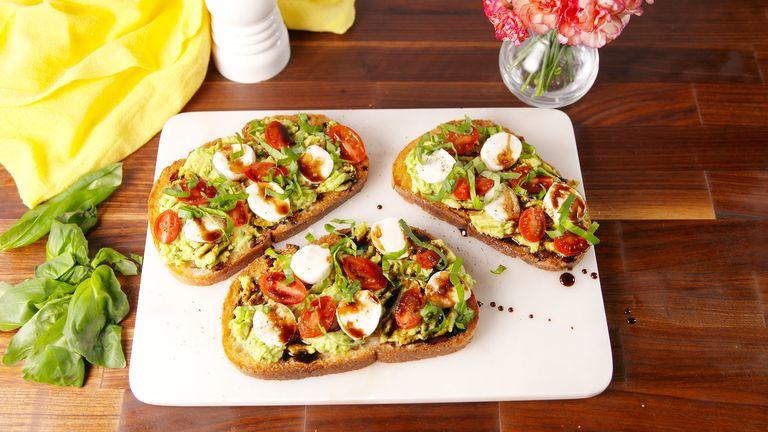 source
4. Egg Sandwich
Take 2 large eggs, 1 tbsp. finely chopped dill, 1 tbsp. finely chopped chives, kosher salt, black pepper, 2 English muffins, toasted, 2 Cheddar slices, 1 tomato plum, sliced. Fry the eggs. Put the egg yolks, tomatoes and cheese in a sandwich bread.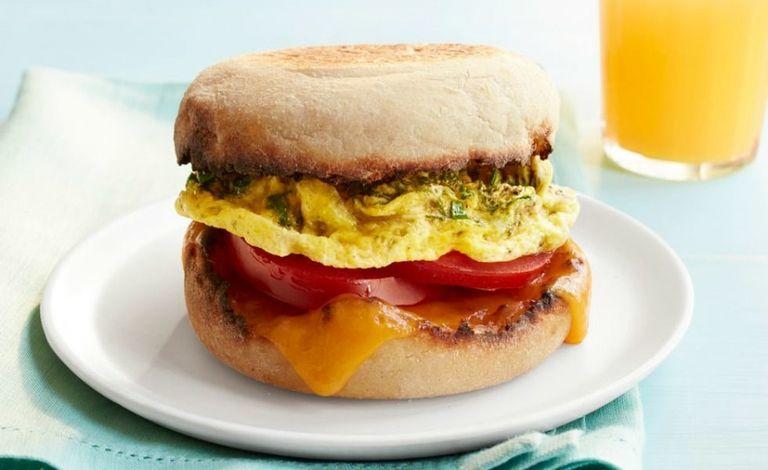 source
5. Pizza Toast
You need 4 slices of bread, 8 tbsp marinara sauce, 4 slices of mozzarella cheese, 16 pieces of pepperoni, 10 grape tomatoes sliced, 1 fresh basil leaf chopped, 1 tsp olive oil for drizzling. Put a piece of bread in a baking dish. Then put cheese on each piece. Season with spices of your choice. Bake for about 2-3 minutes, i.e until the cheese is melted.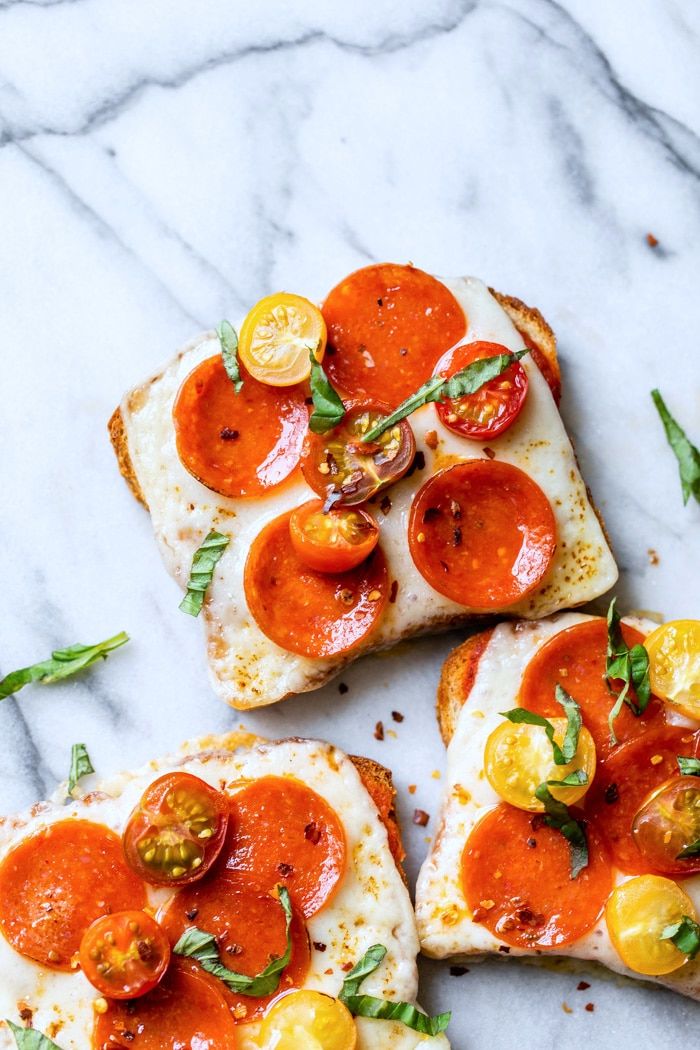 source