If you're planning a party, you're probably looking for something to help guarantee a good time for everyone, something memorable that people will love. Dancing and planned activities can only go so far, after all.A Photo snap photo booth might be your perfect answer.
Why a photobooth?
One of the best features of hiring a photo booth is that it not only takes photos at your event but it's also a form of entertainment in of itself. Everyone loves to pose in front of the photo booth camera and ham it up! The most fun personalities come out on display and there will definitely be no boring photos.The photo booth becomes a super fun part of the event that no one can resist!
People will love posing in different groupings and configurations, and the possibilities are endless. No one will want to miss being part of the fun.And with our custom options and add-ons, your photo booth can be a completely unique part of your event.
Options for our photo booths include custom backdrops, and a prop box, to add even more crazy fun. No one can resist silly props, after all.
Everyone can watch the photobooth fun!
You can even have video messages and an external monitor to show what's happening in the booth. The photo booth doesn't have to be an isolated, bulky, separate part of the party in a corner -it can take centre stage! Everyone will love trying to top each other with even more goofy antics, and there will be photo evidence of all the fun to enjoy long after.And no one needs to be left out because everyone can participate. The photo booth will be the hit of the party!
All of our Photosnapphoto booth packages include a minimum of four hours of fun, an onsite attendant to make sure everything goes smoothly, a backdrop, and all images from the event on a USB drive. We offer open and enclosed photo booths and our premium booths can fit up to 15 people in a shot! Unlimited sessions during the event are included. The prints can even include your event name and details.
If your event has a specific theme, the Photosnapphoto booth can even be fully customised to fit – everything from the screens, the exterior, the backdrops, the photo strips, all can be customised.Be creative!
With several packages and optional extras, there's bound to be a photo booth package to fit your event needs. You can even add on more time for more fun. If you need less time, just contact us.
How to get a photobooth for your party
And getting the photo booth is easy – just contact us to book one. Delivery and pick up are included in all packages. The photo booths are extremely portable and stairs are no problem for getting in and out.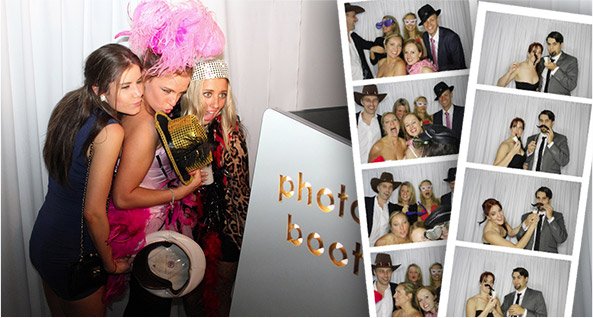 Book your Photosnap photo booth, choose your options, and everything else is taken care of. What's easier than that?And if you have already hired a photographer for the event, no worries-having the photo booth frees your photographer from static group shots to concentrate on other types of photos that need more expertise.
Meanwhile, your party attendees will be having an awesome time taking their own crazy, goofy, funny pictures of themselves and creating memories that will last forever.
A photo booth is an easy, fun and memorable addition to help your party be as awesome as it can be. And Photosnap's photo booths can be as fun, creative or crazy as you want at your next event. Contact us to book your photo booth today!