There's nothing quite like the excitement you feel at the beginning of a big road trip. The car is packed. You have snacks and drinks on hand for the drive and a brand new road atlas, just in case you run into issues with your GPS. You and family are ready for whatever adventures might come your way.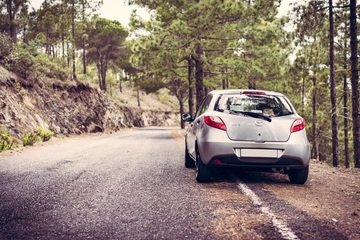 Unsurprisingly, old-fashioned road trips are the most popular type of vacation American families take. In fact, according to Travel Agent Central, nearly 80 percent of the families who took a vacation in 2016 opted to for a road trip versus another type of vacation. Road trips are affordable, and driving gives families the freedom to stop when and where they like, for as long as they like. In this age of rising airline baggage fees, driving also allows families the choice to pack more of what they need and pick up souvenirs along the way.
See below for some helpful tips you can use to plan your next big family road trip.
Consider Renting a Trailer or RV
If you'll be on the road for a week or longer, you might want to consider renting a trailer of RV if you don't already own one. The advantages of using a trailer or RV for your road trip are many, especially if you have young children who become restless after several hours in the car. Using an RV or trailer will allow you to stay at family-friendly campgrounds along your driving route, which can help save you money on accommodations. You'll also be able to buy your own groceries and make many of your own meals. This is another big money saver, as eating in restaurants can often use up more than half of a family's vacation budget. Making your own food can also give your family more healthy meal options than eating out.
If you do decide to rent an RV or trailer, make sure to rent from a reputable dealer. If you are lucky enough to have your own and don't need to rent one, make sure you have the proper insurance, roadside assistance coverage and a warranty for your trailer or RV in case something goes wrong on the road.
Plan Which Attractions You're Going to Stop at in Advance
Part of the fun of taking a family road trip is the planning. Once you decide on a destination for your vacation, do some research to find out what attractions might be along your route. Maybe there's a museum you've always wanted to visit, or a great theme park where you can let the kids blow off some steam. Don't forget to include natural attractions like waterfalls, mountains and lakes in your plans, too.
Planning what you'd like to see in advance will help give your road trip some structure, as well as give everyone experiences to look forward to. Remember, though, that part of the fun of taking a road trip is experiencing the unexpected. Planning ahead doesn't mean that you can't also make spontaneous stops along the way.
Know Where You'll be Staying Along Your Driving Route
Whether you'll be camping, staying at hotels or in rental homes, it's a good idea to make reservations for your accommodations in advance. There's nothing worse than arriving at a hotel or campground expecting to relax after a long day of driving only to find out that there are no vacancies.
Do Your Homework
It's always a good idea to learn a little bit about the destinations you'll be visiting before you arrive because doing so can help you get more out of your vacation. If you'll be visiting a national park, for example, you might want to look up what types of animals live there or find out about popular hiking trails or scenic drives that your family might enjoy. If you're visiting a city, find out what the most popular attractions are and try to get tickets in advance. You might even consider booking activities like tours online ahead of time so you'll be guaranteed to get the days and times you want.
Have a Plan in Case Something Goes Wrong
No one wants to think about getting hurt or sick on vacation, but these things sometimes happen. Make sure you pack a first-aid kit that includes things like cold medicine, bandages, and an over the counter pain reliever. If you will be traveling out of state or to another country, you should also call your health insurance company before you leave to make sure that you will be covered in the event that someone in your family needs to go to the doctor.