Apart from the first look with her better half, a bride looks forward to something really important on her wedding day – wearing the dream wedding dress. Some brides may want to go with the traditional ball gown wedding dresses while others would want to find sexy wedding dresses with sheer fabrics and plunging necklines. However, there are some considerations when putting on a stylish look at the wedding.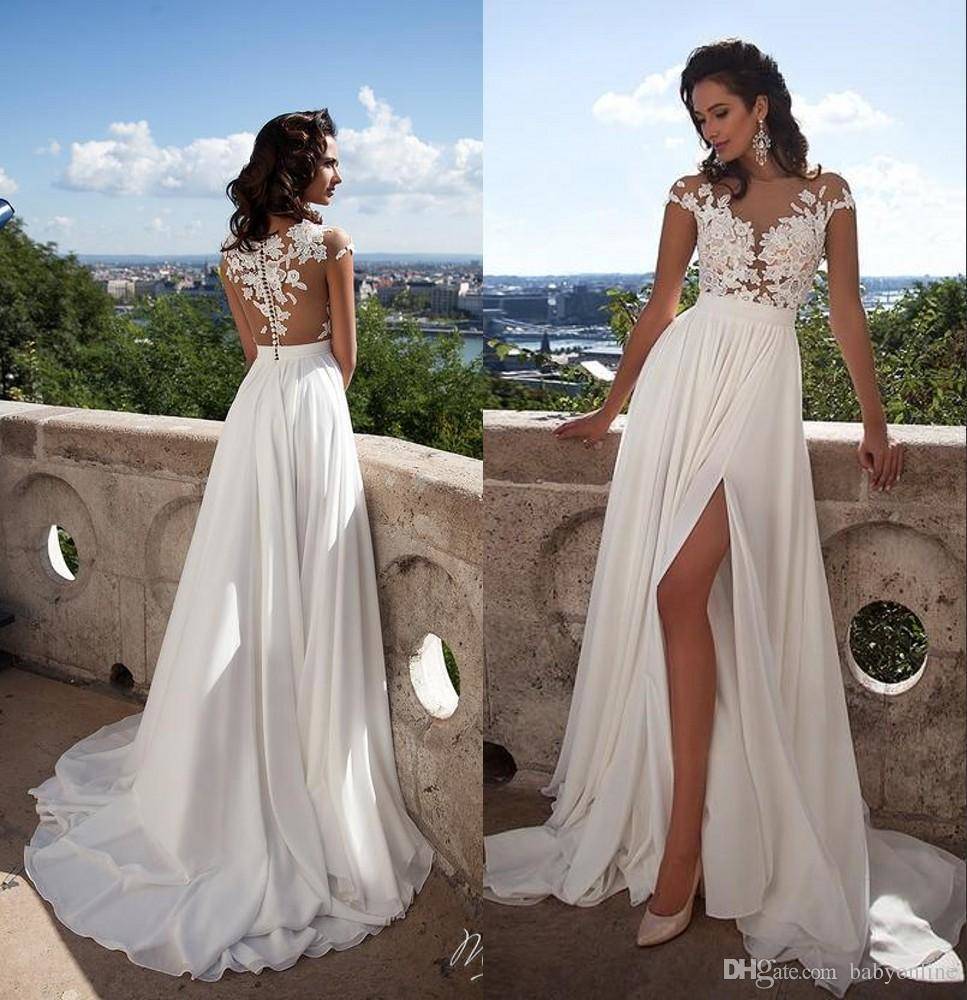 source
Every bride would want to look stylish, beautiful and sensual. These days, no bride would like to be covered from top to toe in her dress. Every girl would wish she looks sexy and elegant and catch a lot of attention. Your wedding dress is what decides your look. Here, we have outlined few tips that help you choose the right wedding dress. Read on to find out how you can look stylish and sexy on your big day.
Do Your Research
Ensure that you have carried out sufficient research about your sexy wedding dress before proceeding to buy your attire. You can take help of magazines like Brides, Bridal Guide, Wedding Bells and others to find useful information about selecting wedding dresses. A good thing is that such magazines have websites and you can visit them to get all the details whenever you want. Make sure you have enough information before you start visiting bridal stores.
Budget
It is a thumb's rule that the bridal dress should cost 10% of the wedding budget. However, you should keep a check on your limits when you shop for sexy wedding dress for yourself.
Take A Subtle Risk
If you feel that a traditional wedding gown does not fit your style, you should consider going out of your comfort zone to try something different. Don't hesitate to take a risk and select a new silhouette that you have not tried before. A form-fitting gown that you have never expected to wear can sometimes prove to be the right one for you.
Focus on Your Favorite Feature
Find out which feature is the most important to you and let your sexy wedding dress highlight it. Let the detailing or cut on your dress hug your hips or back and keep the other parts of the dress comparatively simple. This way, you can accentuate your body features.
Make Sure the Dress Fits Properly
There is nothing worse than a wardrobe malfunction at a wedding. A small mishap can take all the charm away from the sexy dress. To avoid this, see that you ensure about the perfect fit at the final setting. When it is not possible to make any more alterations, make sure you improve the condition. A wardrobe tape can work like your savior on the wedding day.
Prioritize Comfort
Your bridal gown should not be a deal. A gorgeous wedding gown you always wanted to wear should not force you to compromise on your comfort. You should find a dress that is both comfortable and beautiful so that you can mingle, move and dance freely all the time on your big day.
Remember: Balance Is Key
Getting a sexy wedding dress that is sexy yet classy can give you the unique look you desire to have. You can consider balancing your look by paying attention to accessories, makeup and hair. In case your dress is too sexy, you should consider understated makeup and hair to balance your overall look and make it somewhat sophisticated.
Conclusion:
It is very important that every bride feels confident and special on her big day so it is necessary that you select a sexy wedding dress with the right proportion of all the features. Find the perfect one today with our help!