The size of your garden doesn't really matter when it comes to incorporating stepping stones and creating some interesting pathways. They will not only enhance its beauty but they will also define the areas where people are allowed to walk without destroying the whole grass. Stepping stones are great for the times when you have just watered the garden or it has rained, so it's all wet and muddy.
Whether you prefer a simplified design or a more complex one of a walkway, we have it all. These garden pathways with stepping stones will get your imagination going and will inspire you for your next DIY project. Now that spring is already here, you are bound to spend more time outdoors walking in your beautiful garden. Here are some of the advantages of stepping stones that will get you thinking about installing them in your garden as soon as possible.
Stepping stones can be really fun.
Kids definitely know how to have fun in every situation and every place, and these stepping stones which are in the shape of hopscotch will keep them entertained for a while. If you have kids or other kids come to visit you often, this is surely one of the designs that you should take into consideration. Painting them in different colors is a great idea as well if you want to make the area more playful.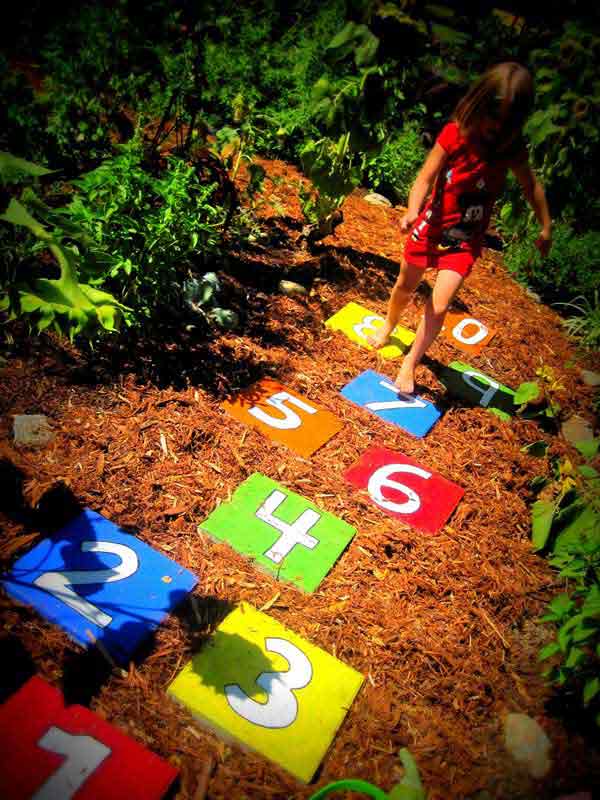 They are easy to install.
Some of the designs here look complex but in fact, almost everyone can do them on their own (or with little help). If you are not feeling very confident in your skills, then I advise you to choose an easier project. The design below is super easy to make, so you may give it a try. How do you like it?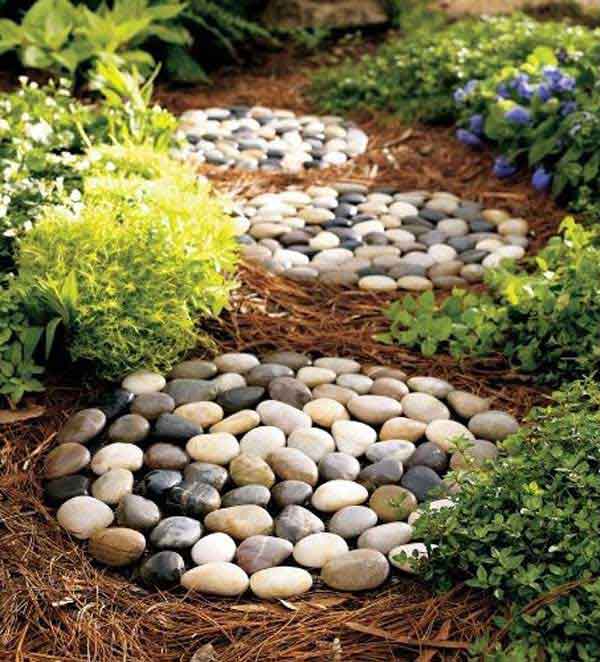 Stepping stones will make you creative.
There are so many ways in which you can create pathways in your garden. One of my favorite ones is by using pebbles and arranging them like a mosaic. Go outside and collect as many pebbles as you can, or just buy them if you don't want to bother. Then, take some time to relax while you create some wonderful designs which will amaze everyone.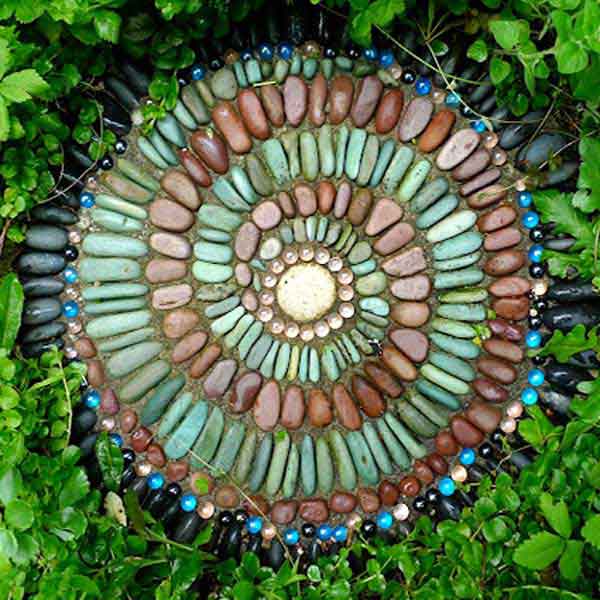 This is what I mean when I say that these DIY projects spark your creativity. Sometimes the things that you need to create the stepping stones are all around you. These gigantic leaves when paired with some concrete will give you outstanding garden pathways with stepping stones.

Stepping stones will dress up your garden.
Did you know that stepping stones can dress up your garden as just plants and flowers do? When a bare lawn gets interesting and defined walking zones, it immediately becomes more polished and beautiful. This is especially true if you use stones in different colors that will give the pathways texture. Don't you think that the pathways below are the focal points in the gardens? I strongly believe that they are!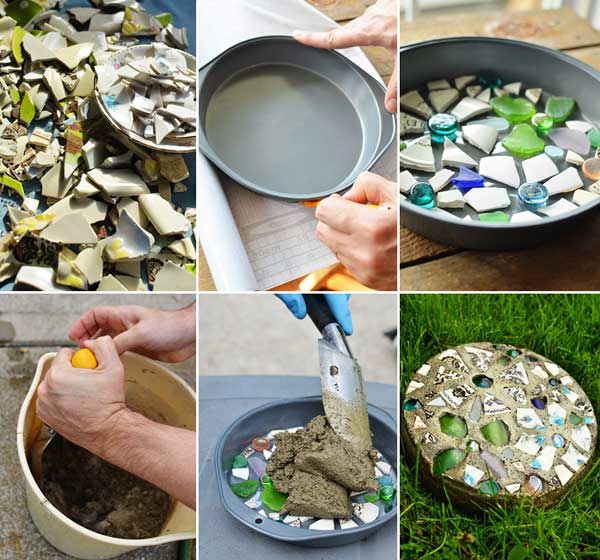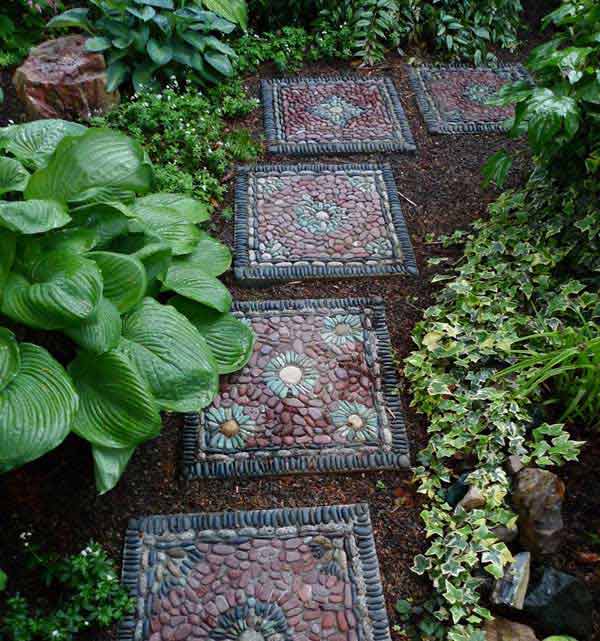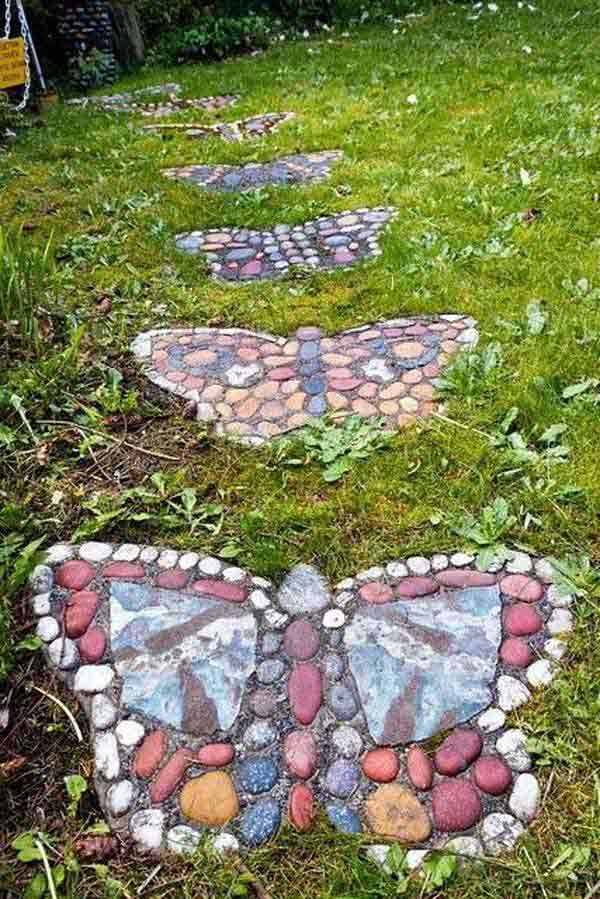 They have health benefits.
Yes, stepping stones have proved to have tons of health benefits. Walking barefeet on the uneven stones can stimulate your feets' relax points. In this way you will improve circulation and balance, improve digestion, reduce stress, physical pain and tension.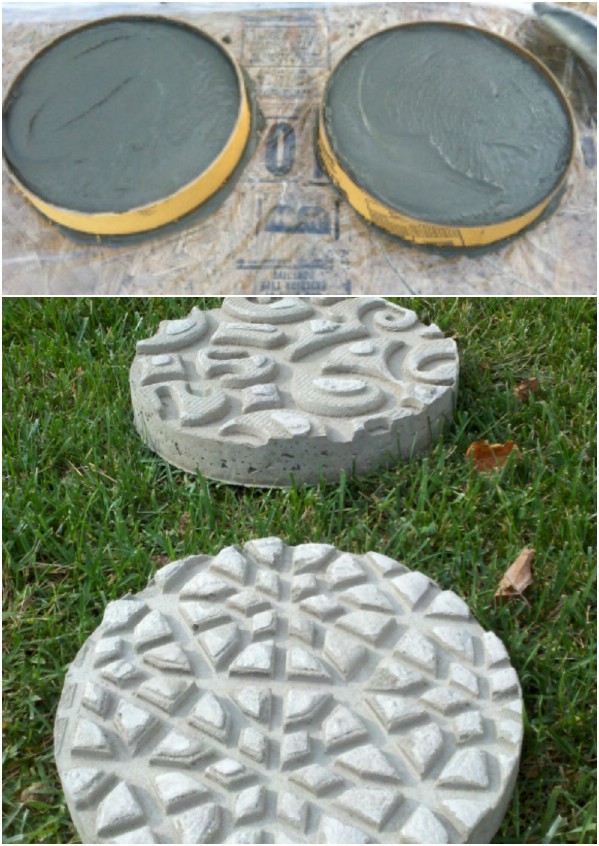 Stepping stones will make you want to recycle your old ceramic sets.
Whether you have broken lots of plates, bowl or cups, or you just don't like to use them anymore, save them for you next DIY project for your garden. These broken/unwanted ceramic pieces will fit perfectly well in the stepping stones. Plus, they will make them look so unique and eye-catching. 0.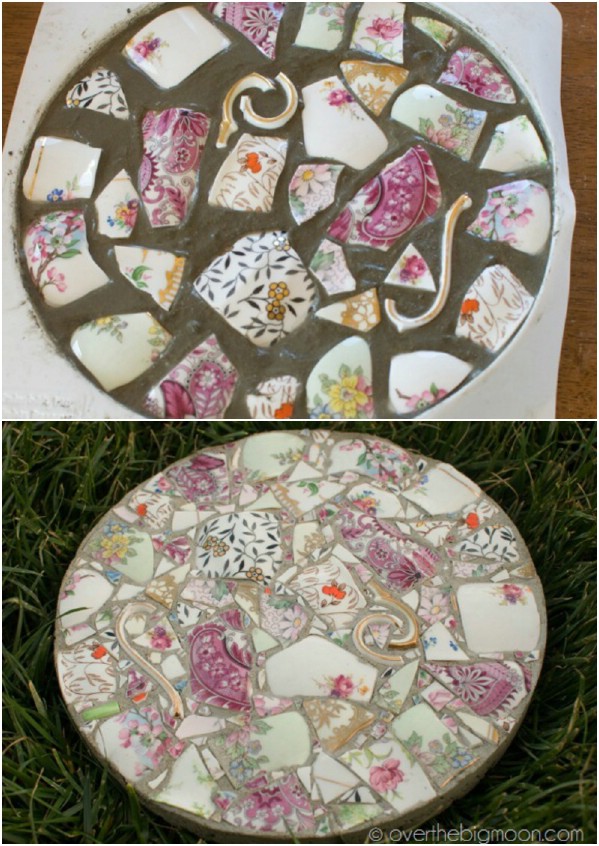 Stepping stones will guide you and will give you a sense of wonder and discovery.
The big and spacious gardens desperately need stones that will guide people to move in certain directions and discover the rest of the garden as they move forward. They naturally connect the different zones in the yard and give a completely different experience of the outdoor area. Choose some of the appealing designs here and turn your garden into an oasis.