The coronavirus outbreak has definiteky changed people's way of living and spending free time. Since the virus appeared firstly in Wuhan, China and continued to spread among the territory of the whole world, more and more people were advised to stay at home and social distancing from others. Because of the new living circumstances people had to change their everyday habits, and more and more people, even those that never entered in the kitchen before, started to spend more time in there, trying their cooking abilities. While America and New York has run out of flour and yeast because more and more people started to bake at home, in South Korea people used to popularized a new way of coffee making and in less than a month it become one of the biggest trends on social media around all the countries in the world.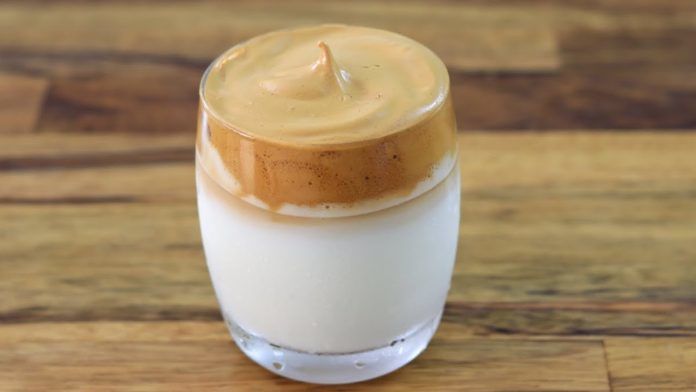 source
The so called Dalgona coffee that firstly originated from South Korea, is actually a coffee inspired by a spongy toffee. It is an easy to prepare four ingredients coffee that has broken all records on social medias, such as Instagram, Facebook and TikTok. Dalgona coffee firstly appeared on a Food YouTube channel, Kabita's kitchen, on which was shared the first originating recipe to prepare Dalgona coffee showing all the instructions to make the coffee. The video was firstly posted on March 31, and since then it has amassed over 1 milion viewers since then. Statistics show that since the first Dalgona coffee was presented on YouTube, more than 2.2 people have posted a picture including Dalgona Coffee hastag on Instagram.
The secret of the preparation of the famous Dalgona coffee is that you take spoonfuls of the whipped mixture and put it on top of milk, rather than pouring the milk on top and mixing it. A month later we can see the Dalgona coffee pictures and recipes posted over all the social media. if you haven't tried this coffee trend yet, we recommend you to try it immediately. We are sure you will enjoy its frothy texture.