The non-alcoholic summer drinks are our top picks for the summer season since you can drink plenty of them, refresh yourselves and not get drunk during the day. You can consume them pretty often and even at work. Kids can have them as well. Make them an option at your summer party for those who are not feeling like drinking alcohol. Everyone would love them!
Do you already have a favorite summer drink? The ones that I have got for you today will get you in the kitchen as soon as possible. Check the ingredients list and how to make them, and you will master them immediately. These cocktails don't require any special skills or tools, so I believe you won't find it hard to make them!
VIRGIN MOJITO
You can become your own non-alcoholic cocktail master with this easy-peasy recipe which requires minimal effort but provide maximal refreshment. For this virgin mojito, you will have to muddle together the mint leaves and the lime. Then combine it with simple syrup. Get the desired glass, fill it with ice cubes, and then add the mixture to the glass. Fill with sparkling water and give it a good stir. Garnish with a mint leaf and your drink is ready!
Ingredients:
1 sprig fresh mint leaves
1 tablespoon simple syrup (equal parts boiling water and sugar, cool before using)
1/2 lime, sliced
Ice
Sparkling water
Mint leaf for garnish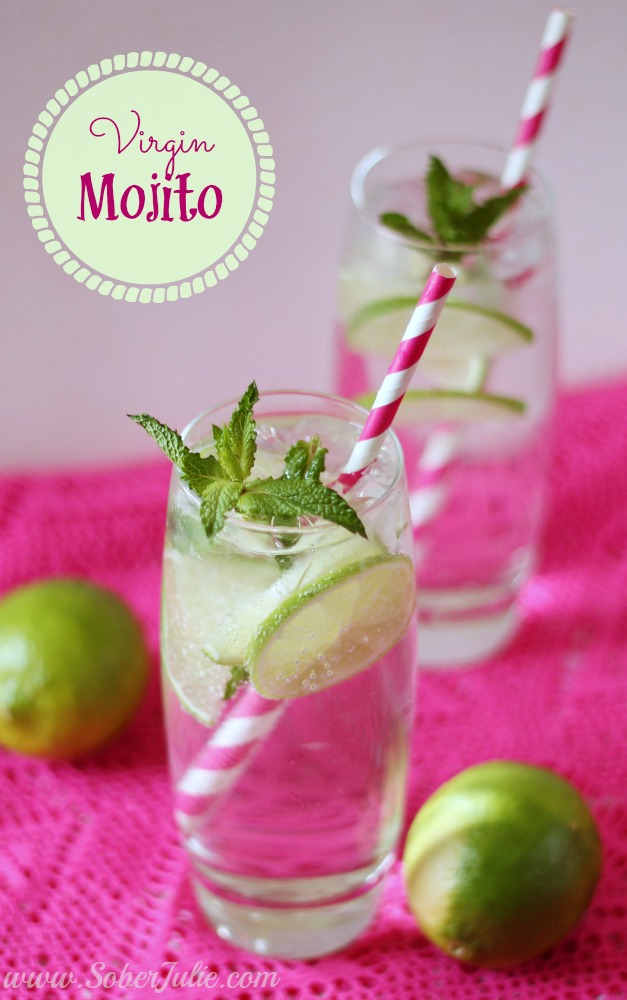 SANGRIA
The next cocktail in the row that caught my eye is this non-alcoholic sangria. In a time span of just 20 minutes, you will get a super refreshing drink for the hot summer days. The traditional Spanish Sangria is made of wine, fruits, and sweeteners. This time we are giving the alcohol a pass, and we are embracing a more healthy alternative. Blend white grape juice and the blueberries and pour the mixture into a jar. Then add the lime and orange juice and mix it well. Next, get a glass container, fill it with ice, and add the liquid mixture and the fruits (chopped). Put it in the fridge for a couple of hours before consuming.
Ingredients:
4 cups

 white grape juice (

1

 l)

1/4 cup

 blueberries (

40 g

) + 

3/4 cup

 blueberries (

120 g

)

1 cup

 orange juice (

250

 ml)
Juice of 

1

 lime + 

2

 limes

2

 oranges

2

 bananas

2

 peaches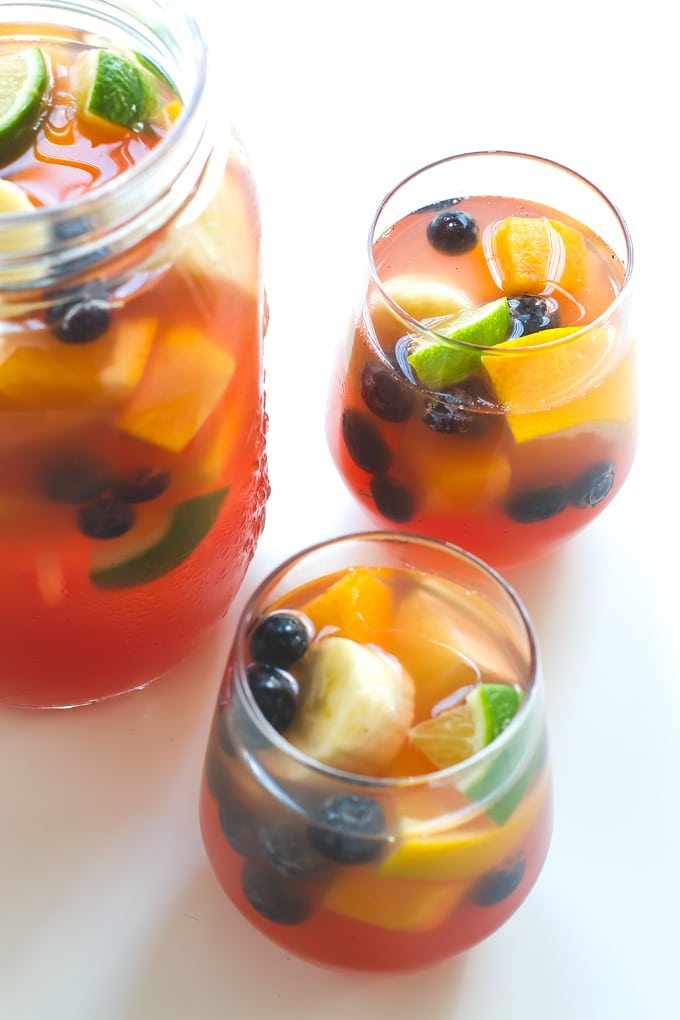 RASPBERRY MARGARITA LIME FIZZ
You have already learned the first step right? Add ice to the glass. Then add some sparkling water and margarita mix. Don't skip the garnishing because it adds a special vibe to the drink. This sugar-free, easy, and light drink will be one of the drinks that you will be making the most this summer, believe me.
Ingredients:
 ice cubes
 salt or sugar for riming the glass, optional
 4 ounces Raspberry-Lime Arrowhead® Brand Sparkling Mountain Spring Water
 4 ounces Sugar-Free Margarita Mix (I used "On the House" from Ralph's grocery store, or try Baja Bob's
 1 fresh lime, sliced thin
 fresh raspberries, optional for garnishing
 tequila, optional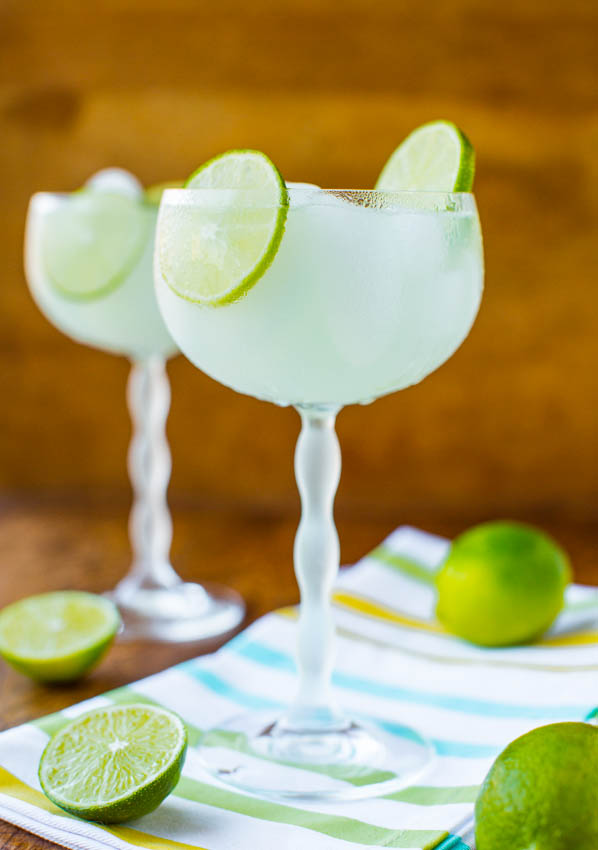 GRAPEFRUIT CITRUS SPARKLING MOCKTAIL
Squeeze some grapefruit, lime, and lemon juice in a glass, top it off with 7up (or any of the drinks below), stir well to combine, and fill the rest of the glass with lots of ice. Try a sip and see whether you'd like to add some syrup to it. And don't forget to garnish!
Ingredients:
4 oz grapefruit juice
6 oz sprite, 7up, club soda, or flavored sparkling water
wedge of fresh lime
wedge of fresh lemon
splash of simple syrup (optional)
rosemary or thyme and grapefruit wedge for garnish
GINGER PEACH SODA
Don't you just love peaches in summer? Honestly, I can't wait to give this drink a try! Are you impatient to try it out too? I'm sure that you are going to love it. Why don't you click on the link below for a full tutorial?
Ingredients:
1 c. 

sugar

2 tbsp. 

minced fresh ginger

2 

very ripe peaches

2 

liter Seltzer

16 

fresh mint leaves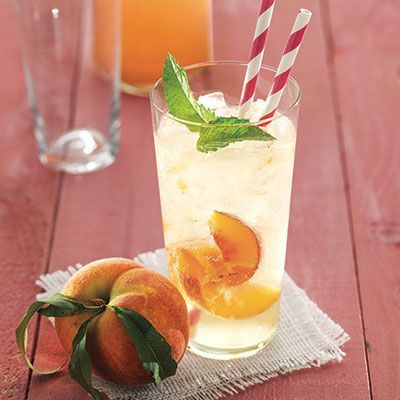 WATERMELON LIMEADE AND KEG
The best thing about this drink is that you can use the whole watermelon as a tasty refresher and a drink dispenser. And it's very easy and simple to make. All you have to do is to blend the watermelon in a food processor and mix it with lime juice. If you are in the mood for a little bit of alcohol feel free to add vodka, if not just skip it. Your drink will be super tasty and refreshing either way. Put the mixture into the watermelon dispenser, add tons of ice and ginger ale.
Ingredients:
16 c. 

seedless watermelon pieces

1 1/4 c.

fresh lime juice

4 c.

vodka (optional)
Ginger ale, for serving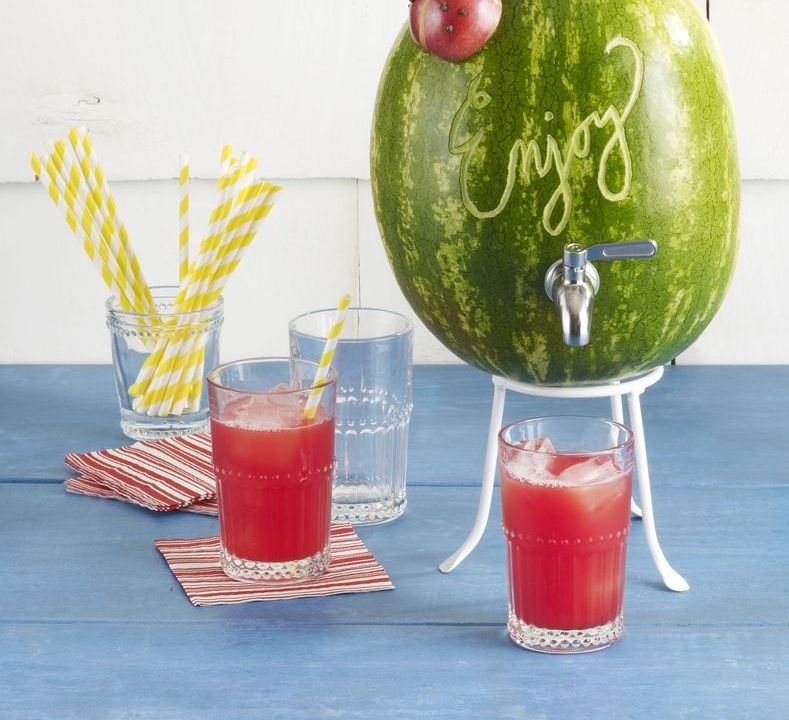 Which of these majestic non-alcoholic summer drinks would you like to try first?