Spring is up to come in few days and we all want to look and feel healthy and slim for the spring and summer season. Well it is now the time when we should start to practice some healthy habits that will keep us well looking and slimy for the bikini season. One way to do it is to change the calorie s rich food with vitamins, fruits and vegetables. Here we have selected some vitamin rich smoothies and breakfast that you can start including into your everyday meals routine if you want to feel and look healthy and slim. Read the recipes and prepare yourself any of them.
1. BLUEBERRY PEACH CHIA BOWLS
Preparation of this recipe requires 1/3 cup almond / coconut / cow's milk, 2 tablespoons chia seeds, 1/2 teaspoon honey, 1/4 teaspoon vanilla extract, 1 small peach sliced, 1 tablespoon sliced almonds, handful fresh blueberries. In a bowl mix the milk, the seeds, the honey and the vanilla extract. Allow to stand for a few minutes by mixing the mixture once or twice. Decorate it with blueberries, peaches and almonds.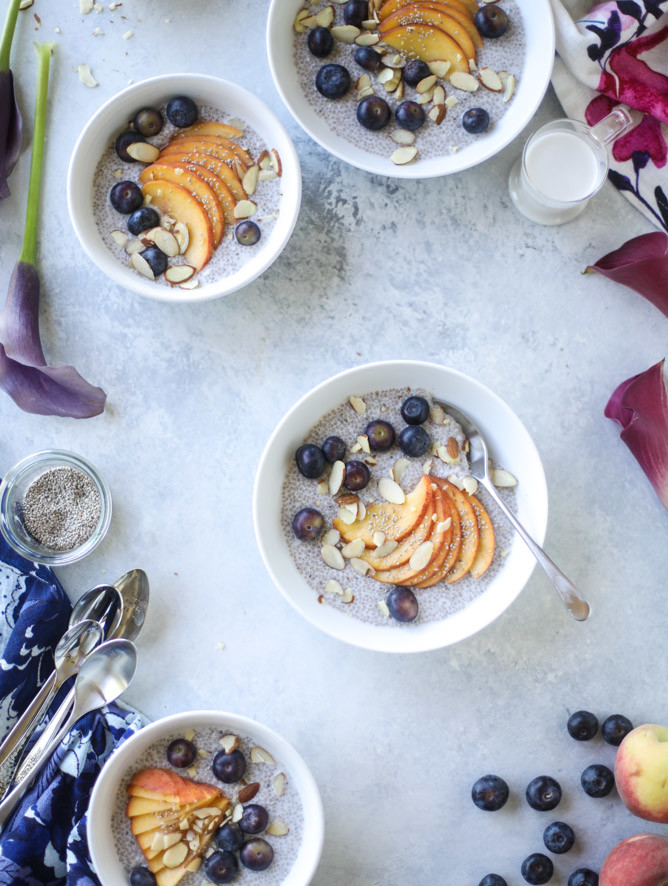 source
2. GINGERY MANGO & BERRY SMOOTHIE
This smoothie recipe requires 2 1/4 cups frozen chopped mango (if fresh, add 1 cup ice), 1 1/4 cups frozen raspberries and / or strawberries (I mixed both), 1 cup light coconut milk or unsweetened almond milk, 1 medium lime, juiced (~ 3 Tbsp or 45 ml as original recipe is written), 2 Tbsp fresh ginger, 1 Tbsp unsweetened shredded coconut, 1/8 scant tsp cayenne pepper (optional) 1-2 Tbsp protein powder of choice or hemp seeds (optional) . Put all the ingredients you need in a blender. Mix with high speed. If there are problems with mixing add more coconut or water to the mixture. This mixture can be refrigerated for up to a month.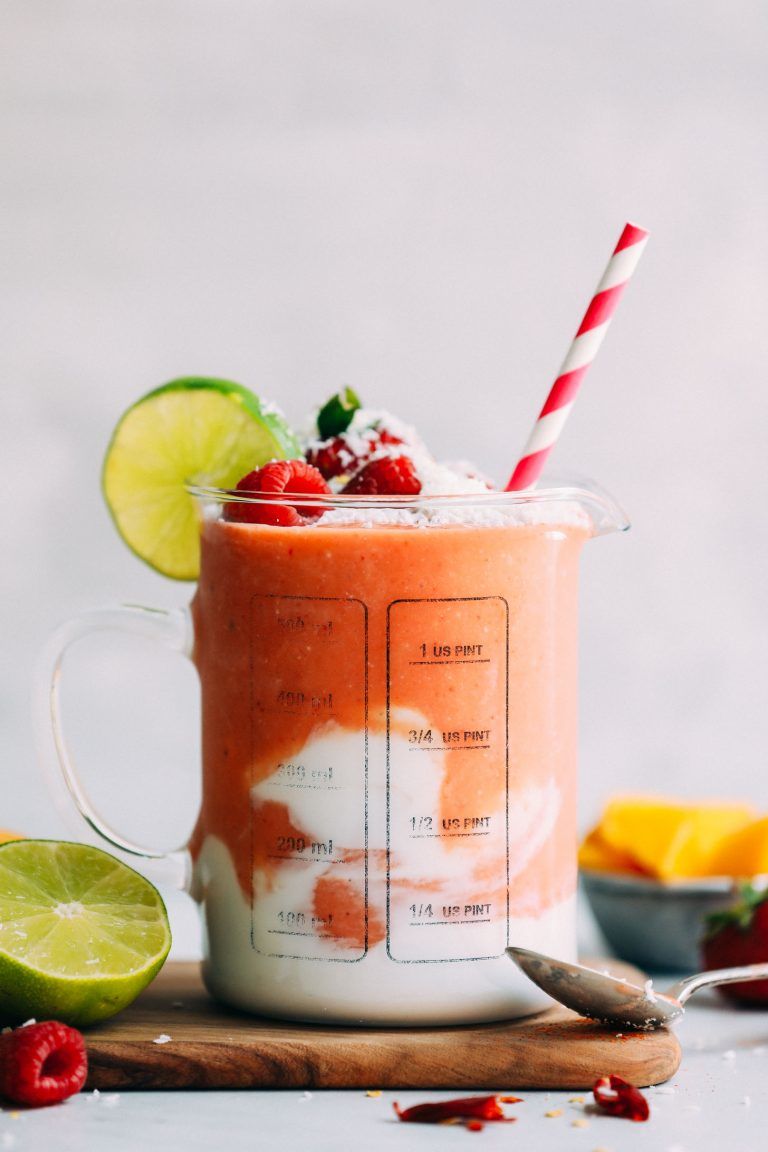 source
3. PALEO BLUEBERRY & PEACH PARFAIT
Ingredients for preparation of this recipe are 1 can full fat coconut milk, stored in the refrigerator overnight for 8 hours, 1/2 teaspoon vanilla extract, optional, 1/2 tablespoon maple syrup or honey, optional, 2 peaches, cut into slices , 1 cup blueberries, 1/2 cup grain free granola or granola of your choice. First remove the coconut water from the can. After removing the water, rub the coconut cream well until the cream thickens. Once thickened add vanilla and maple extract. Put fruit in a serving bowl, then add the coconut mixture. Store the mixture in the refrigerator.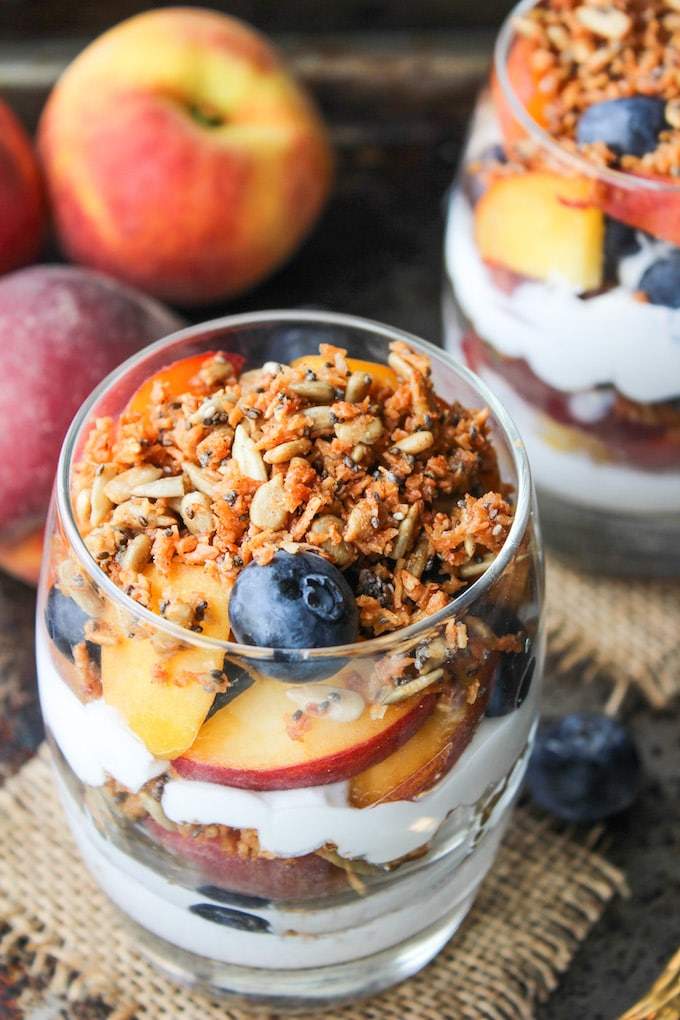 source
4. PEANUT BUTTER BANANA OVERNIGHT OATS BREAKFAST
Get 1 cup almond milk, ½ cup gluten free certified old fashioned oats, 1 sliced banana, ¼ teaspoon cinnamon, 1 teaspoon coconut sugar, 1 tablespoon peanut butter, optional: coconut flakes chopped nuts, chia seeds. All you have to do is mix all the ingredients except bananas. Put the mixture in a jar and refrigerate and let it stand overnight. You can combine with nuts, sesame seeds, peanut butter.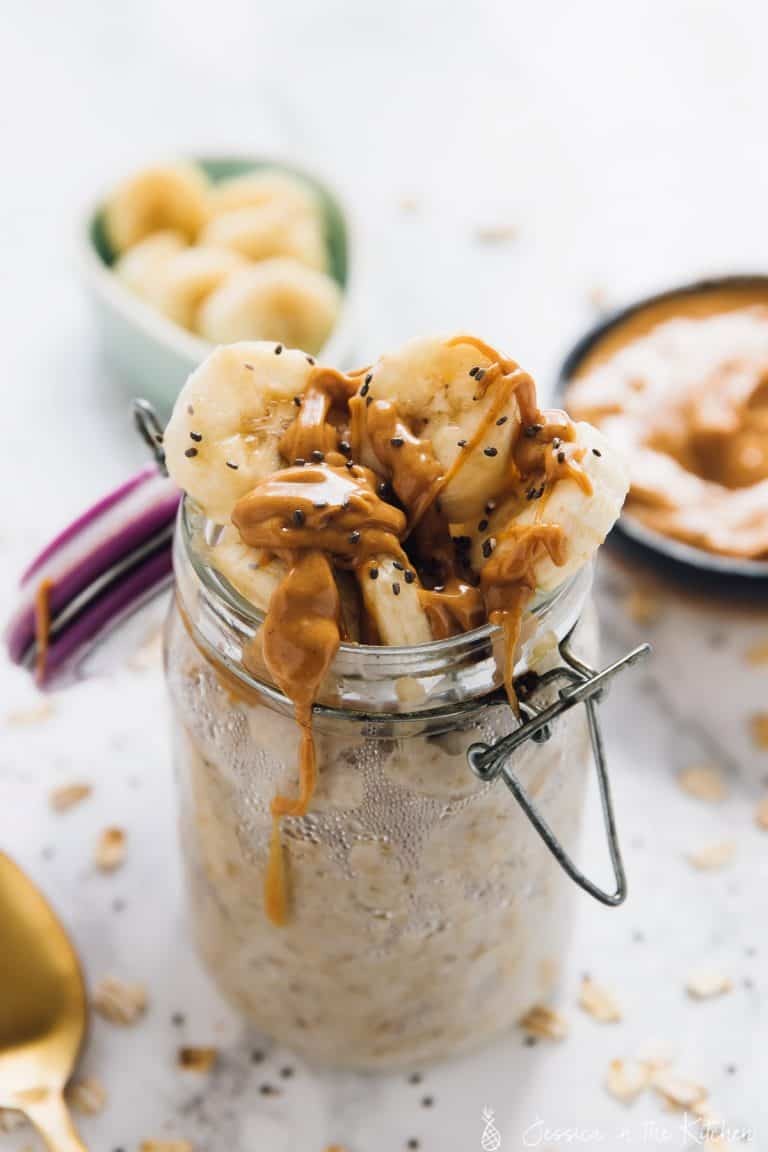 source
5. TOASTED COCONUT OVERNIGHT OATS
To prepare this healthy breakfast you will need 1 cup rolled oats, 1 (15 ounce) can coconut milk (light or full-fat, your choice!), 1/2 cup Greek yogurt, preferably coconut flavored! (I used siggi's), 1/4 cup toasted unsweetened, flaked coconut (I used bob's red mill), plus extra for topping, 2 tablespoons honey, 1 tablespoon chia seeds, 2 teaspoons vanilla extract, 1/4 teaspoon salt, 1 / 3 cup almond butter . For serving: extra toasted coconut, almond butter, sliced ​​kiwi, honey for drizzling, 1/2 cup pineapple chunks or spears, 1 tablespoon honey. In a bowl mix oatmeal, coconut milk, honey, sesame seeds and vanilla extract. Mix well until combined. In another bowl place one tablespoon of almond butter, then add the oatmeal mixture. It is necessary to stay in the refrigerator for one night before consuming it. Decorate with your favorite fruit.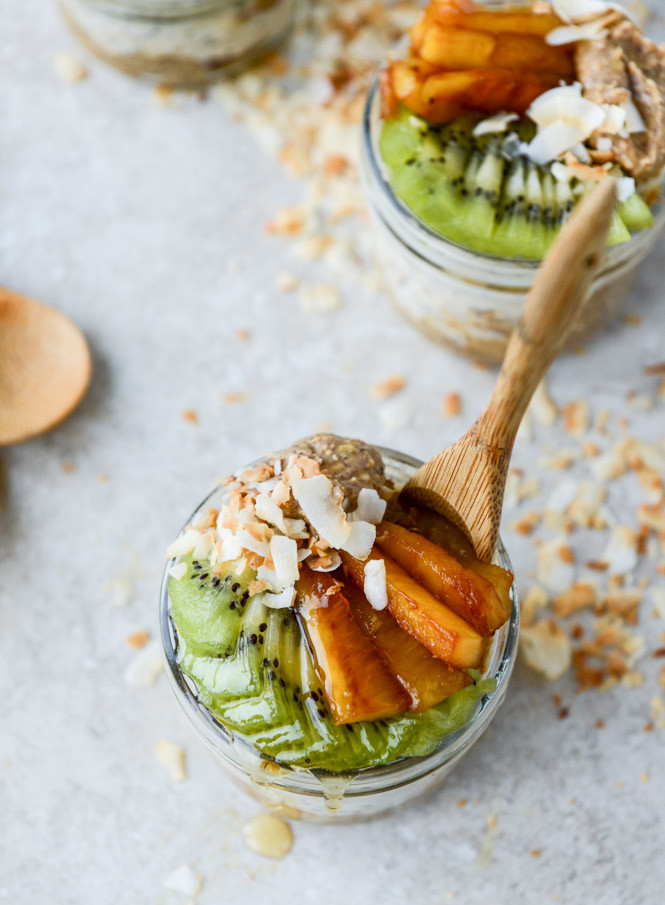 source