You're deep into planning every detail of your event and now it's time to think about photography. You want to have mementos from the event to enjoy long after the event is over, to help you remember who was there and what they looked like in that moment in time. Photographs can capture an event like nothing else.
You definitely want some kind of photography, but there are so many choices.
The problems when hiring a photographer
A professional photographer is the default choice for many, and it does have the most flexibility since you can negotiate almost every detail of what will be photographed and how and when.
But this flexibility and coverage costs a premium and can be time consuming to plan. You need to find the photographer first, and that's not as simple as you might think. Ideally, you should find a photographer who you connect with and whose style suits the feel of your event. There also needs to be a beautiful portfolio of past event photographs and good reviews and recommendations for reassurance, but there's still always a chance you won't get what you were looking for in the end.
Then, when you do find the right person, they need to be available for your event, otherwise you have to start all over.
Then, once you've chosen the right photographer, the number of options for each package and add-ons can be dizzying – between choosing the amount of time, the number of locations, the number of photographers and assistants, the number of images, the number of prints, photo albums, online galleries, etc., etc. And the final cost of all of thisstill needs to fit your budget.Deciding on and planning for this one detail of the event can be exhausting all by itself.
The benefits of photobooth hire
An alternative option that more and more people are choosing is the photo booth. It's much simpler – there are far fewer choices to make, and much less room for error.
And the cost is on average much less than a professional photographer. In many cases, it will be at least half to three times less. Not to mention all the time saved.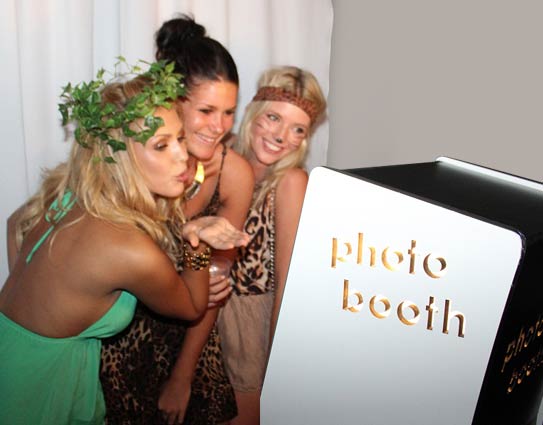 The photos will be high quality, and there will be no haggling over the number of images – all are included. The packages are easy to choose from, and all include an attendant to make sure everything goes smoothly.
And one of the best features of hiring a photo booth is that the documentation of the event is also a form of entertainment. Everyone loves to pose in front of the photo booth camera and have fun. No two images will be alike. Everyone's personalities come out and there will be no boring photos.The photography becomes a fun part of the event, not an additional costly headache.
All of our photo booth packages include delivery and pick up, a minimum of 4 hours of fun, the attendant, a backdrop, and all images from the event on a USB drive. We offer open and enclosed photo booths and our premium booths can fit up to 15 people in a shot.With four packages and optional extras (including an option for more time), there's bound to be a photo booth package to fit your needs.
Fewer headaches, less time, less money, more fun – it's easy to see why hiring a photo booth is a great choice for your event. And if you've already found your dream photographer, no worries, a photo booth can be a great addition, guaranteeing fun images to complete your photo albums from the event.
Hiring a photo booth is simple, just contact us and we'll make sure your photography is great fun, good quality, and cheaper than hiring a photographer!