Advertisements
Royal weddings are events that have been spoken long before and after them. The eyes of the whole world is  directed to these kind of events, and that is why events like the wedding of Princess Diana, The wedding of William and Kate, the wedding of Queen Elizabeth and the wedding of Prince Harry and Megan , that took place this Saturday, are events that everybody events to hear details about. Below we will gather some of the most interesting details about the royal weddings during the past years.
1. The wedding of Harry and Megan was not considered a national holiday.
The same happened with the Queen's  Wedding . Normally, the royal wedding is a holiday day of work called the celebration of the British. Why? This is mainly so that anyone who wants to have the chance to look at the future king of England can do so without worrying about his work. Charles and Diana had a holiday, as well as William and Kate. Oddly, but Queen Elizabeth and Megan did not have a holiday day. Here is the reason: Obviously, the tradition was still lacking when Elizabeth and Philip said YES, and given that Harry is not a direct line to the throne, his 19 May wedding does not require a day off.
2.The queen's engagement ring was made of royal Tiara diamonds.
The Queen uses diamonds from Tiara that belonged to Prince Philip's mother. Princess Diana's ring was a 12-carat sapphire worth $ 500,000. (The one Kate still carries today). As for Megan, Harry offered her a ring with a large central diamond from Botswana, plus two smaller diamonds on both sides, from Diana's personal collection.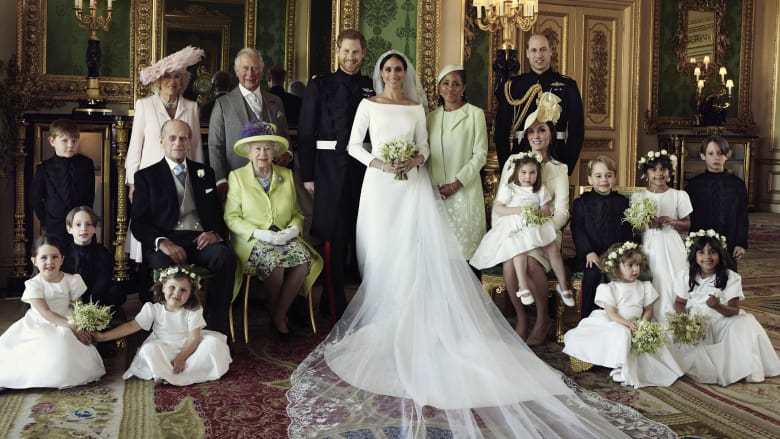 source
3.Harry and Megan had the least guest
Megan's and Harry's wedding leads the ranks for the least guests at a royal wedding with their modest list of just 600 invited guests at the St. George Chapel at Windsor Castle. This is compared to Kate's wedding (which was attended by 1900 guests), the Queen (she swore in the presence of 2000) and Diana (last but not least, inviting 3500 guests).