Planning a holiday wedding can be twice as magical as a traditional one, but pulling it off is another story. The holidays are a much more stressful time of the year for not only you but your guests as well.
But with proper planning and attention to detail, you can pull off planning an epic holiday wedding by following just a few simple steps. Take a look at the five steps you should take if you want to make your holiday wedding as beautiful and enchanted as can be.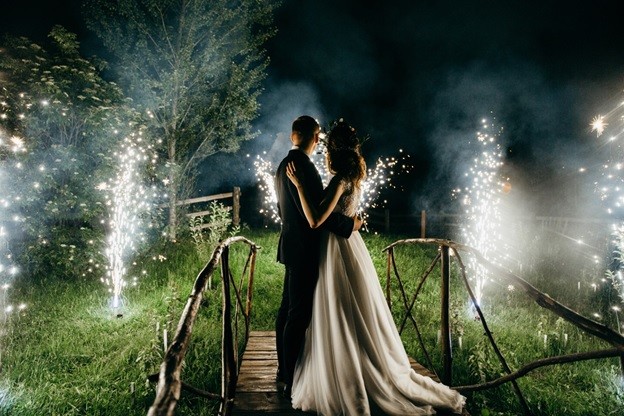 1. Incorporate the Winter Season
Find ways to incorporate the winter season. For instance, if you're planning a Christmas wedding, you can use holiday colors as an accent. But it doesn't necessarily have to be red. You could also try colors like gold, silver, forest green or frost blue/gray. Conversely, if you're planning a New Year's Eve wedding, the same colors would work, and you could even add in gilded emerald and icy blues. You might also decide to have your bridesmaids wear faux fur wraps to complement their dresses.
2. Don't Go Overboard with the Details
Try not to go overboard incorporating the magic of the holidays. For example, don't include Santa at your wedding or play too much Christmas music. After all, you don't want to overdo it and then realize later how cheesy it was when you're watching your wedding videos. Additionally, don't focus too much on the holiday theme and instead think about adding things like cozy accent pieces, seasonal foliage, and glittering metallics. But again, don't go overboard. Remember, less is more.
3. Send Out Save-the-Dates
During the holidays and in the months prior to it, people are often busy running around trying to get what they need to celebrate the holidays in their own ways. That's why sending out save-the-dates is highly recommended, so that your guests have a way of remembering the date and they can plan ahead. For example, they might need time to find a sitter or to shop for wedding attire. Give them at least a few months' notice to plan accordingly.
4. Book Everything Well in Advance
The holidays are a busy time for vendors, with people planning Christmas and New Year's Eve parties left and right. If you want your wedding day to go off without a hitch, plan well in advance and book the vendors you need at least six to eight months in advance.
Make sure to check the timing of deliveries (like the flowers and food) to ensure they'll be there well before the ceremony is scheduled to begin. Also, keep in mind vendors tend to charge more for holiday weddings, so make sure that it's within your wedding budget to afford to pay for caterers, photographers, videographers, florists and other wedding vendors during that time of year.
5. Check the Weather
Depending on where you live, winter weather can get crummy during the holiday season. Make sure to consider the impending weather conditions before planning a Christmas or New Year's Eve wedding. After all, you don't want to risk your guests not being able to get to your ceremony because of a snowstorm, or worse, leave them stranded in your hometown once the ceremony and reception are over.
Pull Off an Epic Wedding of Your Dreams
With the above information in mind, you can pull off an epic holiday wedding with ease. Okay, maybe not with ease, but you'll be better equipped to manage all the different tasks associated with planning a holiday wedding. Get started as soon as possible and keep these tips handy to make sure your wedding is as beautiful and special as possible.