Finding furniture for your yard for convenient prices can be a little tricky and hard to manage since outdoor furniture can be quite pricy at times unless you find a really good discount out of season. Spring is already here which means you are a little bit late for a good bargain. Luckily, can never be late for some outstanding DIY projects which can save you from breaking the bank. In this article, you will have the chance to see some DIY pallet outdoor furniture ideas which will spark your interest.
Pallets are cheap to get and easy to work with. These two facts make them ideal for your next crafts which will get you outdoor furniture on a budget. Although this furniture is on a budget, it can still look stunning and can be super comfortable. There are plenty of ideas out there that you can recreate and here I'm sharing the best ones with you. Check them out and see which ones will work the best for your outdoor area.
Pallet Table & Adirondack Chairs
The Adirondack chairs will cost you an arm and a leg, so why don't you try and make similar ones by using pallet wood? They surely won't have the same quality but they are good for your pocket. You can still replace them over a couple of years and won't regret it since they didn't cost you a fortune.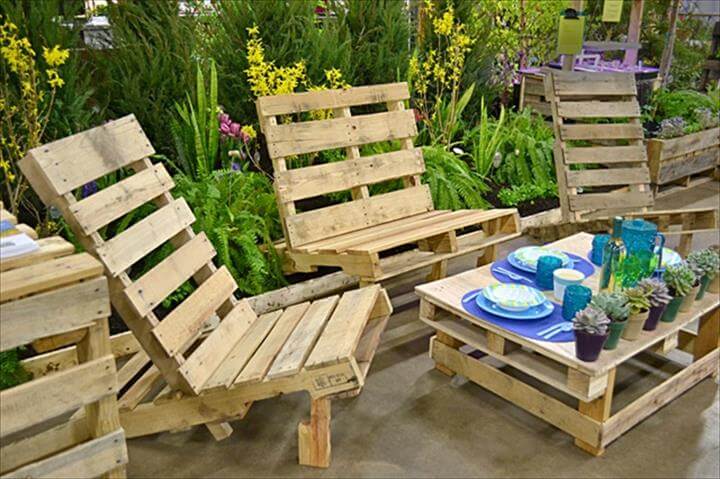 Black and White Patio Pallet Seating Area
The procedure toward getting this lovely seating area is to take the correct measurements so they will fit your space perfectly well, cut the pallets if it's necessary, and join them together. Paint them in any color you like and you will get your seating area and table quickly and easily.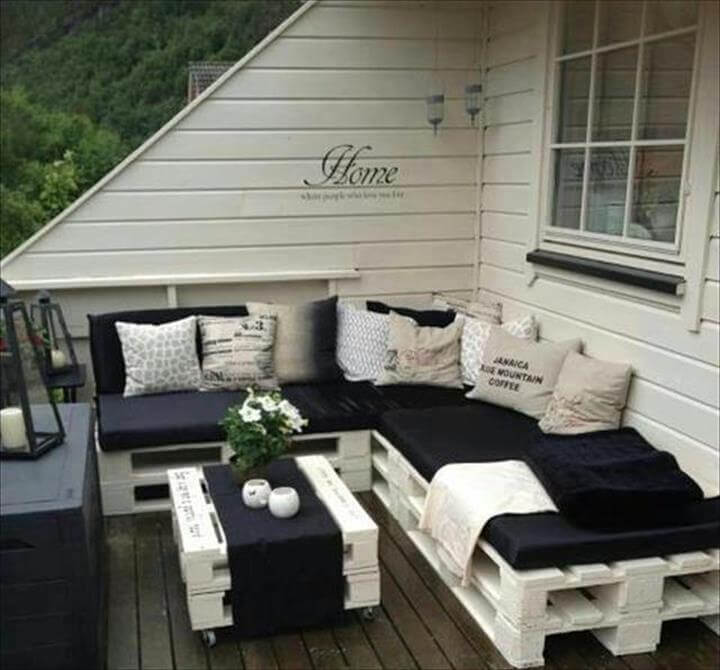 Pallet Dining Table With Benches
Do you love to get your family together for a nice meal or two just outside your home? This DIY pallet outdoor furniture is the next project that you should try to make.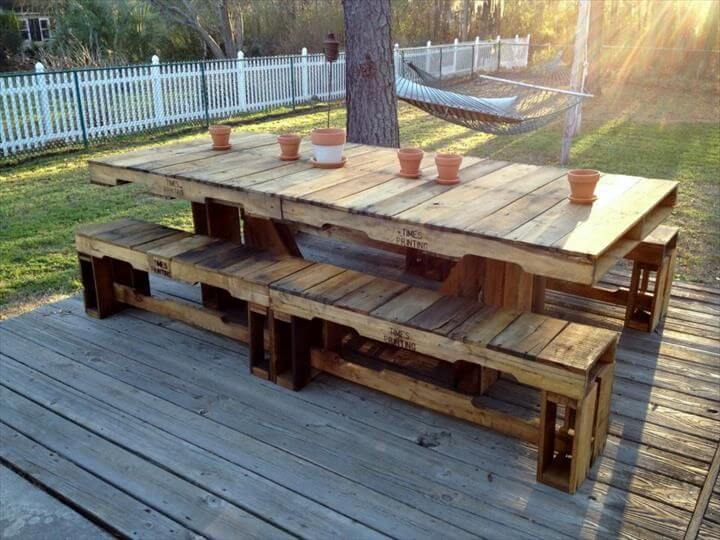 DIY Pallet Outdoor Furniture
Pillows are a must for this DIY pallet outdoor furniture if you want to spend long hours relaxing outside. They will definitely make it more comfortable! What's more, they will make your outdoor space more fun and relaxing if you choose some playful colors. Be bold and combine some contrasting hues to get an eye-catching look of your seating area.
Pallet Wine Bar/ Pallet Entryway Table
Here's a quick DIY project which won't take you a long time to construct! You are going to love it now that warm weather is just around the corner. The pallet wine bar will be a witness to many gatherings accompanied by a drink or two. Another possibility is to use it as an entryway table in your yard.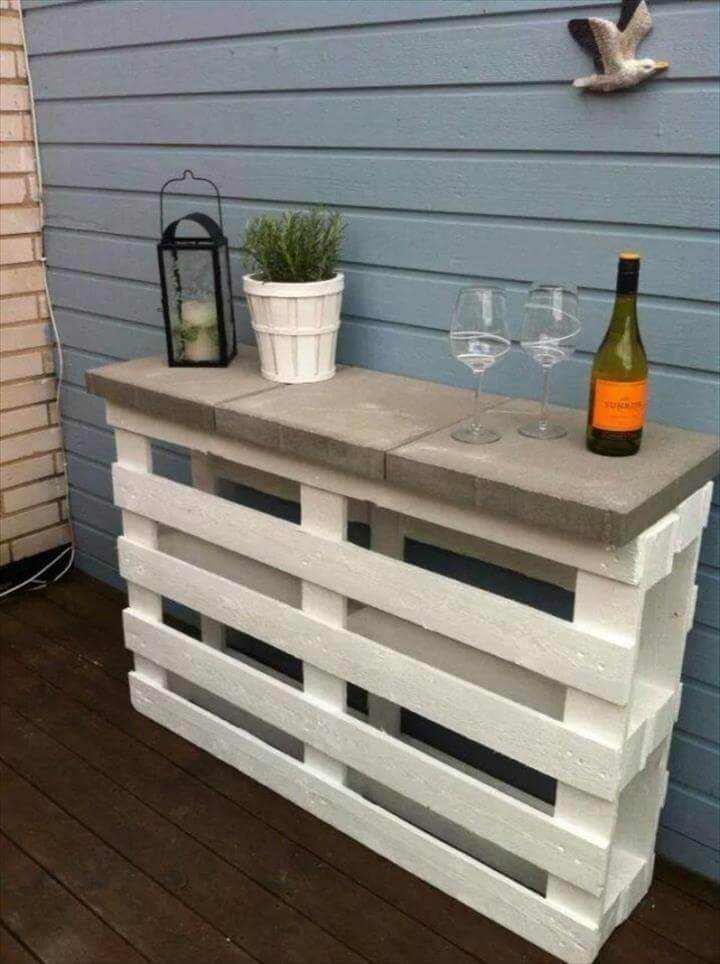 Pallet Outdoor Living Room Setting
Don't you just love this pallet outdoor living room setting which looks so peaceful and comfy? To get this look don't miss adding a carpet under your pallet furniture! It will do the trick!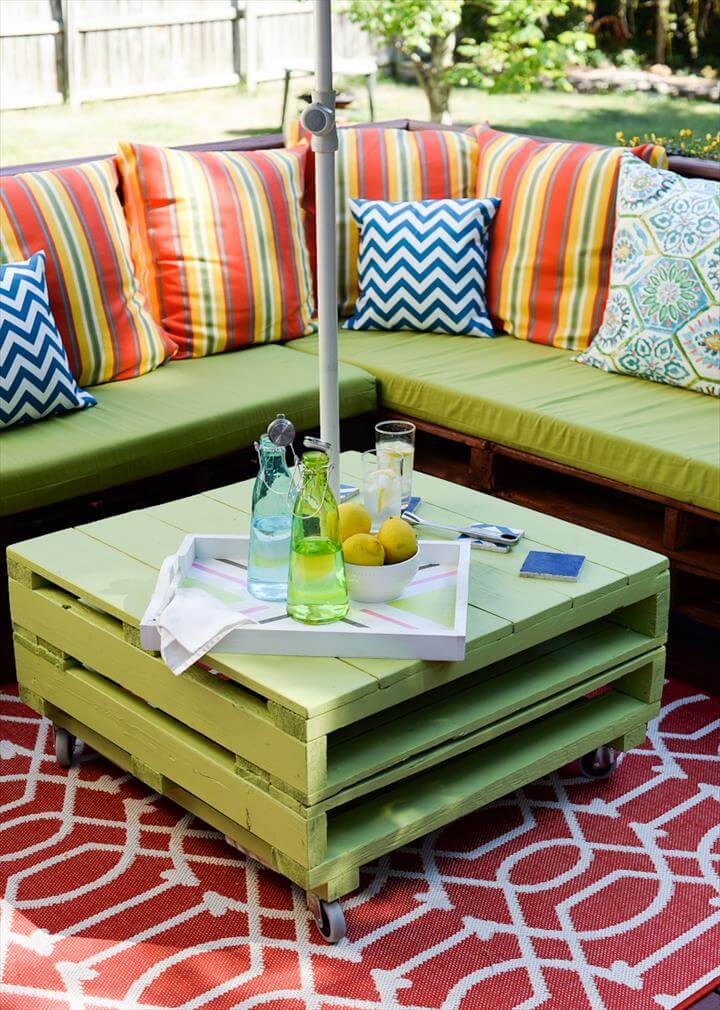 Colorful Lounge Furniture From Wooden Pallets & Spools
While we are talking about cheap and convenient outdoor furniture, consider getting some spools as well which will give you extra seating space and will look fun at the same time.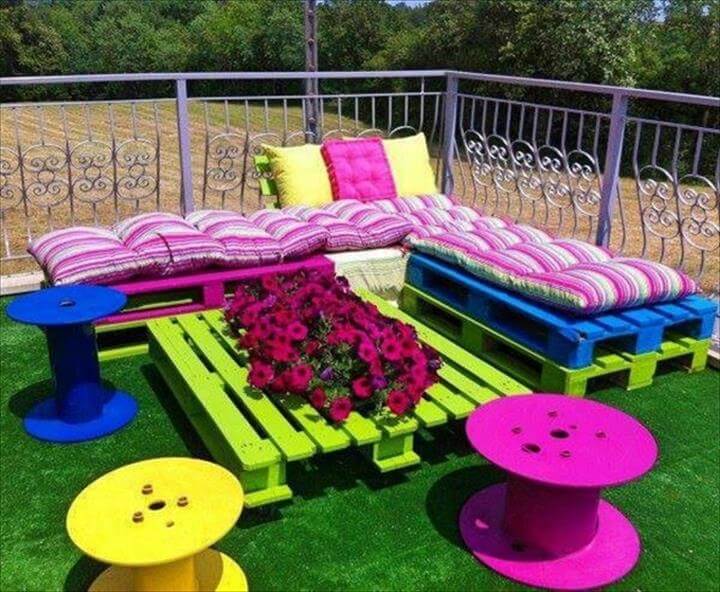 Outdoor Table With Chairs
Don't these table and chairs look just amazing for an outdoor area that outlooks to the sea or the ocean? Paint them in white and blue, and they will immediately "take" you to a villa in Greece!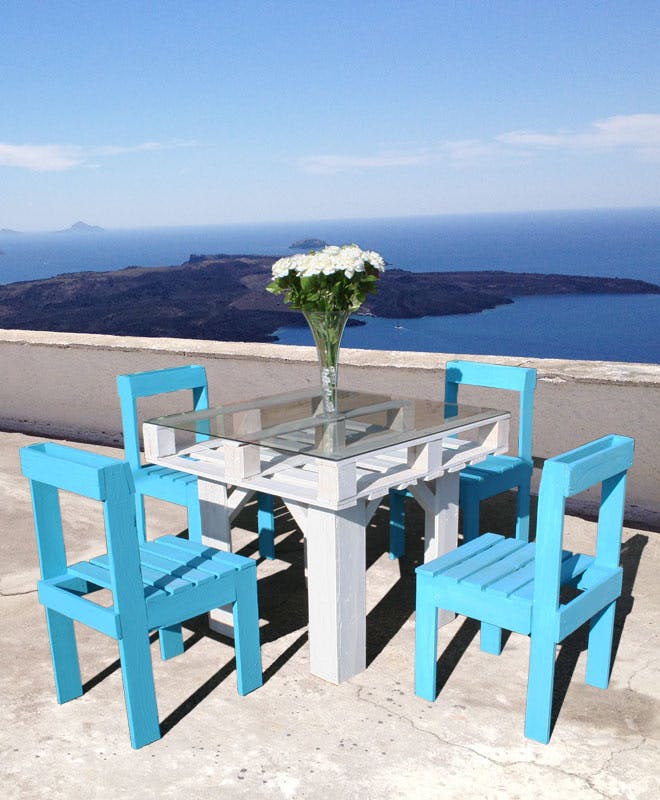 DIY Pallet Kids Sandbox With Seating
Adults are not the only ones who will be happy with this DIY pallet outdoor furniture. Here's something for your kids as well. They will be amazed to get this sandbox, so this may be the first project to recreate if you have kids. This is a shortcut to getting some "quiet" time since they will be super busy playing here!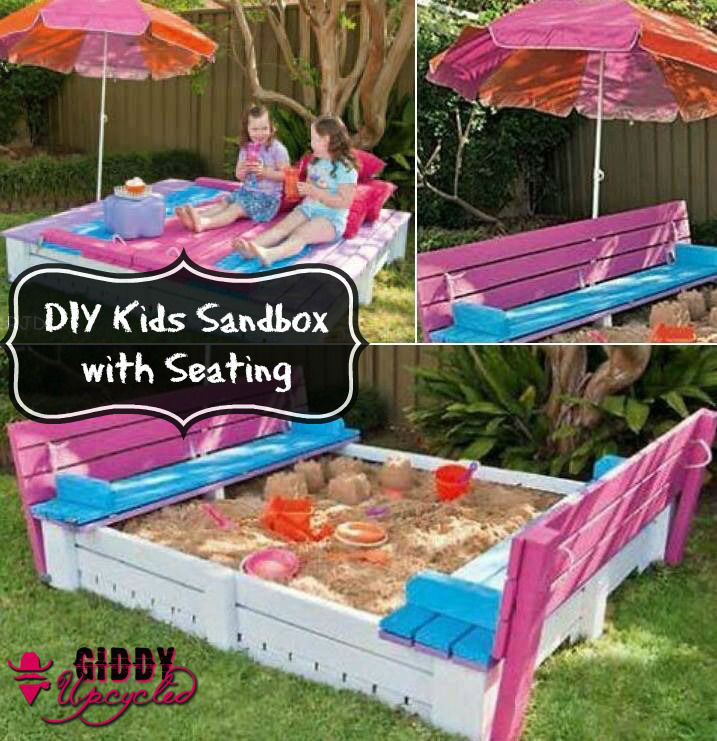 DIY Pallet Daybed
I fell in love with this daybed! How do you like it?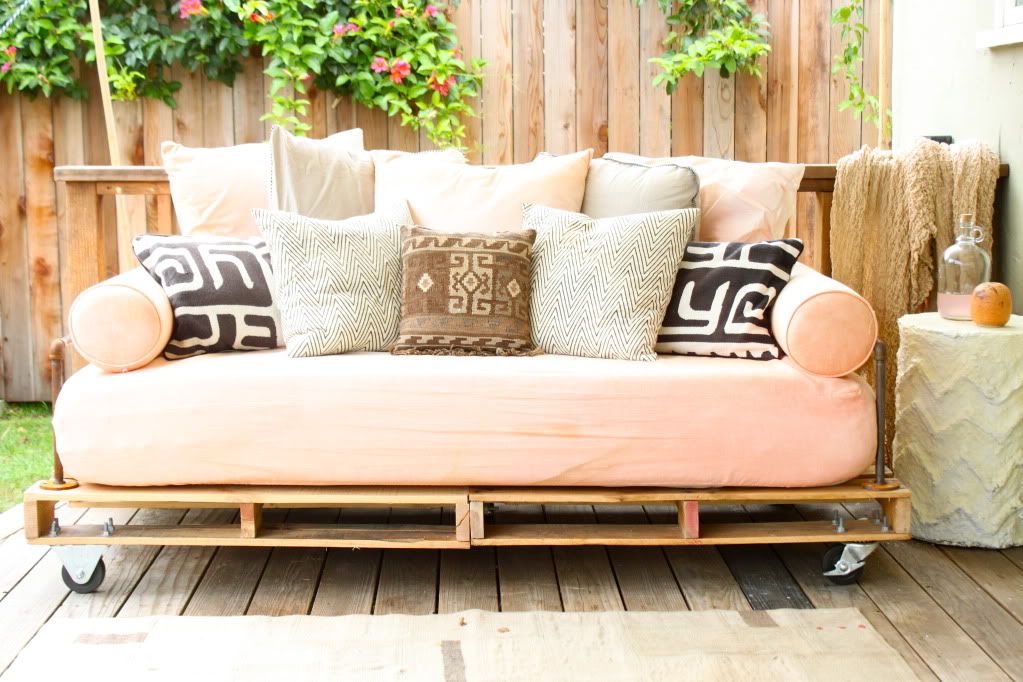 DIY Pallet Organizer
When I said outdoor furniture, I didn't mean just a seating area and table. There are so many other furniture pieces that you can get by using pallets and this organizer is just one of them!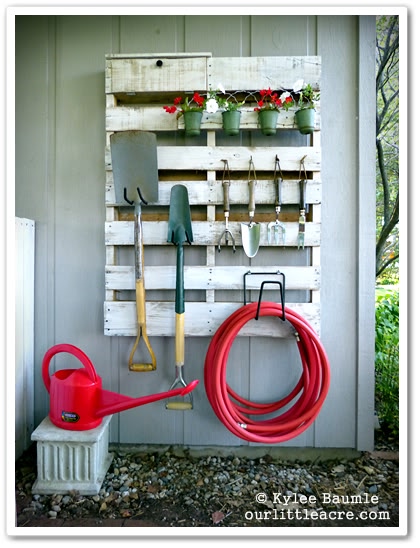 Free-Standing Vertical Pallet Herb Garden
The vertical herb garden is the perfect choice for those small outdoor areas that need a little bit of qreenery!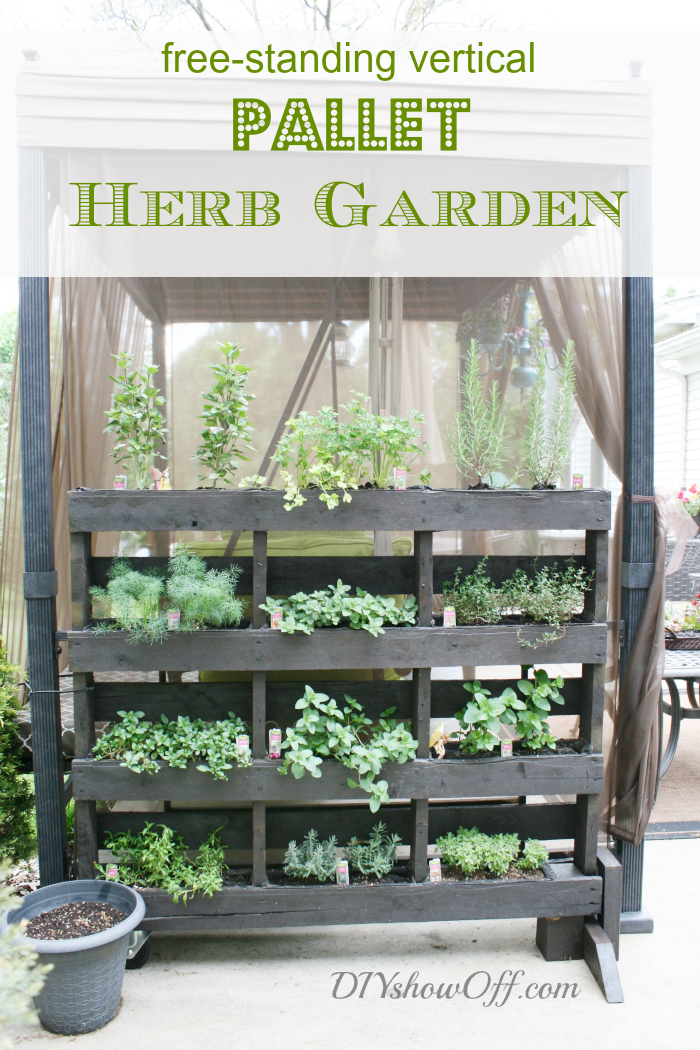 Pallet Drinks Stand
We've already talked about an outdoor bar made out of pallets and this drinks-stand is another design that you can take into consideration.