Camping is a fantastic activity that allows you to escape daily life and connect with nature. This can be just what the doctor ordered in such a fast-paced, internet-drive day and age, so it is no surprise that camping remains such a popular activity amongst people of all ages.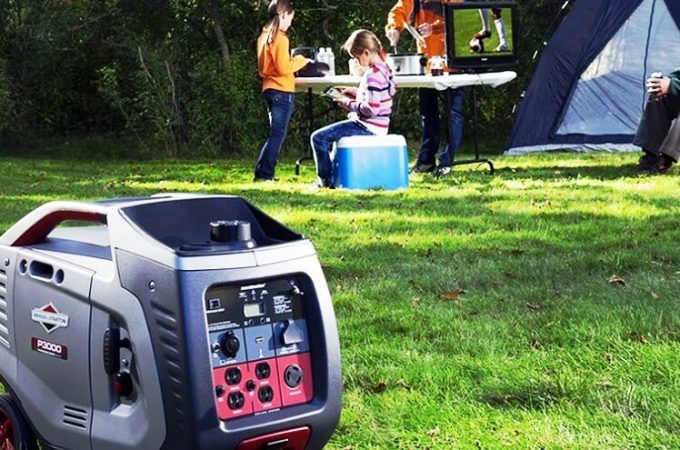 source
Generators
There are many important aspects of a good camping trip, but one of the most important is taking a generator with you. A generator can provide you with a few basic home comforts that can make the experience easier and much more enjoyable, but it is important that you take the time to find the right generator for camping. Ideally, this will be one which is quiet, portable, has a good runtime (around 8 hours) and is reliable.
Inverter Generators
With this in mind, it is worth looking at inverter generators which are well-suited to camping. These generators have an engine which is connected to an efficient alternator – this produces AC electricity (like a traditional generator) but a rectifier is used to convert AC to DC for a constant and smooth flow of electricity to your appliances. Additionally, inverter generators are small, lightweight and quiet. They are often referred to as suitcase generators as they can easily be carried around with a top handle.
Choosing the Right One
When looking at inverter generators, it is important that you look at established generator manufacturers like Honda, Yamaha and Champion. You should also always buy from reputable suppliers like SGS as places like this will have the biggest variety available and a range of wattage available. This means that you should be able to find one that is well-suited to your particular needs and the items that will need powering on your camping trip.
Keeping Noise Down
It is important to note that if you will be staying on a campsite with other campers then you may want to look at silent or very quiet generator. Otherwise, you could disturb your fellow campers which could result in you being kicked out of the campsite. Instead, show your respect by keeping generator noise (and any other noise) to a minimum.
Camping with a generator can greatly enhance the experience as it allows you to use many appliances whilst still providing you with the ability to switch off and connect with nature. Generators come in all shapes and sizes, so it is vital that you find the ideal one for your needs and one which will not be a huge ordeal to take with you.