With many countries opening up their borders again, digital nomads are returning to traveling while working full-time, remote jobs, or completing serious projects. Companies are also becoming more open to remote work and work-from-anywhere arrangements, so it is not surprising to see more people choosing to become a digital nomad.
A computer that can handle the necessary workload and a working internet connection are all you need to travel while working, but the former is not so easy to find. You often have to make compromises in order to get a portable device that you can use for work. Or do you?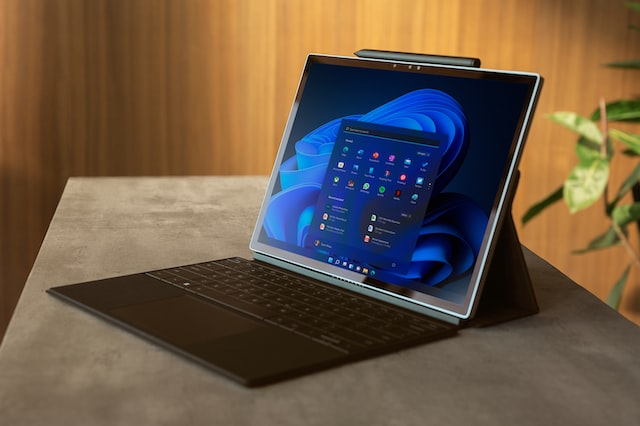 A Thin and Light 16-inch Laptop
Let's start with the obvious: 16 inches is not the usual choice for those who need to carry their laptops around. 13- or 14-inch laptops may be more compact. However, the smaller screen sizes also come with limitations, one of which is the fact that you cannot stretch spreadsheets or your video editing timeline across a larger screen.
The Lenovo Yoga 7i 16-inch is here to change that. It strikes the right balance between portability and screen real estate. The slim bezels around its 2.5K display allow the footprint of this laptop to remain compact enough for travel. It even weighs less than 5 pounds. For a 16-inch laptop, that's impressive. You get 400 nits of brightness and touch functionalities too.
Handy 2-in-1
The 2-in-1 laptop design means can rotate the screen and use the laptop either in the standard clamshell mode or a tent mode – where the laptop sits on its bottom sides for comfortable media consumption.
It can also be folded all the way back for tablet mode. It has very good palm rejection, so you can comfortably write notes or draw stuff. Imagine completing that design project or editing a photo on a 16-inch screen while sitting under the shade by the beach; sounds like a good way of spending a workday to you?
No Slouch
What's great about the Yoga 7i 16-inch is that you also get beefy specs with the gorgeous and strong chassis. It is an Intel Evo laptop, so you know you are getting all-day battery life, great performance, instant wake, and a wealth of other features that make this device a suitable ultraportable for travelers.
This Lenovo Yoga 7i 16-inch also comes equipped with a Core i7-12700H processor and the new Intel Arc A370M. Graphic-intensive tasks will not stump this laptop, as discussed on the page for Intel Arc at Lenovo. For less than most of its competitors, you also get 32GB of RAM and 1TB of high-speed SSD. That's a DDR5 RAM and NVMe SSD for you. Yes, you read the spec correctly.
Oh, and did we mention that the laptop costs less than $1,300? For the money, you also get a nice keyboard, a precise and comfortable-to-use trackpad, a 1080p webcam for your calls, and 16 hours of battery life. When you take these specifications together, you end up with a capable laptop that is perfect for digital nomads.