Now when winter is about to finish, and spring is going to come very soon, you should start thinking about upgrading your garden. Is there a better place to enjoy spring sun than your garden? Definitely not. Do you already imagine yourself sitting in the garden, drinking coffee with family or friends and enjoying the warmer weather that is coming with the spring? Well if you want to enjoy in its fullest, you should consider some small and cheap changes that will make your garden your little paradise. Gardens are the most used places during spring and summer, and you should pay more attention on the way your garden looks like during these seasons. All you need are some inexpensive but cool garden decorations.
When it comes to choosing the decoration of our home, we have endless options. However, it all depends on our taste and the style we want. Therefore, it is impossible to say what is the best way to beautify your environment. As for the decoration of outdoor spaces, we not only have to choose the style we want, if not the combination of colors and furniture, plants, decorations, lights, etc. To make your task easier, we will talk about how to decorate the garden with cool DIY decorations. In addition, we will not only provide a few ideas for carrying out this task, but we will also talk about some options that we have in case we do not want to spend a lot of money.
Transform Old Kid's Toys into Cool Garden Decorations
There are so many interesting ideas that you can use as an inspiration to upgrade your garden in order to look nicer. Below we have selected some interesting DIY ways to transform old unused kid's toys into cool garden decorations. Some of the ideas below will show you how you can transform old kid's bikes, kid's trolleys, kids toys or even kids old clothes or shoes into adorable flower vases and other garden decorations. Instead of throwing out old kid's toys you can now use them to decorate your garden without spending much time or money.
All you have to do is to repaint the old items, clean them and plant some flowers into them. Wake up your creativity and use your child's old trains and tracks to make an inspiring miracle in your garden that all your neighbors will love to copy. These unusual, but at the same time so adorable and decorative old children's toys transformed into garden decorations will give your garden a new and fresh spring look, and to you a place to relax and spend quality time in the luxury of your own home.
When people ask how to decorate a garden, they always imagine very big budgets. This is normal, given the cost of plants and precious decorations such as statues or furniture specially designed for outdoor use. However, it is possible to get a beautiful and renovated area without spending a lot of money. All we need are some ideas and creativity. Do you want to know how to decorate your garden with little money? Here are some ideas you can adapt to beautify your outdoor space. Enjoy!
1. Vase in form of toys kids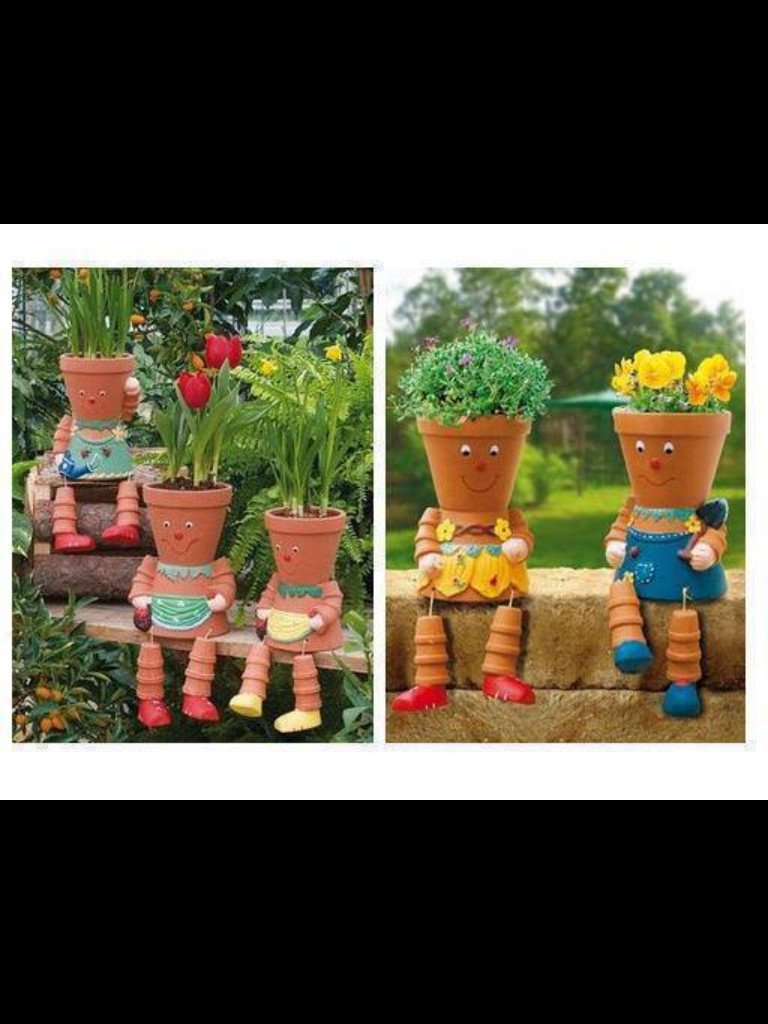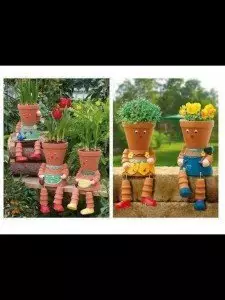 source
2. Decoration for flowers in a children's truck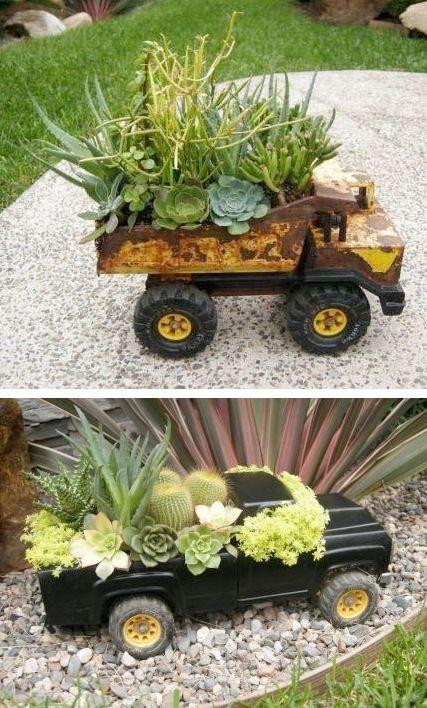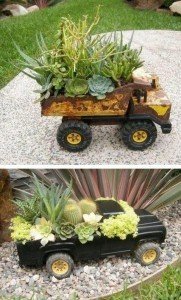 source
3. Decoration of flowers in dolls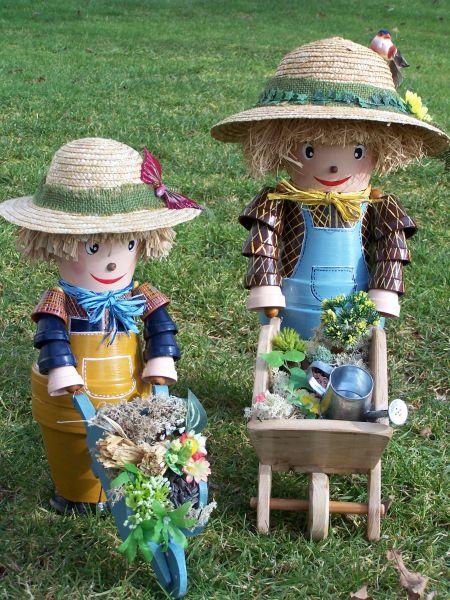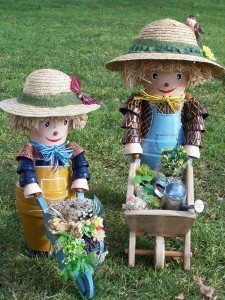 source
4. A baby trolley for flowers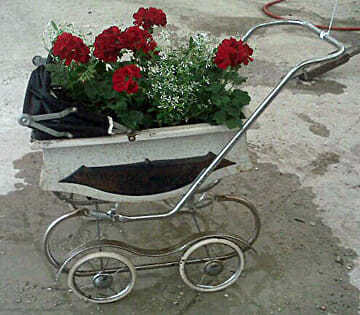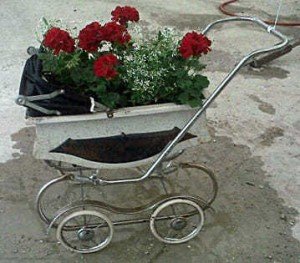 source
5. Bicycle for children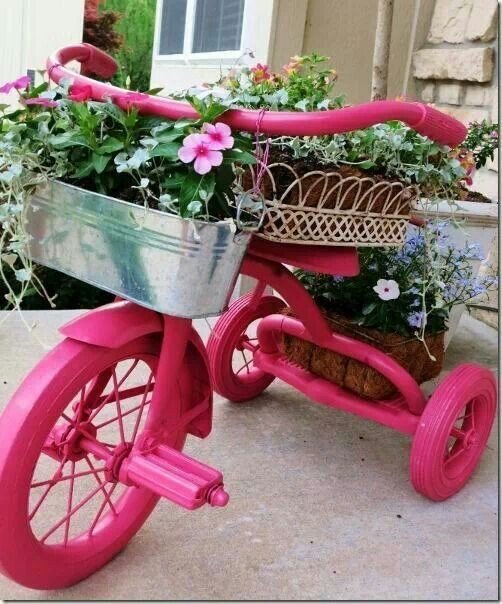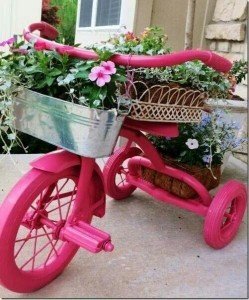 source
6. Decoration in kind children's boots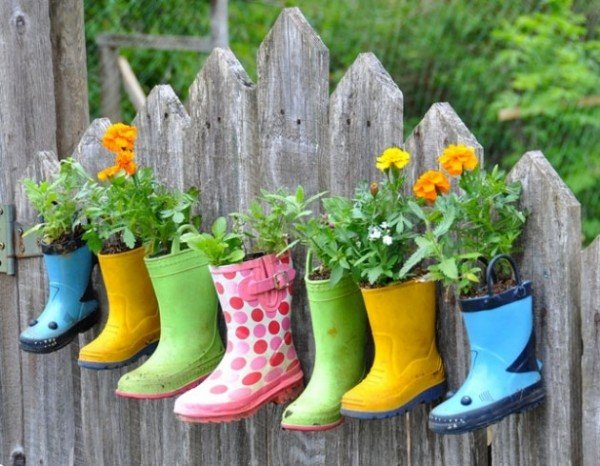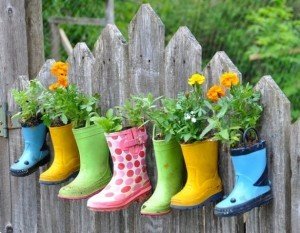 source
7. Kids jeans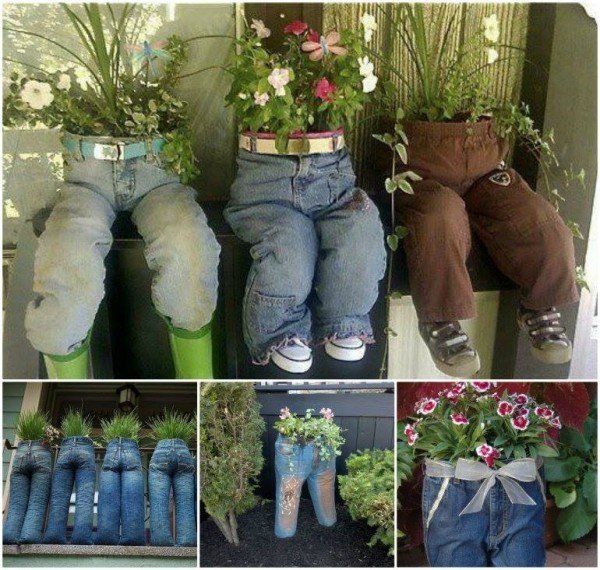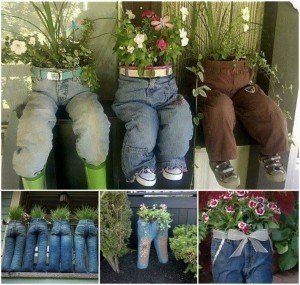 source
8.Garden bed as a train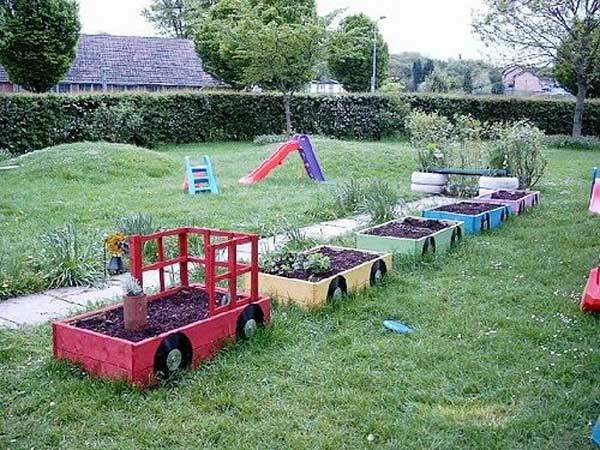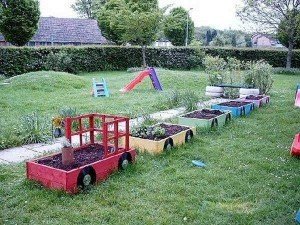 source