Those little, fruity flavored muffins that no one can resist are being one of the most favorite deserts to many people around the world. Adding some different fruits to the basic recipe, people get so many different tastes of the traditional muffins. In this post we are going to share with you some of the easiest to prepare fruity muffins. Read the recipes below, choose your favorite flavor and prepare them now.
1.Banana  Muffins
For these banana muffins you will need 4 large ripe bananas, 3 cups oats, 1 tsp vanilla extract, mix-ins of your choice. Preheat the oven and grease the muffin tin with oil. In a bowl, mix banana, oatmeal and vanilla. Add accessories of your choice. Put the resulting mixture in the pan and bake for about 15 minutes.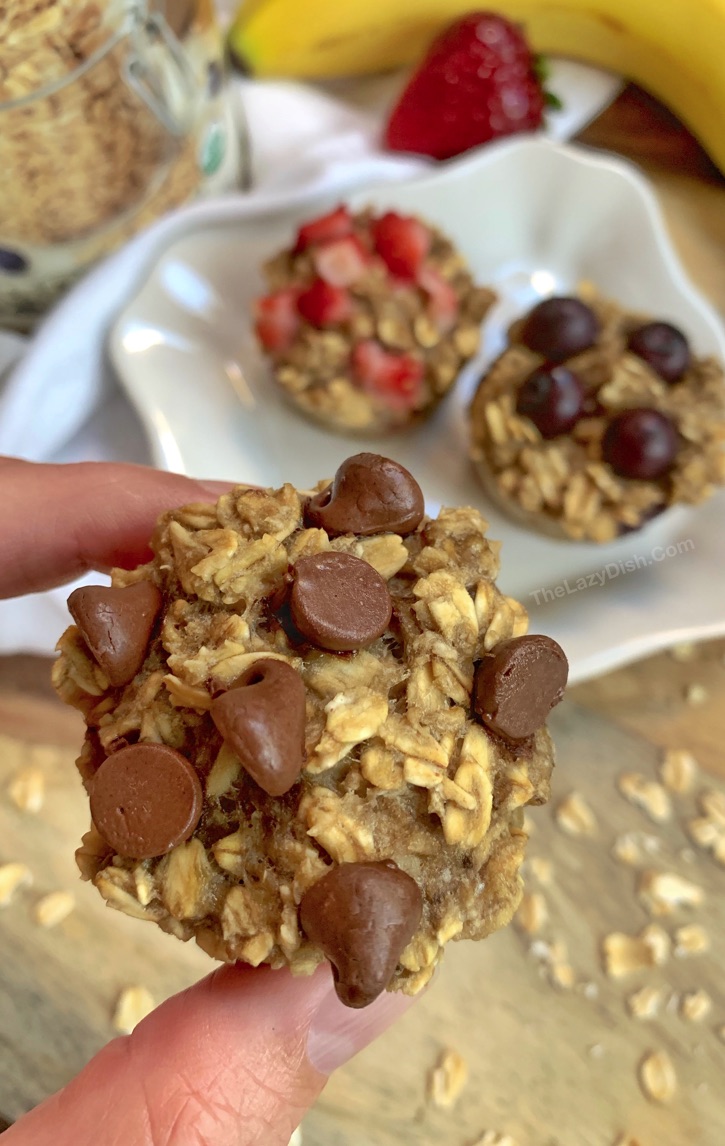 source
2. Blueberry Muffins
For preparation of these blueberry muffins you need cooking spray, 1/2 cup whole wheat flour, 1/2 cup all purpose flour, 1 1/2 cups oatmeal (quick or rolled oats), 1/2 cup granulated sugar , 1/4 teaspoon kosher salt, 1 tablespoon baking powder, 1 cup milk (I use 1%), 1 egg, 2 tablespoons canola oil, 2 teaspoons vanilla extract, 1 cup of fresh or frozen blueberries, 2 tablespoons coarse sugar. Heat the oven. Put oil in a muffin tin. Combine all dry ingredients in one bowl, while egg, milk, butter and vanilla in another bowl. Combine the mixtures from the two bowls. Apply the resulting mixture in the muffin tin. Sprinkle with powdered sugar. Bake for 20 minutes.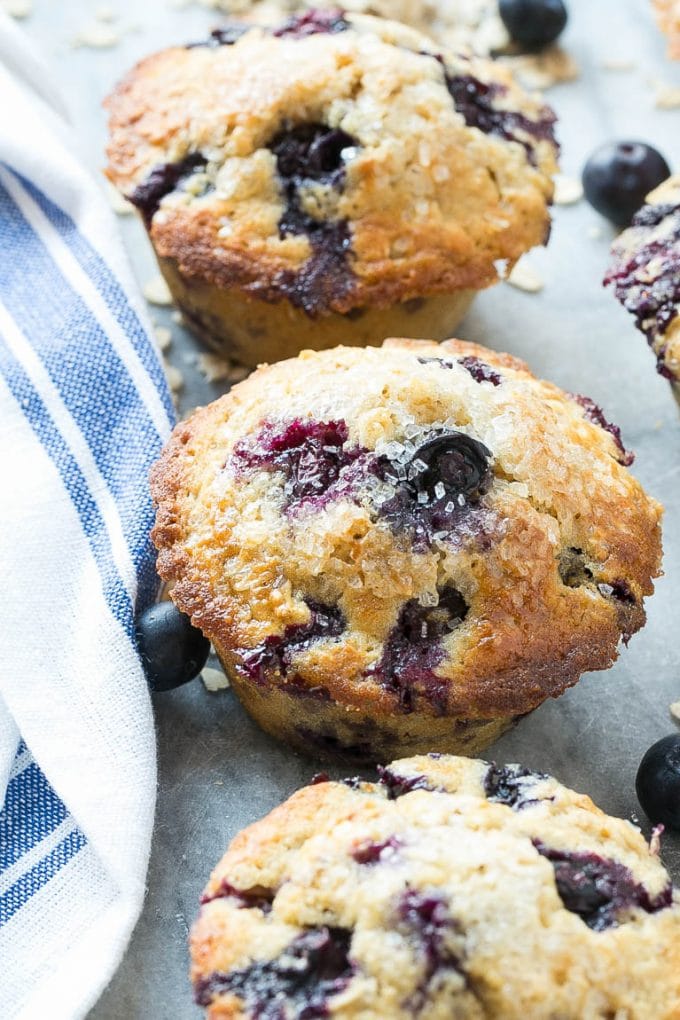 source
3. Pear Oat Bran Muffins
For this recipe you will need 2 cups Whole Wheat Pastry Flour, 1 cup Oat Bran, 1 tablespoon Baking Powder, 1 and 1/2 teaspoon Baking Soda, 1/8 teaspoon Cinnamon, 1 cup Chopped Walnuts, 1 cup Unpeeled, Grated Pear or Apple, 1 / 2 cup Brown Sugar, packed (I used light brown), 1 and 1/2 cups Buttermilk, 1/4 cup Water, 1 tablespoon Apple Cider Vinegar, 1 teaspoon Vanilla Extract, 5 tablespoons Vegetable Oil, Little To Top Quick cooking Oats. Preheat the oven. Mix all ingredients in a bowl. Mix well to obtain a consistent mixture. Pour the mixture into the muffin tin. Bake for 15 minutes. Sprinkle with sesame seeds.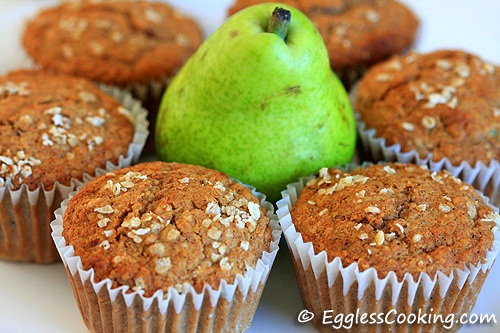 source
4. Plum muffins
Take 1/2 cup unsalted butter melted then cooled, 3/4 cup plus 2 tablespoon white sugar divided, 2 cups all-purpose flour, 1 tablespoon baking powder, 1/2 teaspoon salt, 3/4 teaspoon ground cinnamon, pinch nutmeg , 2 eggs, 1 teaspoon vanilla essence, 3/4 cup skim low-fat milk, 11 preserved seedless plums roughly chopped and divided into 11 portions. In a large bowl, mix the flour, baking powder, salt, nutmeg, sugar, cinnamon . In another bowl, mix egg, milk and vanilla. Pour this mixture into the flour mixture and mix well. Put the mixture in a greased bowl for amphibians. Add the finely chopped plums. Sprinkle cinnamon on top of each muffin. Bake for 15-20 minutes. Serve hot.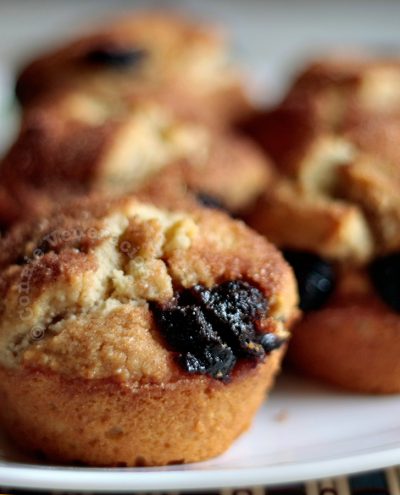 source
5. Strawberry muffins
For preparation of thee strawberry muffins you need 3/4 cup plus 1 tablespoon granulated sugar, finely grated zest of one medium-sized lemon, 2 cups plus 1 tablespoon all purpose flour, 1-1 / 2 teaspoons baking powder, 1/2 teaspoon baking soda, 1 / 4 teaspoon salt, 1/2 cup unsalted butter, melted and cooled slightly, 3/4 cup buttermilk, 2 large eggs, 1-1 / 2 teaspoons pure vanilla extract or the seeds from 1/2 vanilla bean, 1-1 / 2 cups finely chopped fresh strawberries, strawberry jam and salted butter, for serving. Mix all the above ingredients in a bowl. In a small bowl, place the strawberries with a tablespoon of flour. Add them to the other bowl. Divide the resulting mixture into a muffin tin. Bake in a preheated oven. Sprinkle with powdered sugar.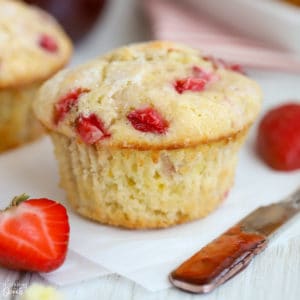 source