Nowadays more and more people are in constant rush. That makes their agendas full with tasks which doesn't leave them free time even for a meal. But, as we all know the importance of the breakfast is crucial fro an energized and productive day. That is why you should never skip the breakfast. Even when you don't have time to have a classic breakfast and you are enjoying only few minutes, between your duties, for coffee and breakfast, you should never miss this important meal in the day. And here is the solution how to deal with it. These to do breakfast ideas will help you stay fed even in the most rushy day at work. See the recipes and the easy to prepare instructions and never stay without your breakfast again.
1.Freezable Breakfast Burritos
You need 2 tablespoons olive oil, 1 bag frozen potatoes (country hash browns), 12 large eggs (whisked with a splash of milk), 1 teaspoon salt, 1 teaspoon black pepper, 1 cup breakfast sausage, cooked and crumbled, 8 slices bacon, cooked and crumbled, 1 green bell pepper, diced, 1 yellow bell pepper, diced, 1 red bell pepper, diced, 2 cups shredded cheese, 16 flour tortillas.In a bowl with olive oil add potatoes. Fry them until they turn brown. Set them aside. Heat the tortillas on the grill. Fill each with a mixture of potatoes and eggs. Add bacon, sausage and cheese. Wrap them. Put them in the microwave for 15 minutes before serving.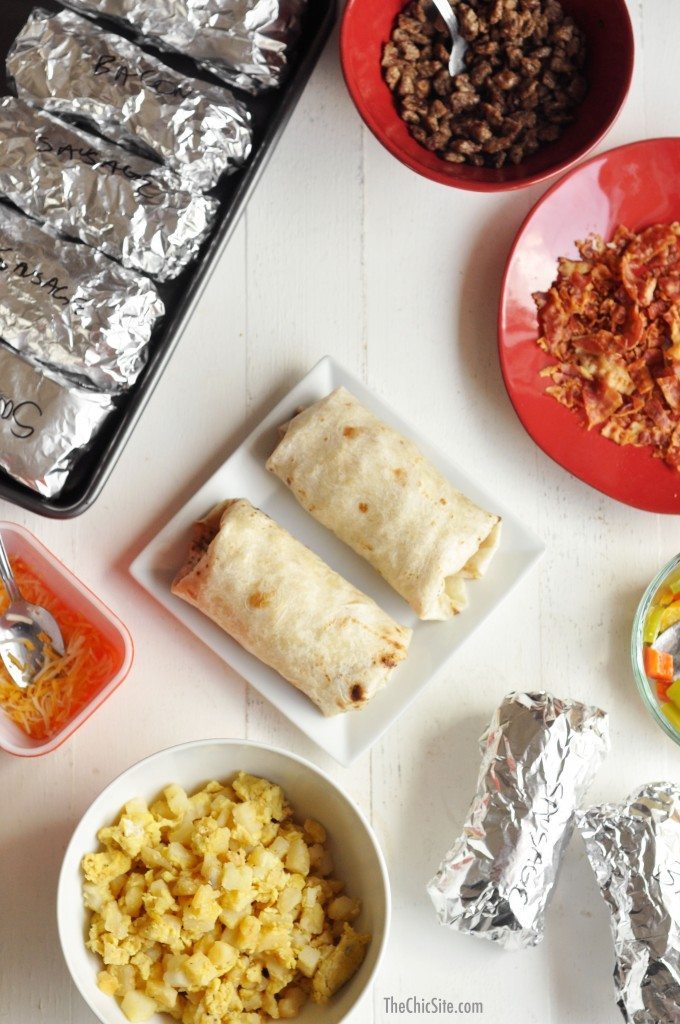 source
2. Parfaits To Go
For the preparation of these parfaits to go you need 6 cups Greek yogurt (any flavor you like), 1 pint fresh blueberries, 1 pint fresh raspberries, 1 pint fresh blackberries, 1 package fresh pomegranate seeds, 3 cups cornflakes (or your favorite healthy cereal or granola), 1 cup sliced almonds, 6 plastic food storage containers with tight fitting lids. All you have to do is put all the listed ingredients in a bowl. Put the mixture in a plastic container. You can eat them right away.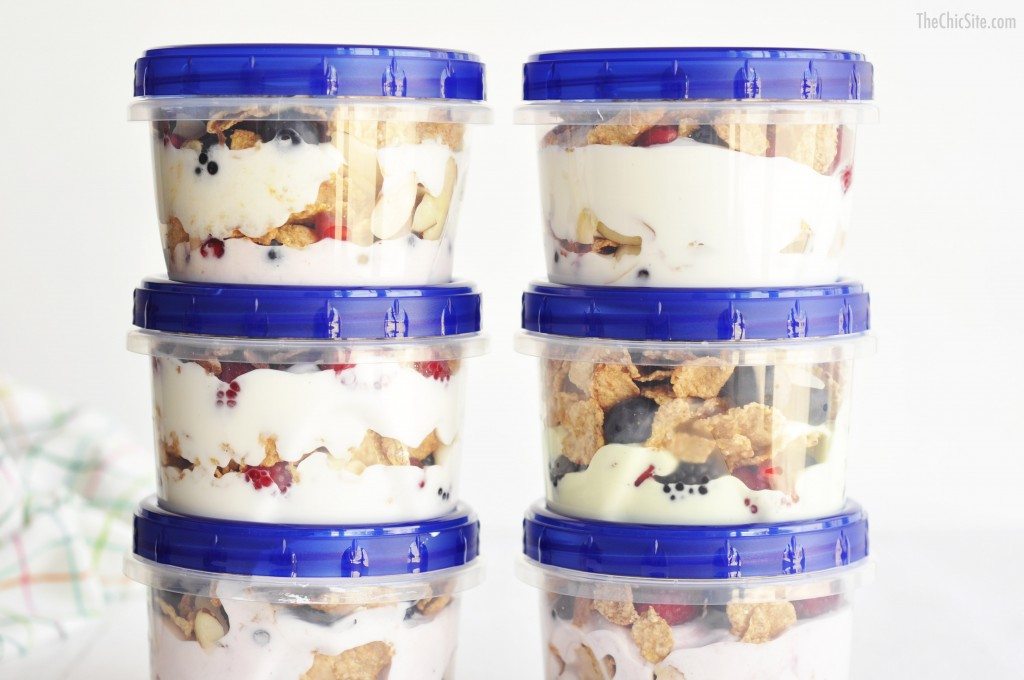 source
3.Ham, Potato and Cheese Omelets To-Go
To prepare this fast food to carry you need 1 tablespoon olive oil, 1 cup ham, diced, 2 cups frozen hash browns, thawed, 1 red bell pepper, diced, 1 orange bell pepper, diced, 2 cups baby spinach leaves, chopped, 1 teaspoon salt, 1 teaspoon black pepper, 12 large eggs, 1/2 cup milk, 1 cup cheddar cheese, shredded.Preheat the oven. Grease the muffin tin with butter. In a bowl with olive oil, mix the potatoes, peppers and spinach. Cook for about 5 minutes until soft. In another bowl, whisk the eggs, milk, salt and pepper. First, put the potato mixture in the muffin tin, then pour the egg mixture. Sprinkle with cheese. Bake for 30 minutes. Beautiful to eat when you are in a hurry.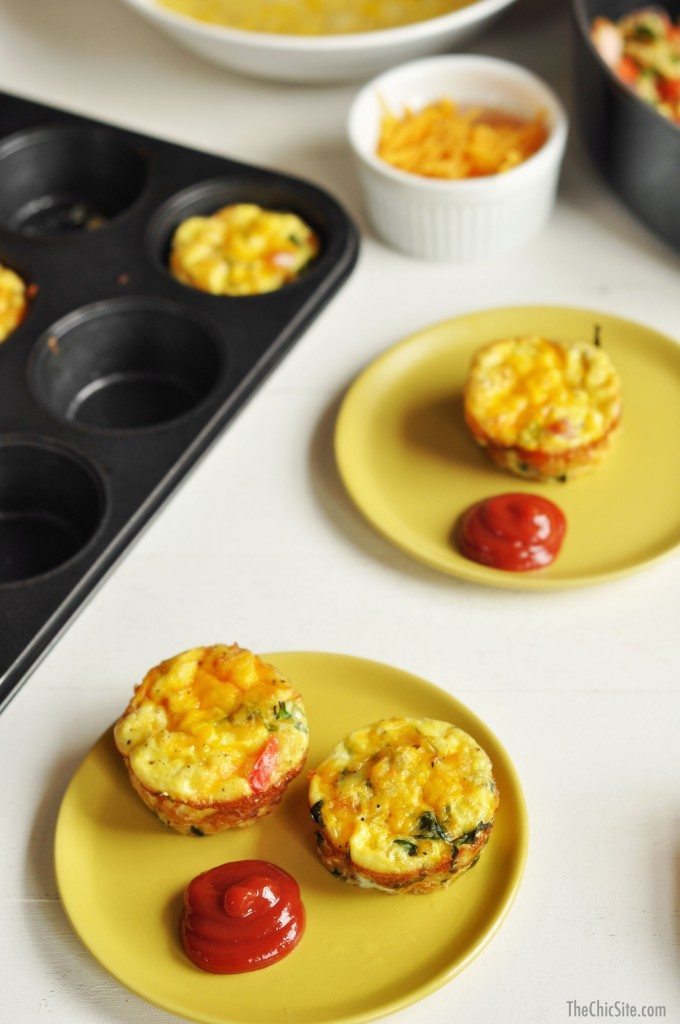 source
4. Frozen Smoothie Pops
You need 1 1/2 cups frozen fruit (strawberries or cherries), 1 banana, frozen, peeled and sliced, 1 cup Greek plain yogurt, 1/4 cup orange juice, 1/4 cup whole milk, 1 tablespoon honey. In blender mix all the ingredients. Put the resulting mixture in plastic bags. Freeze for at least 6 hours. Sweeten up one by one before leaving home. Enjoy!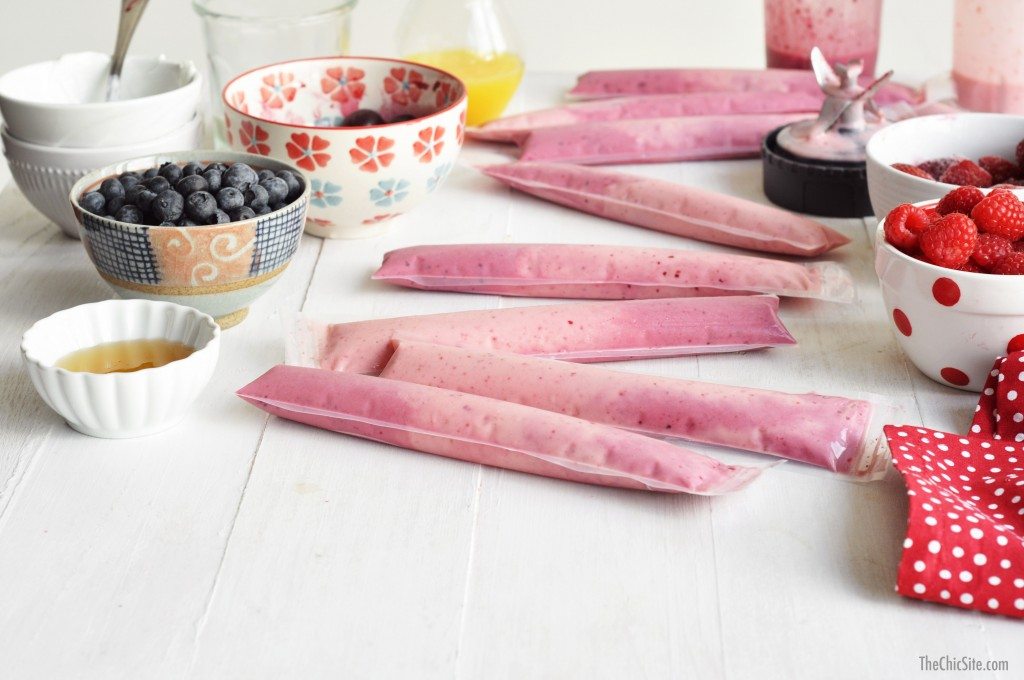 source