With the holidays just around the corner, people from all walks of life are thinking of gifts to give their loved ones. If you have a friend, a life partner, parent, sibling, colleague or any other loved one who loves to spend time cooking or baking in the kitchen, check out these 15 cooking must-haves you can buy for them.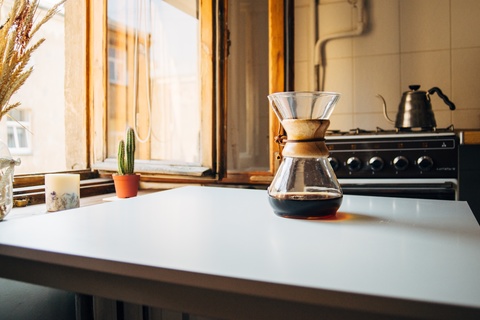 Gifts Under $50
You don't need to spend a TON of money on kitchen appliance gifts. There are smaller, not-so-popular devices that the gift receiver would appreciate. Here are 5 examples:
Herb preserver: Don't you hate it when you buy herbs only to use just a few stalks and waste the leftovers? With the Prepara Herb Savor, any user will be able to save the herbs for up to 3 weeks and even use the device as a centerpiece for his/her countertop.
Bagel slicer: For anyone who cannot get enough bagels, this slicer was specifically designed to cater the bagel lovers. Choose the Hoan Original Bagel Guillotine – it's a pretty unique kitchen appliance for just under 20 bucks.
Candy thermometer: If you know someone who is trying to up his/her baking skills or experimenting with advanced recipes, a candy thermometer can be a useful tool added to his/her collection.
Spiralizer: For those planning to embark on a low-carb or ketogenic diet once the new year begins, a spiralizer can be the tool they'll need when creating alternatives for pasta. With this device, anyone can spiralize cucumbers, potatoes, carrots, and other veggies like a pro.
Digital scale: If you have someone who is trying to bake bread or start a healthier diet, a digital scale is an affordable and uncommon gift.
Gifts Under $200
For your parents or close friends you're willing to splurge money on, here are 5 must-have appliances their kitchens should have:
Instant Pot 7-in-1 device: There's a reason why the Instant Pot is very popular until today – they're well-designed and super functional. If you're going to splurge on a multicooker, let it be the Instant Pot Duo that serves as a rice cooker, slow cooker, electric pressure cooker, steamer, warmer, sterilizer, and even yogurt maker in one!
Bluetooth or Infrared thermometer: For your dad who adopted a meat-roasting hobby in the last year, or your mom who's been complaining of being unable to cook her favorite steak properly, a more advanced thermometer would solve their dilemmas. You can choose between an infrared model or a Bluetooth one – both combine the traditional thermometer and the futuristic app use.
Wine Aerator: For someone who loves to enjoy wine while cooking in the kitchen, this device is a welcome addition. Developed by Vintorio, this Premium Aerating Pourer and Decanter Spout infuses your wine with oxygen to refresh even wine that you forgot sitting out for a few days.
Emeril Lagasse's Noodle Maker: There are plenty of pasta maker brands in the market, but there's just one designed by world-renowned chef Emeril Lagasse. His Pasta & Beyond Pasta and Noodle Maker removes the need to roll, mix, knead and do the pasta-making manually. This kitchen appliance is fully automatic and lets even new users create pasta and noodles, or serve dessert in minutes.
Breville Smart Kettle Luxe: For stylish kitchens that combine functionality with technology, the Breville kettle is definitely a must-have. This 7-cup kettle has built-in temperature settings for black coffee, French press coffee, and teas (black, green, white, and Oolong) to accommodate everyone's taste. It even has a 20-minute keep-warm function, which I'm sure many people will love.
Gifts Under $500
If you only want the best for your loved ones and you're willing to spend on their gifts, these brands are surefire people-pleasers:
Vitamix blender: Commercial kitchens have Vitamix blenders because they're powerful, easy to use, and easy to clean. They're simply the best when it comes to blenders.
Breville "the All In One" Immersion Blender: Switch from handheld to stand food processor with this efficient multi-use immersion blender. It's ideal for people who love making soup and need a food processor in their lives.
Cuisinart Convection Toaster Oven Airfryer: If you're gifting someone whose kitchen has no toaster oven AND airfryer, check out this Cuisinart dual-purpose device.
Sous Vide Cooker: For those with a budget, look out for Breville's  Polyscience HydroPro Sous Vide Immersion Circulator. This device cooks food in temperature-controlled water, which results in the softest meats and steaks that no other cooking method can produce.
Kitchen Aid Stand Mixer: Many people who cook, bake, and generally enjoy spending time in the kitchen have the KitchenAid stand mixer at the top of their wishlists. Aside from its gorgeous look and candy colors, this stand mixer also has an array of accessories that turn the mixer into a sausage maker, pasta maker, spiralizer, meat grinder, food processor, and so on.
I'm sure if you give any kitchen appliance from this list of cool devices, the person on the receiving end would LOVE it no matter the price.