To find a good and functional furniture that will be like you wish is not so easy and even if you wind than these is possible to be out of your budget. So what you said to make your own. If you are DIY lover than this will be adorable project for you.
Vikkie Williams from the blog, Little VWS is the creator of this awesome project i.e she is the woman who initiates this procejt to be made. Actualy she wanted a new useful and functional craft desk that will have all the storage and counter space she would need. Her husband instead of braking the bank gets creative and has ingenious idea with fantastic result. Watch below and enjoy.
MATERIALS NEEDED
2-4'x8′ X 3/4inch Thick sheets of MDF with Melamine top (Melamine is like a Formica)
3-12 Foot 1″x4″ Trim like Pine or your own personal choice of wood.
12-Bolts & nuts to secure 1″x4″ boards to cubicles
2-12 foot pieces of Trim of your choice for the top edge
3inch screws for the pieces of frame
1-Quart of Killz primer in white
1-Quart of white paint ( I used cabinet and trim paint its high gloss)
1-Tube of liquid nails
1-Tube of Kwik Seal Caulk or hole filler
Handful of small finishing nails with no head on them
STEP 1.
PLACE YOUR CUBLICES WHERE YOU WOULD LIKE THEM ACCORDING TO HOW BIG YOU WANT YOUR CRAFT DESK.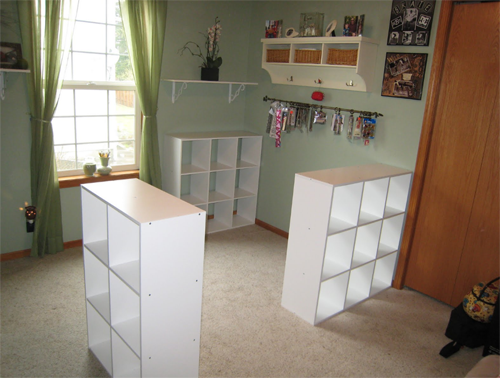 source
TOOLS NEEDED
Drill & Drill bits to pre-drill holes in cubicles for bolts
Philips head for drill
Tape measure
Caulk Gun
A Square
Hammer
Table saw to cut sheets of MDF and trim and frame
After that, he started to connect the shelving units together using long wooden boards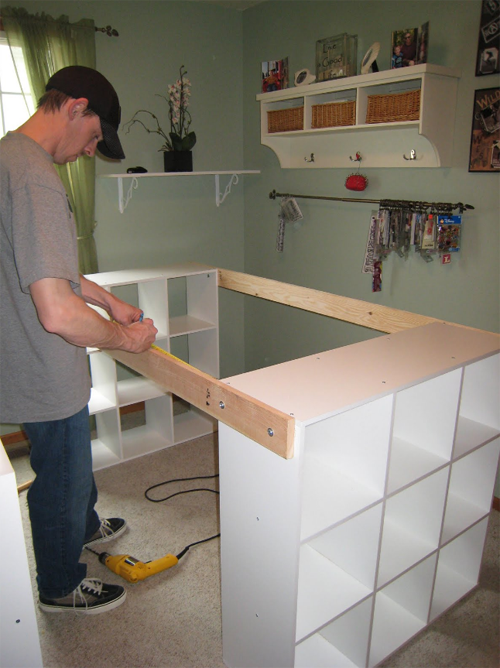 source
first attached the larger of the two bookshelves together and then added the crossbeams.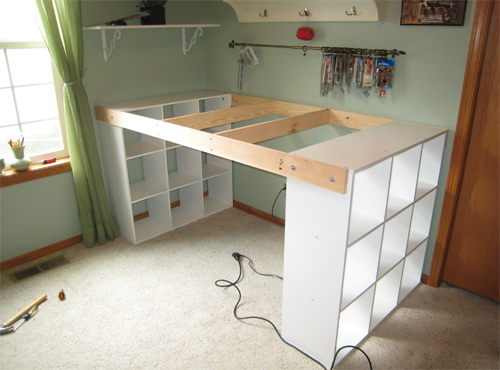 source
smallest unit was added to one side, making an L-shape.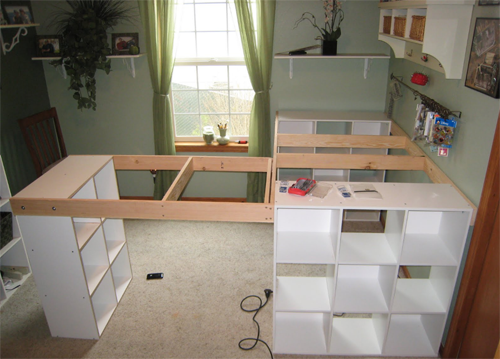 source
Once that was finished and wooden frames were added to connect all the units, it was time to make the desktop.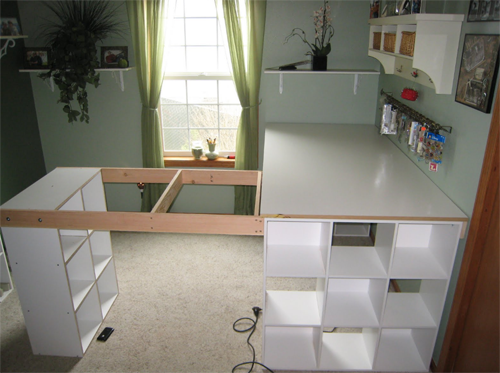 source
Here is how the project looks when it was done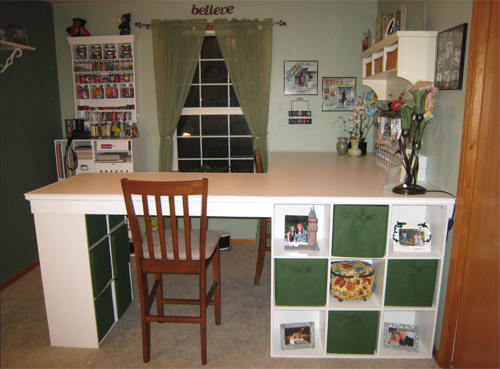 source If you love this proejct and want more clear instructions see more on littlevws.blogspot.mk