The popularity of raw vegan dessert recipes is on the rise which is an amazing thing.
Paying attention to the things we eat and making sure we eat healthily is a great habit that everyone should have. There isn't a better way to eat healthy than to prepare healthy meals at home because we can control what we put inside.
Don't be tempted to reach for sweets from the store or bakery because these recipes are super easy and quick to make. You are going to enjoy getting in the kitchen and making your very own homemade healthy desserts, believe me! Check them out!
Mini Vegan Lemon Tarts (Gluten-Free & Healthy)
Ingredients:
For the crust
5 pitted dates, soaked into water for at least 1 hour
1 ½ cups (about 150 g) rolled oats
½ cup almonds (60 g)
½ banana, cut into slices and frozen
For the filling
¼ cup low-fat coconut milk (60 g)
1 cup almond milk (240 g)
1 tbsp freshly squeezed lemon juice
1 tsp lemon zest
2 tsp rice syrup
2 tsp vanilla extract
1 tbsp arrowroot powder
To garnish
Mixed berries of choice
Fresh mint leaves
Although these tarts look really complicated, you are going to need just half an hour to make them. You are going to love them since they are low in sugar and they are topped with fresh fruit. Now, that spring is already here, this is the perfect dessert for the warm spring and hot summer days. Such a lovely gluten-free and dairy-free treat. Check the instructions on the link below and give it a try!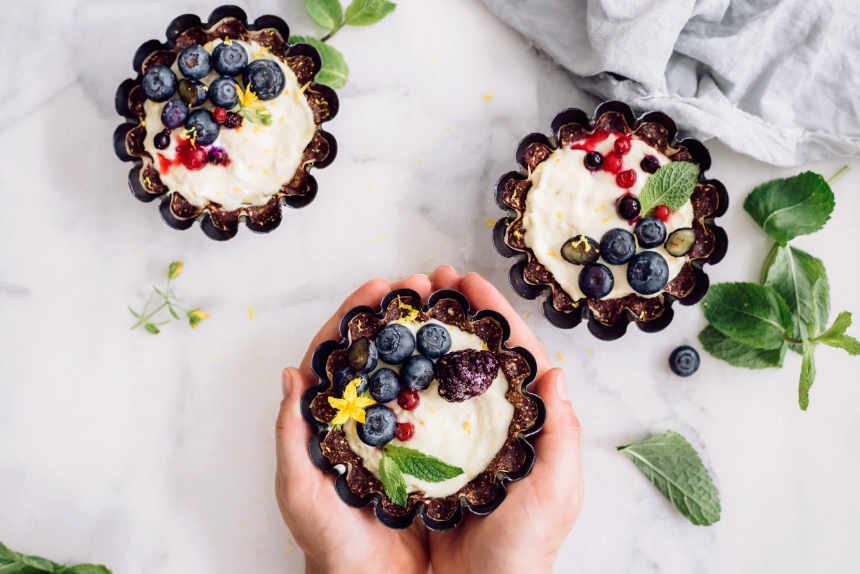 Healthy Vegan Frozen Yogurt & Raspberries Bars
Ingredients:
200

 

gr

 

biscuits

50

 

gr

 

oats

140

 

gr

 

coconut oil

 

(melted)

370

 

gr

 

non-dairy yogurt

 

(I used soy/coconut)

100

 

gr

 

raspberries

 

or 50+50 gr if you want to add another berry

1

 

tbsp

 

agave syrup
With these ingredients, you are going to get a dessert for 10 servings. It will take you 10 minutes prep time and then you will have to wait for 3 hours before you get to eat it. If you are looking for a quick and easy dessert recipe, this is it. Blend the biscuits, mix them with coconut oil and transfer the mixture to a tray. Then mix the yogurt and the syrup, pour it over the biscuits, decorate with fruits, and you are done!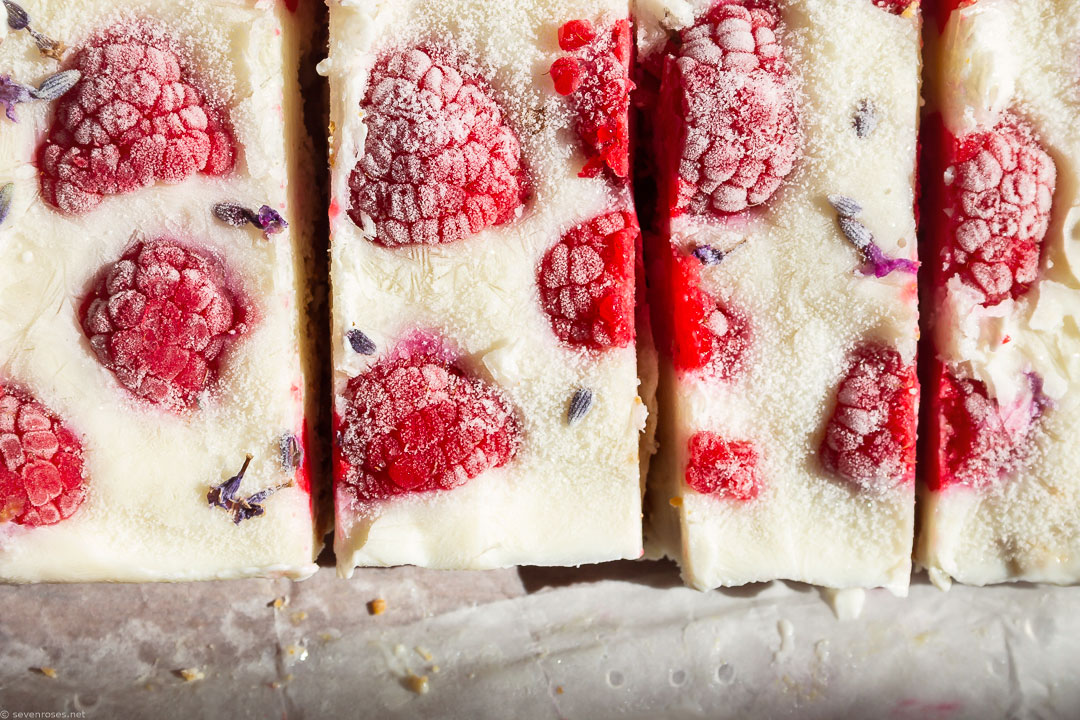 Raw Caramel Slice (No-Bake Chocolate Treat)
Ingredients:
Cookie layer
1.5 cups oat flour (150 g)
½ cup almond flour (55 g)
⅓ cup dates, pitted & soaked (100 g)
3 tbsp full-fat coconut milk
Date caramel
⅓ cup almond butter (60 g)
1 cup dates, pitted & soaked (120 g)
4 tbsp almond milk
1 tsp vanilla extract
½ tsp salt
Chocolate layer
1 cup dark chocolate (about 150 g), melted
Topping
Almonds, crushed
Coarse salt (optional)
This is the ideal recipe for you if you are looking for a no-bake dessert. Check the instructions on the link below and make this three-layer vegan dessert which is best enjoyed chilled. Before you get down to prepare it, make sure that you have a strong food processor that will make all the layers nice and smooth. Remember that soaking and draining the dates will help! Adding a little bit of coconut oil to the top dark chocolate will prevent the chocolate from breaking is another tip that you could use.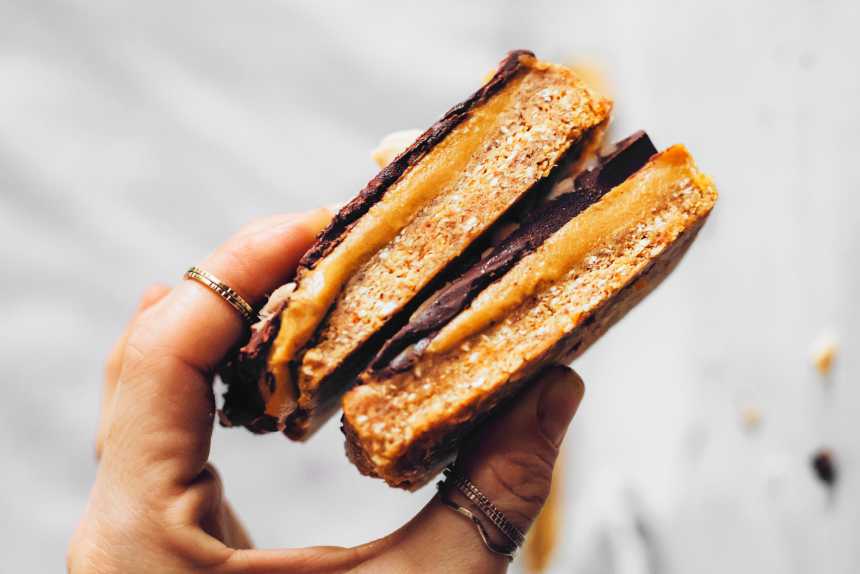 Chocolate & Coconut Bounty Bliss Balls (Healthy + Vegan)
Ingredients:
2 cups shredded coconut (160 g)
1 cup coconut milk, refrigerated (240 g)
1 tbsp rice or agave syrup
2 tsp vanilla extract
Coating
⅔ cup dark chocolate, melted (100 g)
Shredded coconut (about ½ cup)
Optional
Hazelnut for filling
Almond or rum extract
I love coconut, so this dessert looks the most appealing to me. I think I'm giving this raw vegan recipe a try first! I've heard that we should add two layers of chocolate for the coating in order to have the best bliss balls ever. Bar-shaped bounty treats are another option too if you want to skip the balls this time.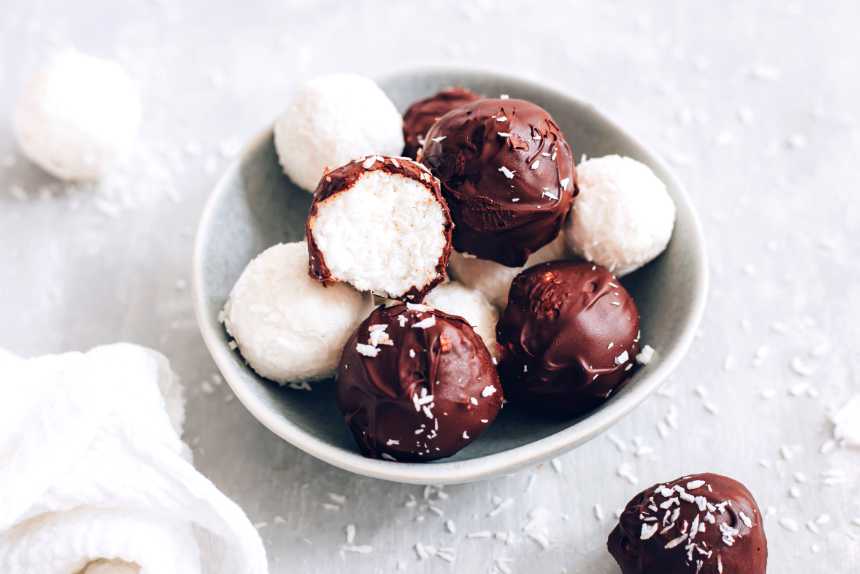 Vegan Coconut Slice
Ingredients:
FOR THE BASE:
75

 

grams

 

Pitted Dates

50

 

grams

 

Rolled Oats

1

 

heaped teaspoon

 

Coconut Oil

1

 

tablespoon

 

Maca Powder
FOR THE COCONUT LAYER:
40

 

grams

 

Coconut Oil

30

 

grams

 

Maple Syrup

80

 

grams

 

Dessicated Coconut
FOR THE CHOCOLATEY TOPPING:
75

 

grams

 

Dairy-Free Dark Chocolate

50

 

grams

 

Dairy-Free White Chocolate

1

 

teaspoon

 

Cacao Nibs
You are going to be amazed by this majestic raw vegan dessert! Grab some dates and oats to make the base and then top them up with this fantastic crunchy later made of coconut and dairy-free chocolate.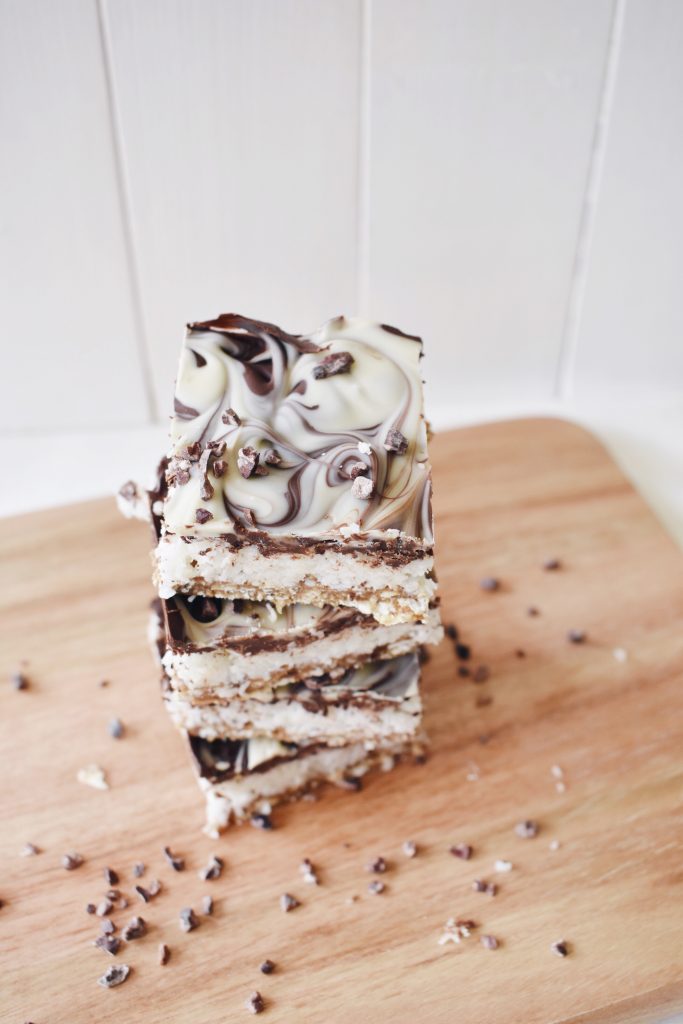 Brownie Peanut Butter Bars
Ingredients:
6 Medjool dates, pitted and soaked
⅛ cup cocoa powder
¼ cup chopped almonds
pinch of salt
1 tbsp peanut butter
½ tbsp oatmeal
more salt
15 minutes prep time and 10 minutes cooling time are keeping you away from your very next favorite raw vegan dessert. Blend the dates to get a dates paste, add the cocoa powder and blend again. Then add the chopped almonds and the salt and transfer to a container. And finally, top it with mixed peanut butter and oatmeal. The decoration is optional. Cut it in bars once is cooled.