Do you pay utmost attention to the things you eat? A healthy diet is really important for our health and well-being, so we should be careful with the food we eat most of the time. Homemade food is always the best choice since you can control what you put in it. There are tons of healthy breakfast, lunch, and dinner recipes out there that can inspire us for our next meals but what about healthy snacks? We sure love to snack during the day, and that doesn't mean we are allowed to eat anything. Snacks can be super healthy too, so scroll down through the article to get some ideas!
HEALTHY SNACKS
AIRPLANE WARM NUTS RECIPE
Here's a quick and easy recipe for all of you who don't feel like waiting for the snack to be ready. This snack will take you no more than 5 minutes. Get the cashews, almonds, and all of the spices listed below and mix them well together. In a pan heat the olive oil and then add the nut mixture. Cook it until it reaches a golden hue and it gets warm.
Ingredients:
2

 

cups

 

raw cashews*

1

 

cup

 

raw almonds*

1

 

T

 

olive oil

1

 

tsp

 

cumin

2

 

tsp

 

rosemary

2

 

tsp

 

sea salt

1

 

tsp

 

cayenne pepper

1

 

T

 

coconut palm sugar

 

optional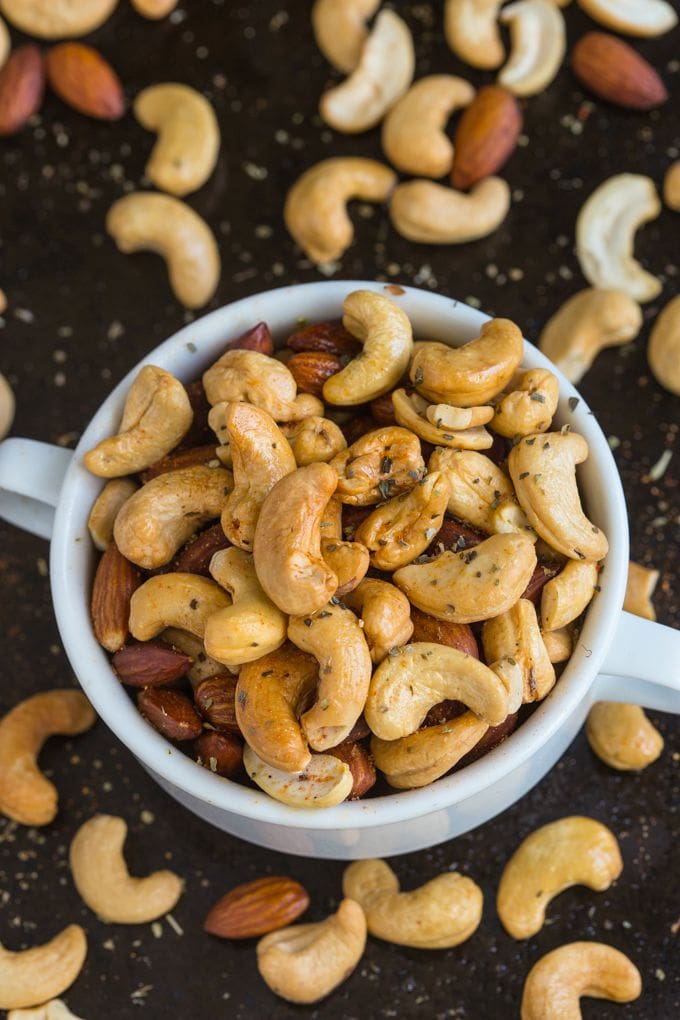 BANANA GRANOLA BARS
Are you about to go to the store to get some snacks? Stop there! Preparing these banana granola bars will take you just 15 minutes and what's most important is the fact that they are healthy. Mash the bananas, then add the wet ingredients and the cocoa powder and give it a good mix. Then add the rest of the ingredients and transfer the mixture to a pan. You can put it in the freezer or eat it immediately.
Ingredients:
2

 

large overripe bananas (240 grams total, without peel)

1

 

cup

 

(92 grams) rolled oats (Use GF oats, if needed)

1/2

 

cup

 

crunchy cereal granola or nuts

2

 

tbsp

 

pure maple syrup

 

or any other sweetener you use, if using a granulated sweetener add 2 tbsp liquid such as almond milk

2

 

tbsp

 

(28 grams) natural peanut butter or other nut or seed butter

2

 

tbsp

 

semi-sweet chocolate chips (make sure to use vegan, if desired)

2

 

tbsp

 

dried cranberries or other dried fruit

2 – 4

 

tsp

 

unsweetened cocoa powder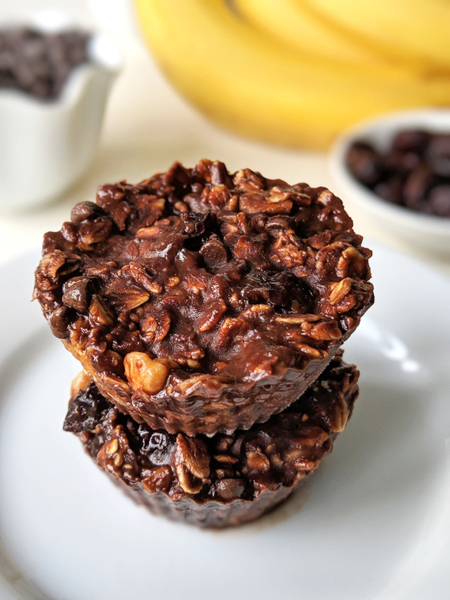 CAPRESE SKEWERS
The total time for these Caprese skewers is 21 minutes. Use this photo as an inspiration on how to thread the ingredients on the skewers. When you are done, drizzle them with some olive oil, seasoning, and balsamic glaze. Who would have said that such nutritive healthy snacks can be made in an instance?
Ingredients:
24

 

red cherry tomatoes

12

 

yellow cherry tomatoes

24

 

bite sized fresh mozzarella balls

36

 

small basil leaves

1 1/2

 

tablespoons

 

olive oil

1

 

teaspoon

 

Italian seasoning

1 1 /2

 

tablespoons

 

balsamic glaze

salt and pepper to taste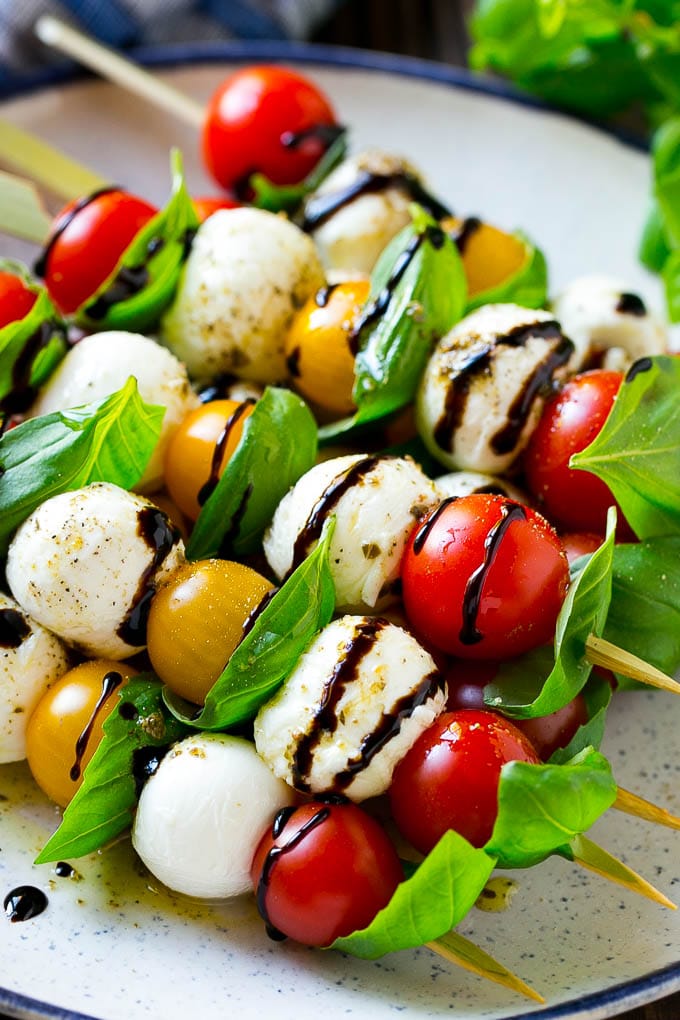 THE BEST BEEF JERKY
If you want to enjoy the bees jerky with all of your senses, you will have to plan this snack in advance because it takes just 10 minutes of prep time and 8 hours of cooking time. It requires a dehydrator too, but if you don't have one you can always make it in the oven. Then you will need 4 hours of cooking. Click on the link below to find the whole tutorial to this healthy and delicious snack.
Ingredients:
2

 pounds flank steak (or eye of round or top round steak)

1/2

 cup low-sodium soy sauce

2

tablespoons Worcestershire sauce

2 teaspoon

s coarsely ground black pepper

1 teaspoon

 liquid smoke

1 teaspoon

 onion powder

1

 teaspoon seasoned salt

1/2

 teaspoon garlic powder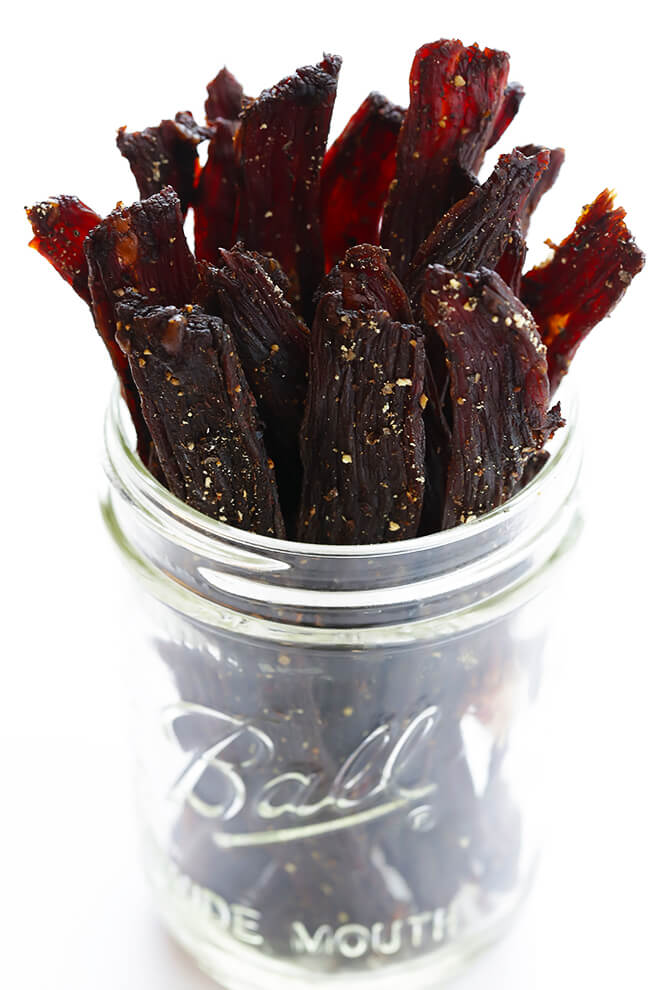 THE ULTIMATE VEGGIE TOAST
Do you love to snack some toasts? Personally, they are my favorite snacks ever! Here's a recipe for the ultimate veggie toast that won't make you feel bad about snacking. Make sure you get all of the ingredients. You can make some adjustments according to your preferences, of course!
Ingredients:
2 toasted pieces baguette (I used gluten-free vegan bread)
⅓ cup Fresh Pea Hummus (or any other hummus that you like!)
½ avocado, thinly sliced
4 tomato slices
1 cup curly kale finely chopped
3 tablespoons shredded carrots
2 tablespoons thinly sliced shallots
2 teaspoons olive oil
1 teaspoon red wine vinegar
kosher salt
2 tablespoons broccoli sprouts
2 teaspoons olive oil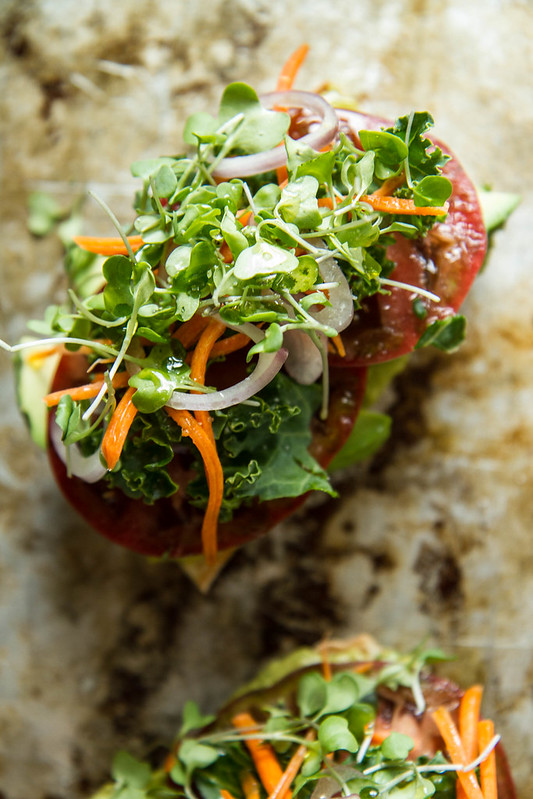 FROZEN FRUITY YOGURT BITES
Don't these bites look just fantastic? It won't even cross your mind that just 3 ingredients are necessary to make them! All you have to do is to fill some cupcake cases or silicone muffin cups with yogurt and add the fruit. At the end just insert them in the freezer. This snack is as easy as a pie, and I believe that you won't find it hard doing it at all.
Ingredients:
200g Yoghurt of your choice (we used natural yogurt)
 A handful of fresh raspberries
 A handful of fresh blueberries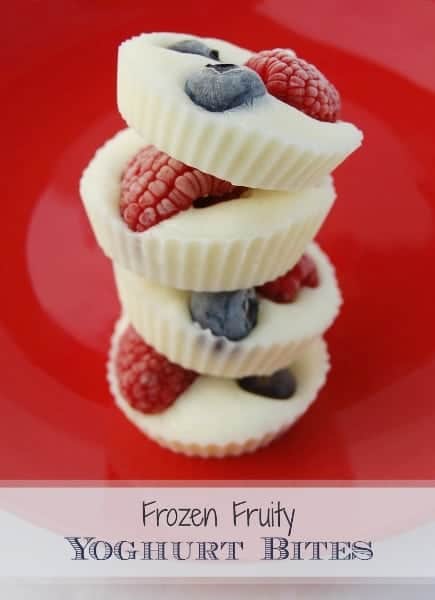 Closure
Do you have some healthy snack ideas that you love to prepare? Feel free to share them with us since healthy ideas are always welcomed especially if they are quick and easy to make.