When thinking about diamond necklaces maybe you should consider Yellow diamond necklaces. They are magnificent works of art that should be admired. However, when we think of yellow diamond necklaces or diamond necklaces in general, we may conjure up images of various designs.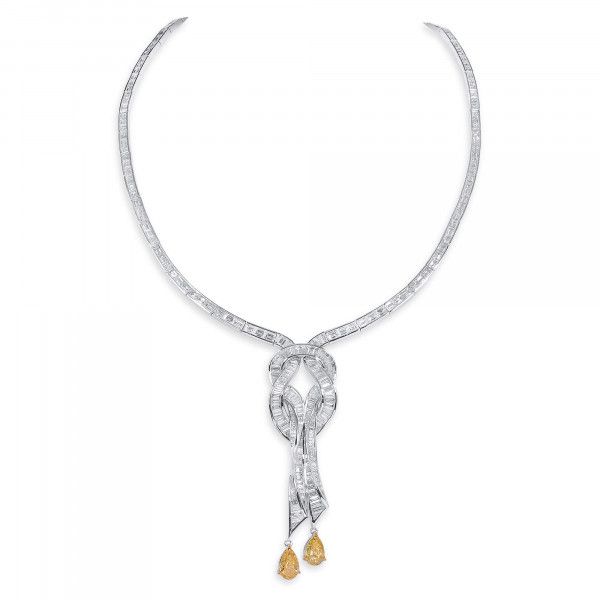 When I think of a yellow diamond necklace, I envision a single diamond, whereas others may envision a Victorian-style statement necklace.
Because there are so many styles to pick from, let's go through a few of the most popular ones and see which one best suits you. Astteria has a variety of jewelry selections for you to choose from.
Yellow Diamond Necklace Options
Here are several common types of yellow diamond necklaces, along with some complementary colors. Overall, these sorts can be combined or kept separate, but that is entirely up to you and depends on your personal preferences.
A Single Diamond
A single diamond necklace has a more modest appearance and is the least conspicuous of the three styles. You can have a single diamond in the center, just below your neck, like in many diamond necklaces.
The diamond can come in a variety of shapes and colors. The pear shape cut is a common cut for yellow diamonds, but you may also get round, cushion, heart, and many more shapes.
Single diamond necklaces are ideal if you don't want to show too much skin but yet want to spruce up your look.
Statement necklace
A statement necklace, on the other hand, is something you may have heard of. Celebrities, leaders, and other public figures are frequently spotted wearing statement necklaces. This look is ideal for elevating any outfit to a more formal and refined level.
People frequently wear black dresses, which appear to be quite simple and can be seen as casual on their own. Add a statement necklace to dress it up a touch, giving the appearance of confidence, power, and overall a way to stand out.
White, black, and possibly yellow tones would look great with a yellow diamond accent necklace. Again, it depends on the hue of your yellow diamond because, as you may know, diamonds come in a variety of shades. The yellow diamond pieces always go well with white and black, according to a decent rule of thumb.
Chocker
Then there's a choker necklace. The choker is now a distinct fashion statement, but it can also be a single diamond necklace.
A choker necklace grips your neck without putting any additional strain on it. It is possible that the necklace will be unpleasant at first, but it should not be painful. Statement necklaces can be worn as a choker or a single diamond necklace, as previously described.
Diamonds wrapped around the necklace, similar to a tennis bracelet, are another popular component.
A choker necklace paired with a longer natural necklace is a terrific way to accessorize this look. The layered aesthetic is really popular right now, with two to three matching necklaces. For more formal events, you can wear an all-around diamond necklace alone or with a longer single diamond necklace.
Chain
Finally, there's a chain, which is similar to a choker necklace. You've definitely seen a chain style before in the form of a bracelet or maybe a necklace. A chain can be worn alone or in conjunction with a pendant.
Silver/colorless or gold is probably the most common chain necklace you've seen. A yellow chain necklace, on the other hand, is an excellent method to add a more feminine touch.
Final thoughts
Yellow diamond necklaces come in a wide variety of shapes and sizes. You may wear a necklace for any event, from plain to dramatic. You can go to Astteria to locate the perfect jewelry.