Are you wondering how to wrap presents for the holidays in some pretty extraordinary ways, so the wrapping itself fascinates the receiver, not just the present? Wrapping presents will make you feel happy and excited, so if you are looking for some new ways to wrap the presents this year, stay tuned. These tutorials are amazing for beginners too, since you can see the step-by-step how to get the final design for each design. Have you already bought some wrapping paper and other small decorations and you can't wait for the holidays to come? We are less than a month away from them though! It's a perfect time to think about what to buy and the way to wrap it!
Dot Wrapping Paper And Snowman Tag
If you are left with some monochromatic paper from last year, don't rush to buy a new one. Just add some dots to it and you will have it updated quickly and easily. Presents tags can be as much important as the wrapping, so pay attention to them as well. This snowman tag is totally cute. All you have to do is to get some cotton balls and glue them. Write your note and your present is ready to make someone happy!

DIY Gift Bags
Creating a gift bag out of wrapping paper is as easy as a pie! Start wrapping it as usual but stop at the top and follow the tutorial below. A bow will give it a nice finishing touch, so don't miss to add it.

Furoshiki Gift Wrap
The furoshiki gift wrap will work better for small gift boxes. Place the present in the center of the wrap and tie some knots with the opposite corners as shown in the photo below. At the end embellish the present with some pinecones, berries, and tags.

Magazine Ribbon Gift Bows
Magazine bows have always managed to leave me speechless, and I'm really glad that I have run across a tutorial that will teach me how to do one on my own. Are you excited to give it a try? Learning how to wrap presents can be really fun!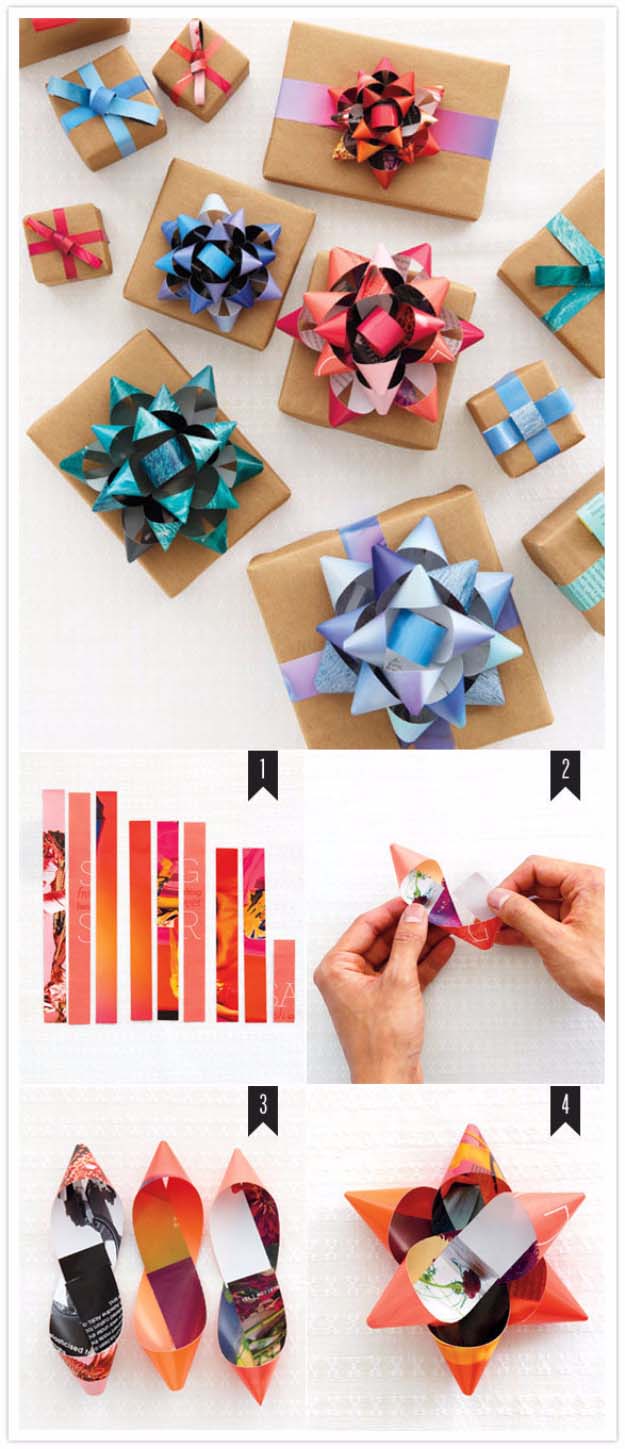 Matchbox Suitcase Gift Wrap
Have you always wondered what do you need to wrap a present perfectly? I'll say, patience, attention to detail, and a desire to do it. Well, the desire may be the most important to start with in the first place! If you miss traveling this year, go ahead and wrap the present as a traveling bag. Cut the paper as shown and just glue it to the wrapped presents. Although it looks complicated, it's not at all!

Polka Dot Gift Wrap
Here's a quick tutorial on how to update any wrapping paper in any shape you like. A stamp ink will help you modify it in any possible way that comes to mind, so be creative and don't be afraid to try new things. How to wrap presents requires that you are fearless and adventurous!

Christmas Tree Gift Box
Isn't this Christmas tree gift box lovely? Get down to some sketching first before you achieve the wonderful final results! I have to say that this is one of my favorite designs so far!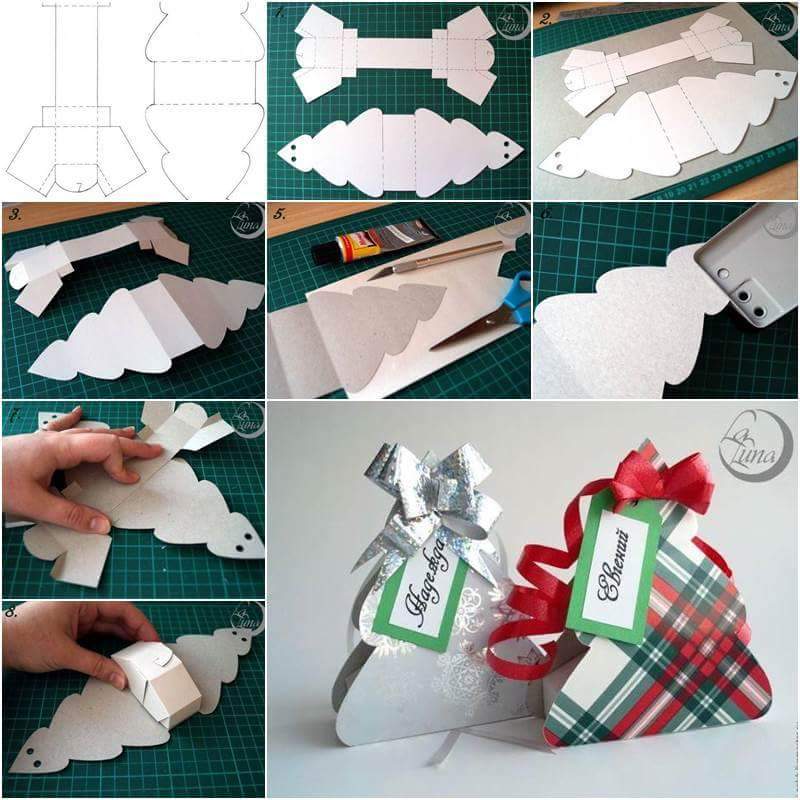 Polka Dot Floral Closure Envelope With Ribbon
If you are not sure what to give as a present this year, you can just give money, or a gift card or voucher. Wrap them in this floral closure envelope and add a ribbon bow.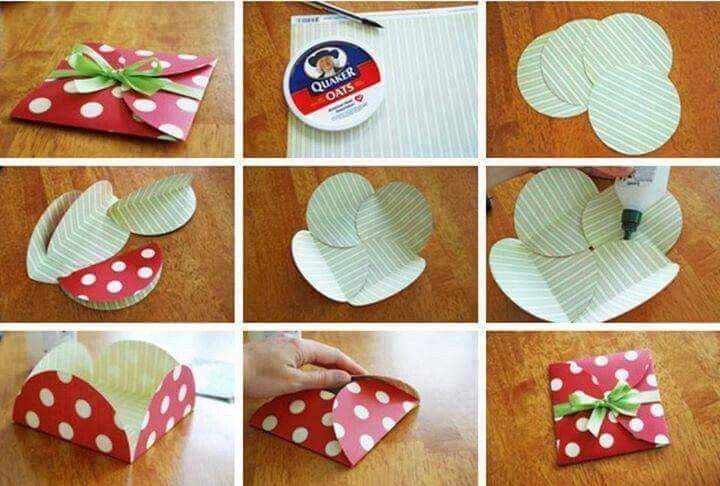 Sparkling Mini Pine Tree For Christmas Gift
Adding special details to a present box counts as you have wrapped it yourselves too, doesn't it? Grab some clothespins, glue, and glitter, give them some holiday magic and add some snowmen, trees, reindeer, or anything else that reminds of winter. Attach the tag with the clothespin and your present it ready to reach its final destination.

DIY Paper Stars
These paper stars look fabulous and are super easy to make. Is this tutorial encouraging enough to give it a try?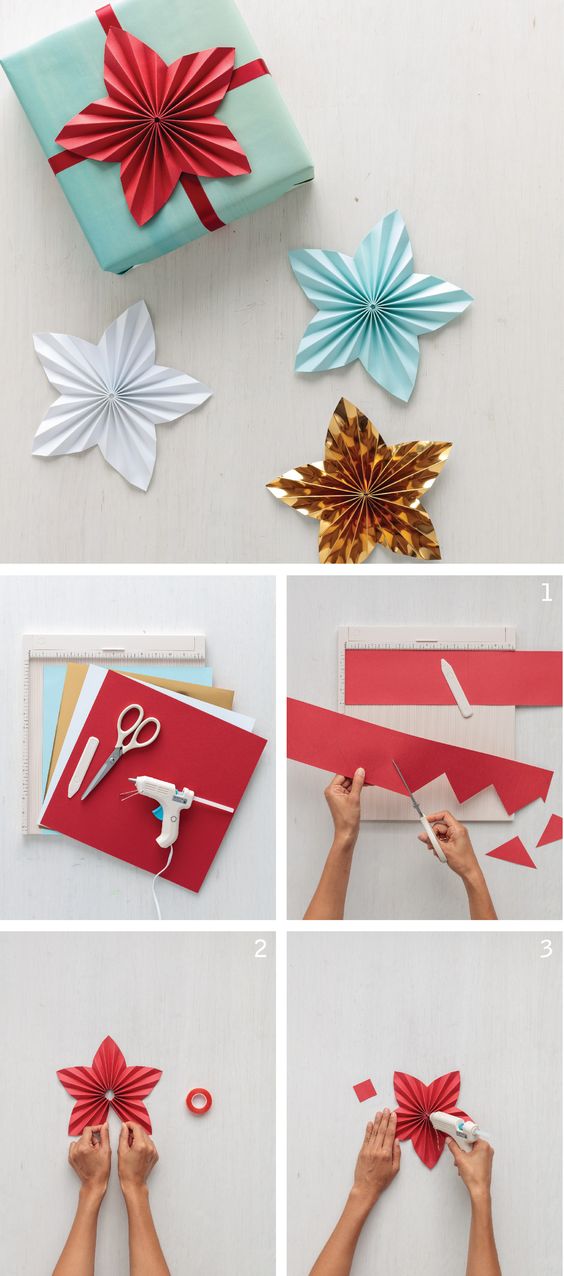 White Paper Snowflakes
You can make these cute snowflakes by using white tissue paper, or any other paper. Cut it as shown below and attach it to your present to make it look spectacular and more festive. Adding some berries and greenery is a nice idea as well!

Reindeer Brown Paper Bag
The reindeer brown paper box never gets out of style. Kids will especially love it, so consider wrapping your gifts in this way!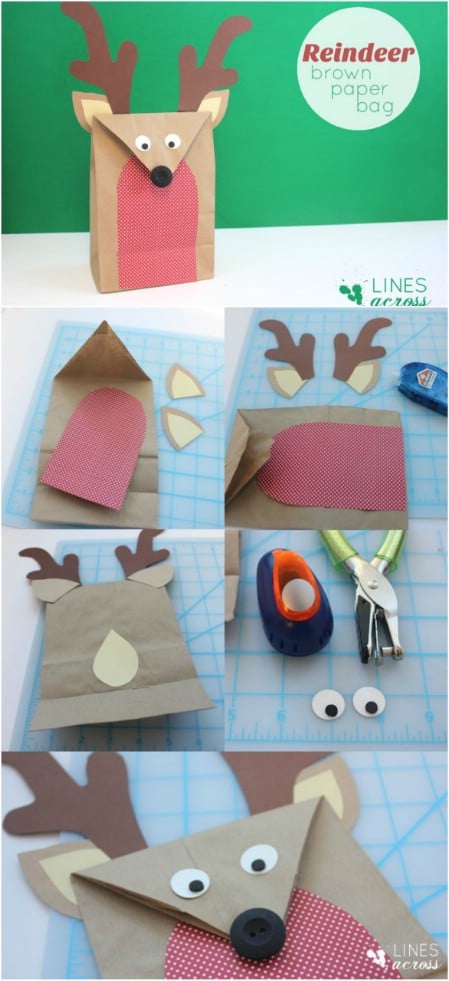 Wintery Theme Gift Wrapping
The colors of your wrapping paper and ribbons play a crucial role in whether your Christmas presents will look jolly and festive, so don't underestimate them.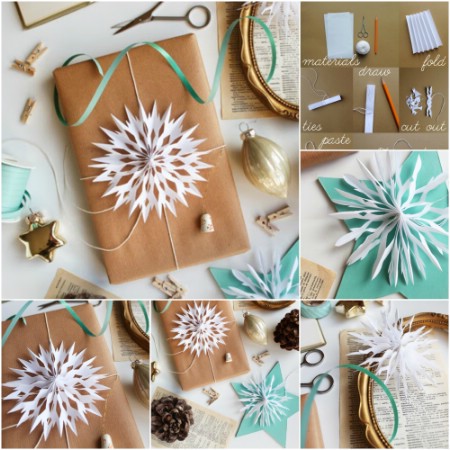 Closure
Have you learned some new ways how to wrap presents for the Christmas holidays? Give them a try and make people around you feel special and loved!