Is there a better Christmas activity than to make DIY Christmas ornaments on your own? Spending more time inside your homes due to the cold weather may be really irritating and you will find yourselves feeling bored more than usual. So, is there something that you can do to improve your mood and make yourselves feel better, productive, and festive? Of course, there is!
Decorating the home for the holidays is a must in order to make things more festive and jolly, and let's admit it, that can cost quite a fortune. Buying new ornaments every year to make the Christmas tree different can break the bank, so looking for a cost-effective solution is the smartest idea ever. DIY Christmas ornaments can be so fun and challenging to make, so get your family together and decide to decorate your tree with just handmade ornaments this year. I bet that they will be super excited to give a hand and participate in this project!
Cinnamon Stick Christmas Tree Ornaments
The smell of cinnamon in winter can make the home feel so warm and cozy, so you should think about every possible way to incorporate it in your home. Has it ever crossed your mind that you can make some lovely Christmas tree ornaments by using cinnamon sticks? Get a hot glue gun, stick some Christmas tree leaves on them and decorate with some colorful buttons. As simple as that!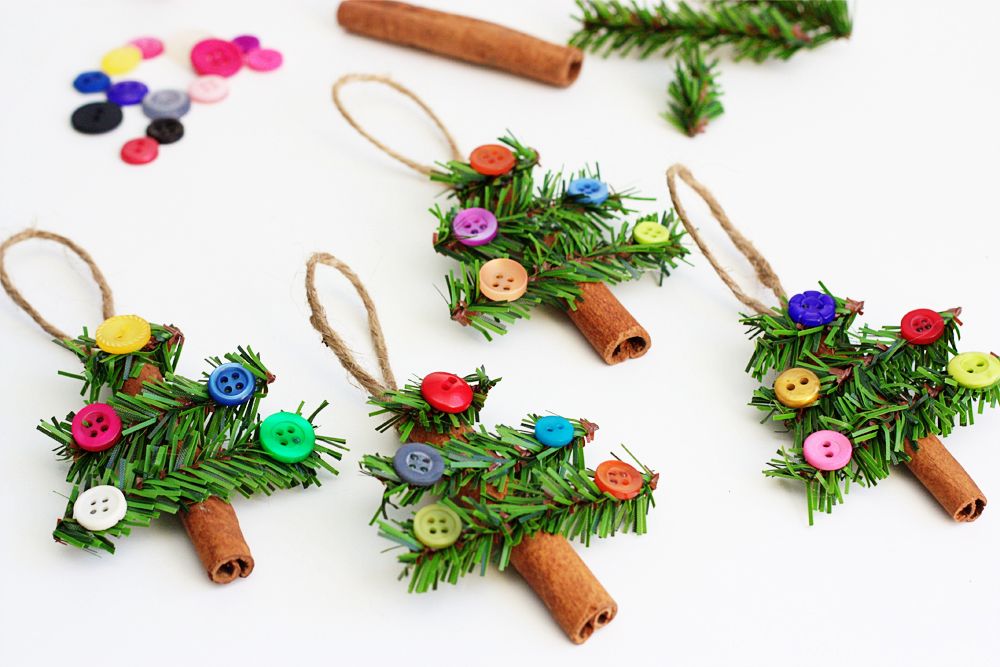 DIY Glitter Teacup Ornaments
Take a look around you to find possible items that can be used in your DIY projects for this Christmas. Even things that are used daily can become your statement-making Christmas tree ornaments. What do you say about repurposing some teacups?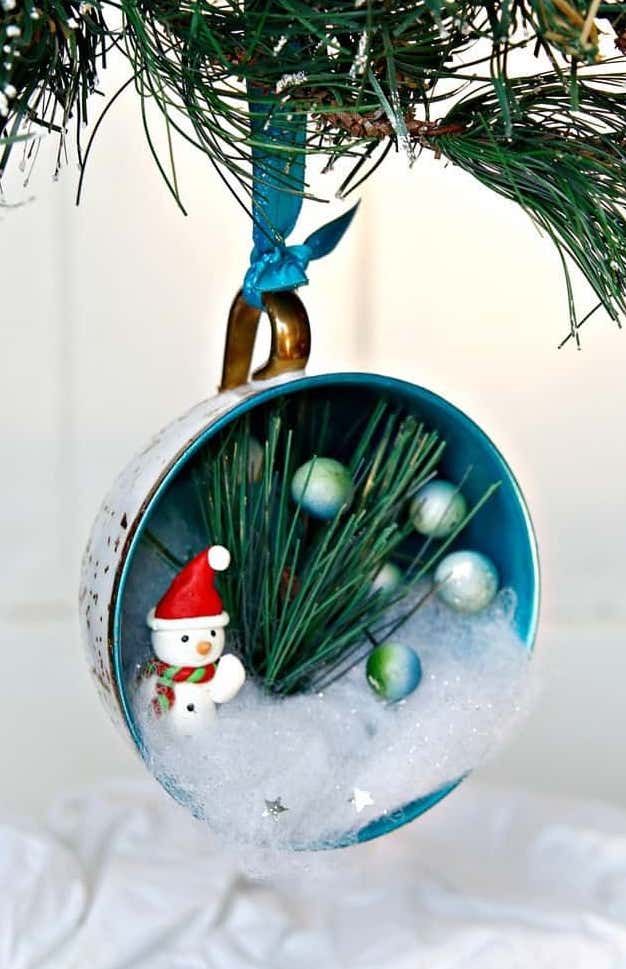 Vintage Style Ornaments
Feel free to reuse even broken ornaments from last year, repaint them and give them a new life again. Creativity has no limits especially with these interesting DIY crafts where everything is allowed!
Mason Jar Lid Mini Wreath Ornaments
Wreaths have gained popularity lately and we can spot them almost everywhere in different designs during different holidays and times of the year. What do you say about using mason jar lids to create mini wreath DIY Christmas ornaments? Grab different fabrics and ribbons and make some playful designs that will grab the attention of everyone.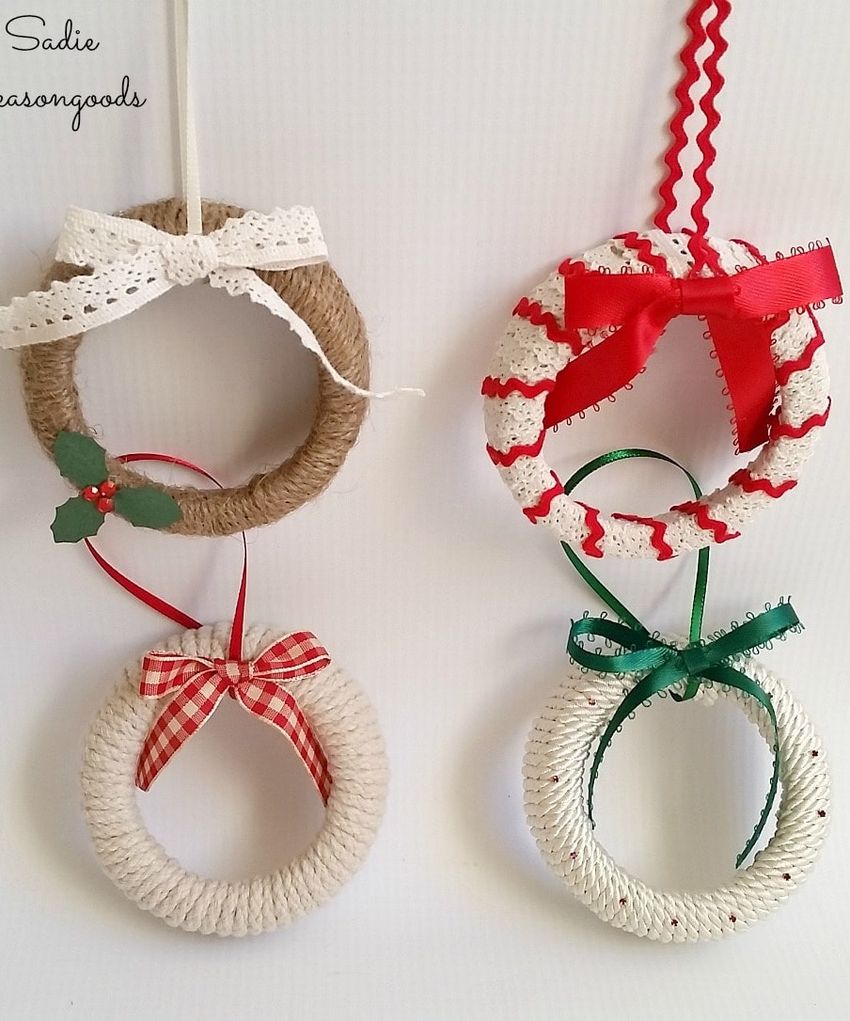 DIY Wood Slice Christmas Ornament
Is your home decorated in the rustic style or you just prefer a rustic look of your Christmas tree this year? Get outside in nature, grab some wood, cut them into wood slices, and create this "snowman" which will make a statement on your Christmas tree. If you can't seem to find food slice in your surrounding, I bet that you will find them in the store.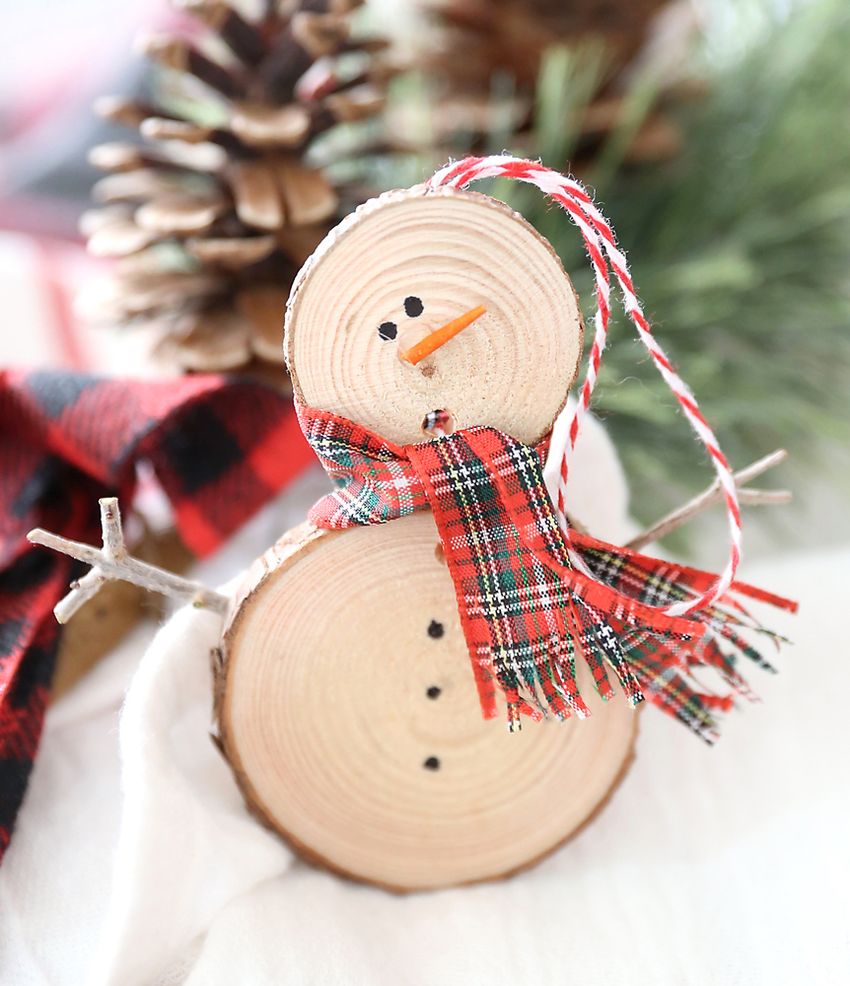 DIY Popsicle Stick Sleds
I have to admit that the popsicle stick sleds are the ones that caught my attention the best! I'm definitely doing them this year!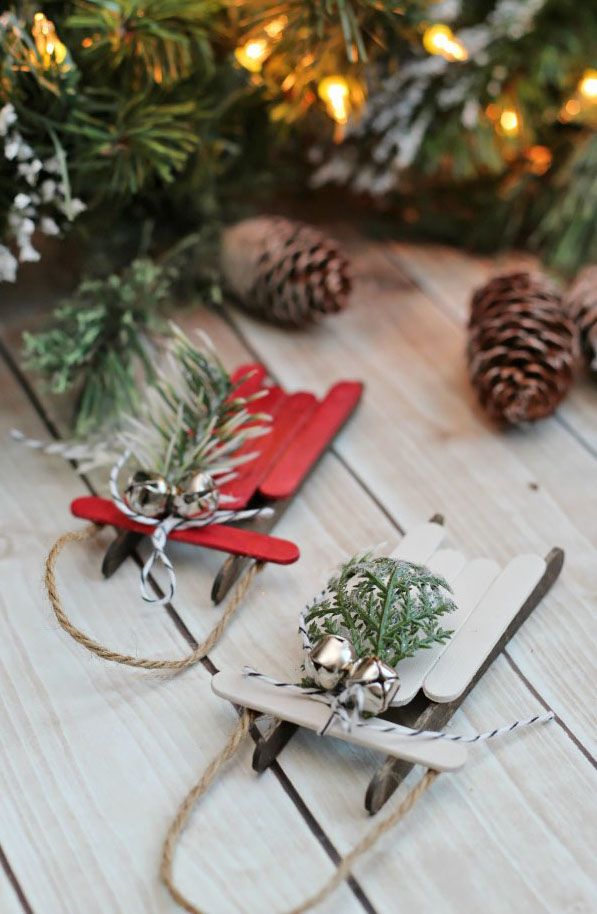 DIY Fabric Scrap Tree Ornament
Do you have lots of fabrics that remind you of Christmas? You can create your next DIY Christmas ornaments from scrap in some pretty interesting ways!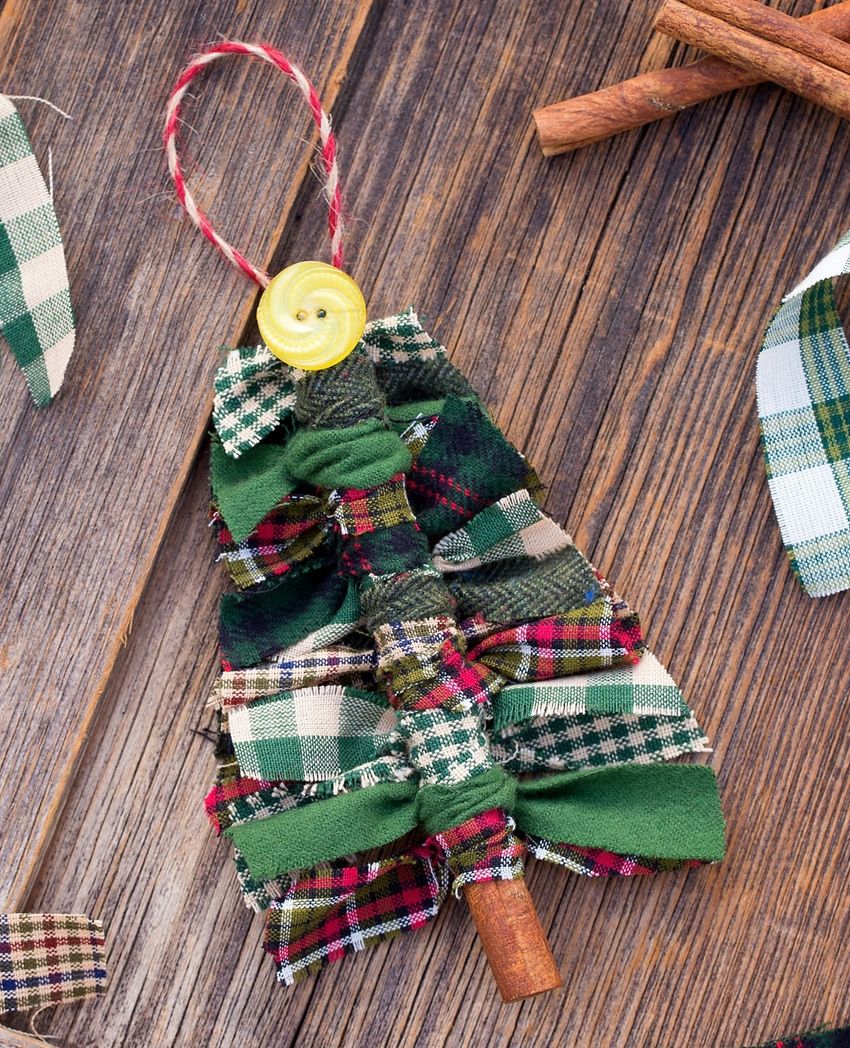 Burlap DIY Christmas Ornaments
Do you love working with burlap? Cut it into desired shapes, saw them, and hang the ornaments on your tree to make it look more fun and playful.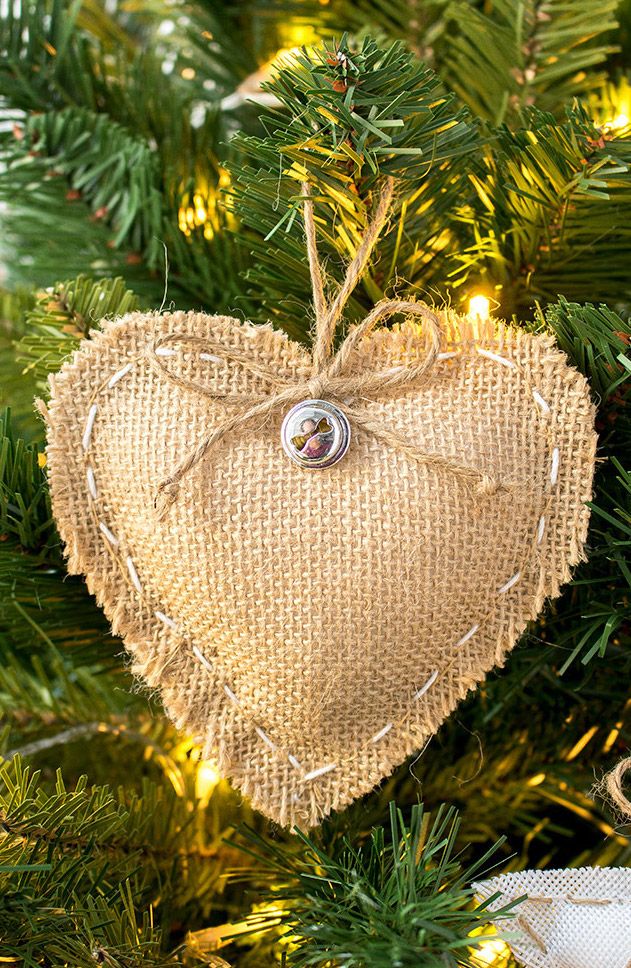 Rustic Twig Ornament
Christmas ornaments can literally cost you no money, so if your excuse was that you are too broke for new decoration you are totally wrong and just lying to yourselves. Collect some twigs and make these rustic snowflakes that are going to look amazing on your Christmas tree!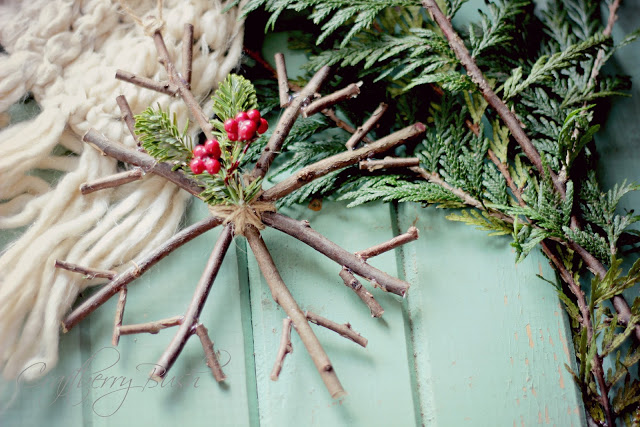 String Star Ornaments
Twigs and branches can be used in plenty of different ways, so collect as much as you can and spend some productive time making beautiful Christmas decorations. Adding glitter to them will make them look even more special and sparkling!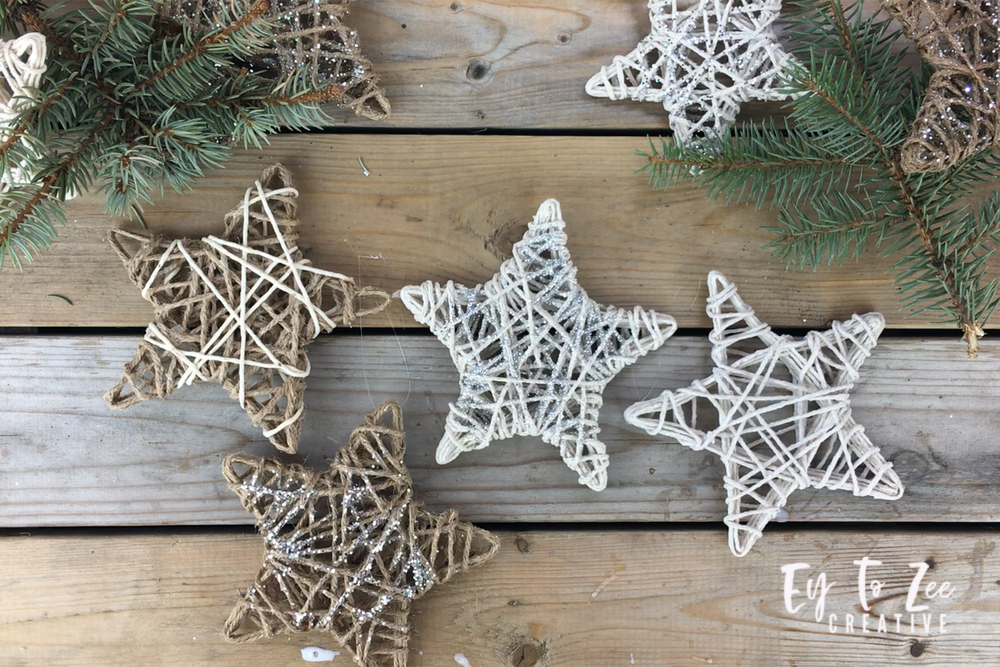 Music Notes Ornament
If you are into music, you probably want to add some music elements to your tree as well in order to personalize it and make it more unique and special to you. Use some music notes to make this lovely ornament and make everyone say wow!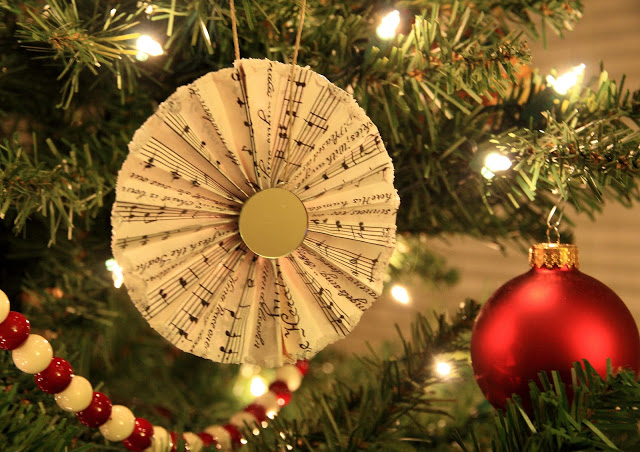 Jingle Bell Snowflake Ornament
Do you have plenty of beads and bells in your home from previous DIY activities? It's time to put them to good use again by recreating this jingle bell snowflake ornament.
Pinecone Ornament
Any ordinary pinecone can become an extraordinary Christmas ornament by just attaching a glitter bow to it. This is a perfect craft for those who aren't feeling very skilled!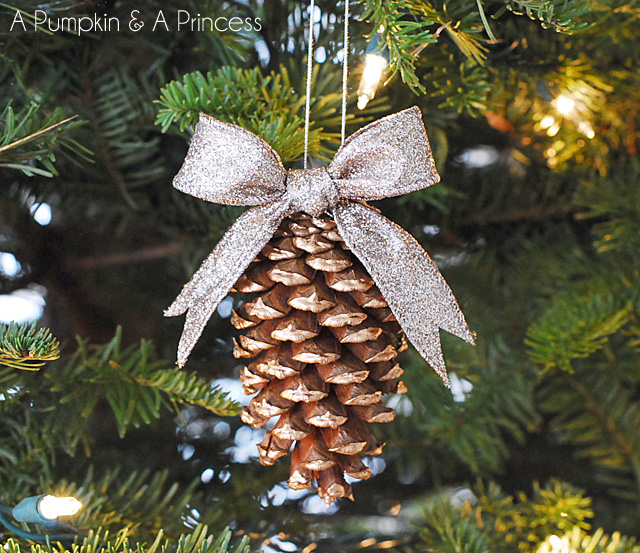 Felt DIY Christmas Tree Ornaments
Here's another project that used scraps of felt. This felt Christmas tree ornaments look amazing, doesn't it?
Closure
DIY Christmas ornaments can be so fun and exciting, so I hope that you have made your picks and you are getting down to work as soon as possible!