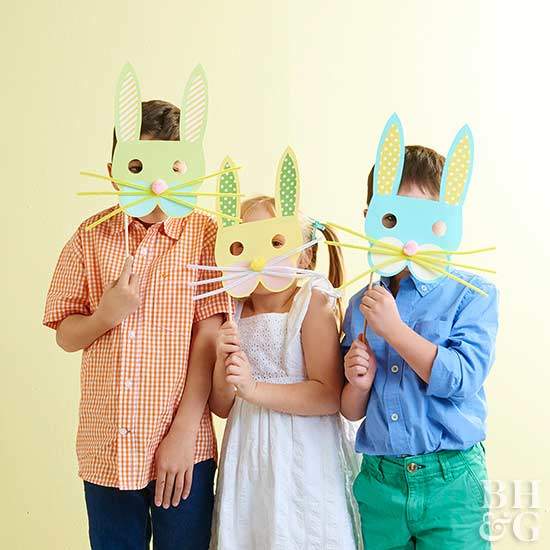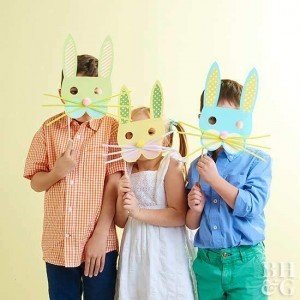 source
Are you preparing some Easter party to celebrate this big holiday? And, are you searching for some creative and fun ideas to make this Easter party special for your kids. Do you want them to remember it forever? Well, here we are to help you with some creative solution for your Easter garden party. We advise you to create a paper bunny mask for your kids and their friends. Below, read about all the materials that you will need for your bunny mask project and the steps to create it, and start making it right now.
Needed materials for one bunny mask:
Bunny mask templates
Assorted colors cardstock or scrapbook paper
Glue
Pipe cleaners
½ inches pom-poms
12 inches wooden dowels, ¼ inch in diameter
Hot-glue gun and glue sticks
How to make it:
Step 1: Cut pieces
Trace face and outer ears onto selected cardstock and cut them out. Then trace inner ears and checks onto a different color cardstock or patterned paper and cut them out too.
Step 2: Create the face
Glue the inner ears to the center of the outer ears and then attach the ears to the face using glue stick. Then glue on the cheeks using glue stick.  Glue on three pipe cleaners as whiskers using hot-glue gun and  a pom-pom nose on above the whiskers.
Step 3: Finishing the mask
After you have the whole mask done, hot-glue dowel onto either edge of the back of the face. Use dowel enough long so that each child can hold the mask to their face. Your paper bunny mask is done. The party can start. Enjoy it!