Probably every homeowner at least once in life have in mind to renovate the home and make it better place for living. Home decoration and refreshment is not so easy task. By the way this is a process that can took really huge budget and the most of us are limited with this. Also here good to know is that no matter how you plan and how you give the limits, when you are in a home decoration process, it always took much more on the final bill. But dear friends this is the reason why there are a lot of DIY ideas around that could help you a lot and that could save you a lot of money. We are so happy to share with you one super easy super genius idea from 7layer studio. It is about using PVC pipes instead of the usual curtain rods.
PVC pipes do not have to be boring. While it sounds like something you could never fit into your home, it's just a matter of creativity and a little imagination. You don't need much to figure out what to do with them, one idea is enough to probably spur other ideas as well. Also, with these ideas, you will probably know exactly what to do with them.
PVC Pipes In Interior Design
If you need a special place in the bathroom for towels, use PVC pipes. You can hang them on the wall or connect a couple of pieces of pipe and then put them on the wall. You will roll up the towels and push them inside. The shoe rack doesn't have to be boring, glue more tubes to each other as much as you need, but make sure it's stable. All your summer shoes and sneakers will fit in the tube.
Make a decorative wreath for the door, you will need to cut the pipes a little, glue them together to create a circle. In the pipe, ie the made wreath, you can glue various decorative objects such as beads, stones, artificial flowers and the like. Only glued PVC pipes can be a beautiful decoration on the wall or even a partition wall that can also serve as an unusual shelf. There are a handful of interesting and useful things you can do with PVC pipes so let your imagination run wild.
Maybe you will say that it will not look good and it will not fit good with your interior but take a look the photos below and see how modern is the final result. Perfect bughet friendly DIY project that definitely wort to try.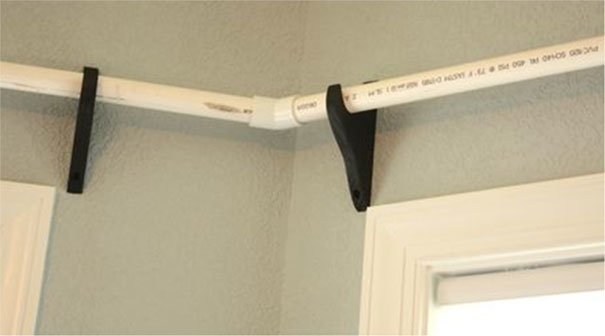 source
To make the PVC pipes look like real curtain rods, the creator simply painted them black using a spray paint designed for plastic. She also bought two unfinished finials for the ends of the curtain rods, which she installed after the paint dried. Once that was completed and all of the pipes were connected, Shelley hung her new curtain rods on the wall and added some curtains. And see the final result is amazing!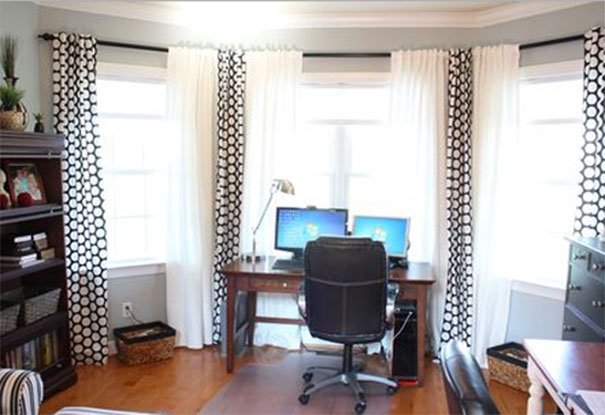 source