Summer is already here. The sun is up.  The weather is becoming warmer and warmer, and what is the best way to refresh yourself if not with ice cream. And, what do you thing about an ice cream that you don't have to buy from the supermarket, but you can prepare on your own?  Sounds great and tasteful? Then don't wait and start with this super powerful refreshing project right now. Now you can make tasteful homemade ice cream desserts, easy, with a little effort and without spending too much money.
These different ice cream flavors do have something in common. They each start with either chocolate or vanilla ice cream. No making fancy bases and formulas here. I used just two simple flavors and grocery store ingredients to make everyone's ice cream dreams come true. There are many things that we associate with summer – the sea, the beach and, of course, ice cream. It's easiest for us to buy it in a market or pastry shop, but it's definitely the best choice to make ice cream at home. That's the only way we can control the amount of sugar and other additives without which this delicacy is unimaginable.
Tasteful And Refreshing: Homemade Ice Cream Ideas
Ice cream is one of the desserts that we often crave, but we rarely prepare it. Probably because most ice cream recipes are quite complex and require the use of special freezers, which many households do not own. However, there are also a number of simple recipes that do not require a lot of chef involvement. We bring you some ideas for quick and refreshing frozen desserts. Summer is around the corner, and temperatures are slowly rising. This means more sweating and a greater desire to drink and eat cold desserts. Not! For some, this means breaking their diet to get in shape for the beach.
However, who says that several different recipes of our favorite ice cream cannot be three in one? It is tasty, irresistible to the eye and has negligible caloric values. We bring you several simple, some less, and some more, healthy ideas for real homemade ice cream.
The best about preparing homemade ice cream at home is that you can choose the taste you desire. You can add some fresh  or dry fruits or food colors and you will get a new amazing taste that you haven't try ever before. It opens your creative side and once you start preparing it, you will feel an explosion of ideas how to decorate it. Serve it in your favorite plate or even in a glass, add some fruits cut in small pieces and you get a masterpiece. The ideas to decorate it are endless. All you have to do is to let your imagination bring you the best decorating ideas. Start thinking about your favorite ice cream decoration, and get inspired from the gallery that we have prepared for you bellow. Enjoy it!
1.EASY STRAWBERRY CHEESECAKE ICE CREAM (NO MACHINE REQUIRED)

 source
2.EASY OREO FLUFF

 source
3.NO CHURN CHOCOLATE CHIP COOKIE DOUGH ICE CREAM

 source
4.RED VELVET ICE CREAM WITH CREAM CHEESE ICING SWIRL

 source
5.Circus Animal Cookies and Sprinkles Ice Cream

 source
6.TOASTED COCONUT LEMON ICE CREAM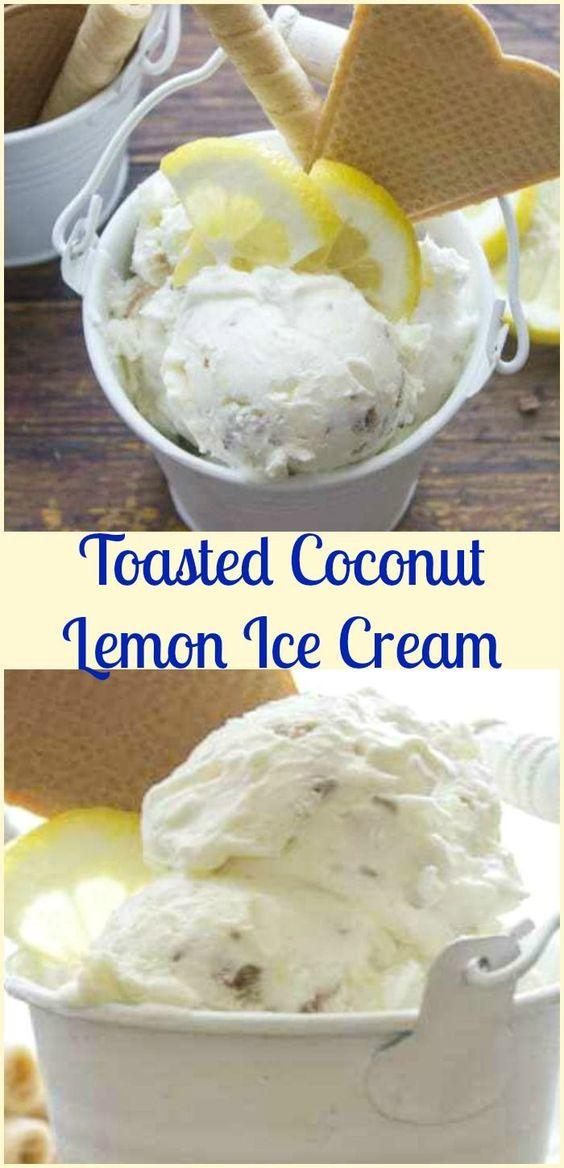 source
7.Caramel Toffee Chip Cheesecake No-Churn Ice Cream
 source
8.EASY PEANUT BUTTER CHEESECAKE ICE CREAM

 source
9.NO CHURN CHOCOLATE PEANUT BUTTER ICE CREAM

 source