People believe that pearl collection is only for prepsters and sophisticated moms. But what they don't know is that they are making a comeback in the world of fashion. They are no longer perceived as "too preppy or too old-fashioned!" and have become a timeless statement which adds a touch of luxury to every occasion. Be it an elegant pair of classic pearl studs or a perfectly-matched pair of pearl hoops, all can add glam to your look with their accented and hand-crafted designs.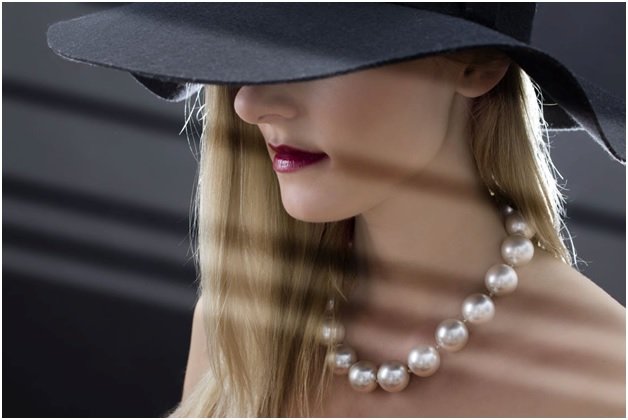 Pearl jewelry is a staple for every taste and style. Like the silk scarf and perfect loafers which complete your wardrobe, pearls complete your jewelry collection! They are classics which can bring elegance and class to any dress at any time. If you know your pearls well you can add perfect sets to your jewelry box to make an everlasting collection that will turn heads wherever you go.
Here are some ways that can help you amplify your stylish look through an amazing pearl earring collection.
AKOYA PEARL EARRINGS
Any pearl ear collection is incomplete without Akoya pearl earrings as they are renowned for their exceptional luster and unsurpassed quality. They are perfect in any form. Be it classic black and white studs, or an incredible pair of cluster pearls, Akoya's luster stands out. Brought from Japan, China, and Vietnam, these pearl earrings add a touch of perfection to your jewelry box. Their flawless round shape and deep hues make them irresistible and worthy for your ears. Their hand-crafted and intricate design make them a symbol of beauty and sophistication.
HANADAMA BRACELETS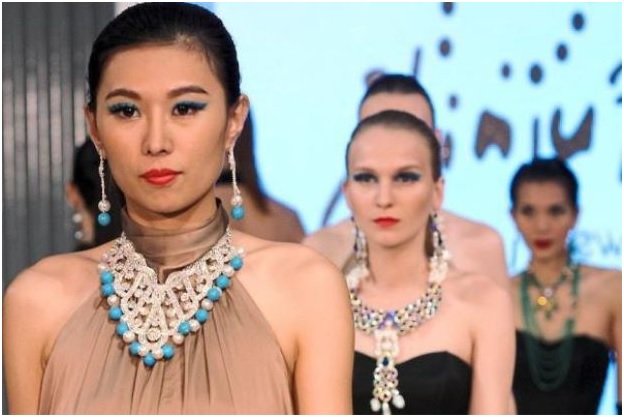 Another one of Akoya pearl noteworthy accessory that can transform your style is their shiny bracelets. The luster of these hand jewelry is so exceptional that true fashionistas spend a lot of effort to find them to add to their collections. Their popularity is on the rise because the pearls embedded in them are cool water cultured which result in superior refractive and reflective qualities. This gives them a nacre which has a more compact crystal structure and durability that lasts for generations. They truly represent a valuable investment and are even worthy to be passed as family heirlooms as their value never diminishes. Summing it up, Akoya pearl wristlets are a must for every jewelry lover who wants something lush to enhance their collection.
FRESHWATER PEARLS NECKLACES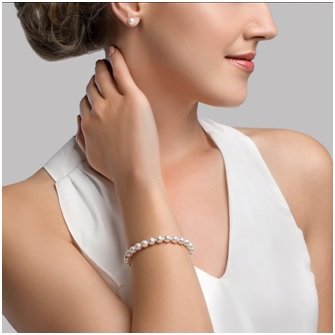 Freshwater pearl necklaces can add dimension to any jewelry collection and the best thing is that they don't require a fortune. They are available in an array of colors and styles and can complement any look. So add these simple strings of pearls in a vast variety to start your collection. They are quite a catch and can turn heads around due to their interesting colors. Be it daring blacks, iridescent silvers, delicate pinks, or suave purples, all of its highly versatile colors will wonderstruck you. This also allows you to accessorize them with all kinds of outfits.
PEARL CHOKERS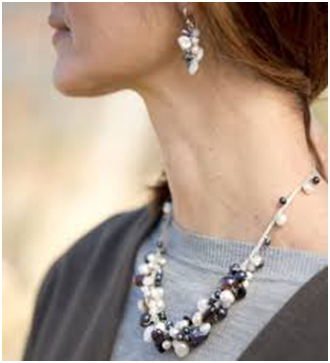 They make a statement piece of jewelry and you can never go wrong with them. Match them with any look; be it formal or casual and it will look stunning. Their iridescent tone and delicate design beautifully complement all kinds of attires. They look urban and chic as they flatter your face and add a touch of femininity. They are specially crafted to draw attention and their delicate overtones add a modish and trendy outlook. Wear them with an evening backless dress or transition with daily outfits, they will have the same amazing effect on your overall magical look. They will make you look effortlessly elegant with a tint of class on your neck without burdening your pocket. Summing it up, freshwater chokers are the perfect solution for adding a polished finish within a budget. They are indeed perfect for modern women on the go as they instantly pull everything together and create a more refined look.
TAHITIAN PEARL STUDS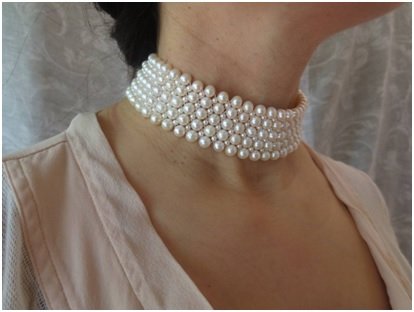 Tahitian pearl earrings feature a vast collection with different styles and diversified colors that can be worn anytime. They are highly valued as they hold exquisite beauty and stunning luster. They look dazzling with any outfit and are impressive enough to make your whole jewelry box sparkle. In addition, these gemstones incorporate the phenomenon called pearl's orient which provides it with a unique character of color play. This makes them the world's most sought-after pearls studs.
PURE PEARL PENDANTS
They don't come cheap but each penny spent on them is worthwhile as their value only appreciates. Pendants have the best type of pearls as their luster is simply magnificent and their bright and distinct reflections make your look pop out. They help to enhance your beauty and add timeless grace to your look. Each one of the pure pendants holds a unique charm that lasts a lifetime and deserves a place in your jewelry collection.
SOUTH SEA PEARL RINGS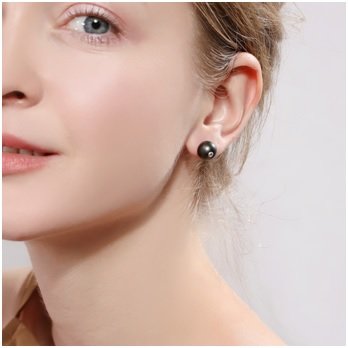 These pearl rings crafted from gorgeous gemstones from south sea possess a deep hue and striking luster. They are perfect for all seasons. You can pair them with a high-necked sweater and get a professional look, or wear them with a breezy summer dress to sport a flair of glamour. The south pearls embedded in these rings make them the most sought-after pieces in the world of fine jewelry.
PEARL HOOP EARRINGS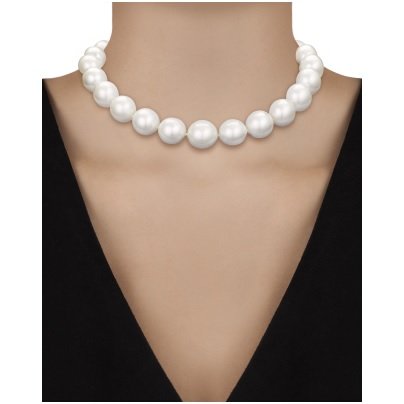 These hoops have many unique characteristics which increase their value and make them rare. These include the remarkable luster renowned for its depth and tone, the thick coating of nacre which makes them strong and durable, and delicate curvy design. So add these to your collection and expose the inner-preciousness which will make your ears shine bright.
JAPANESE PEARL BANGLES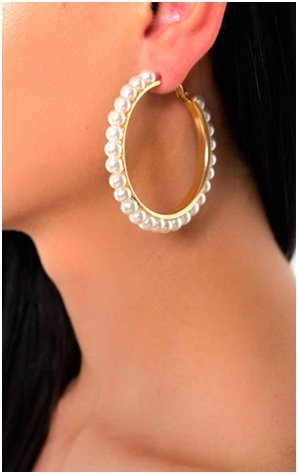 The Japanese pearl bangles make your hands stand out as the pearls entrenched in them are top-notch. They are sourced from Japan and have a luster that will make your eyes drool. They are amongst the finest quality gem armlets that complement all skin tones and are the epitome of both style and grace.
TAHITIAN PEARL NECKLET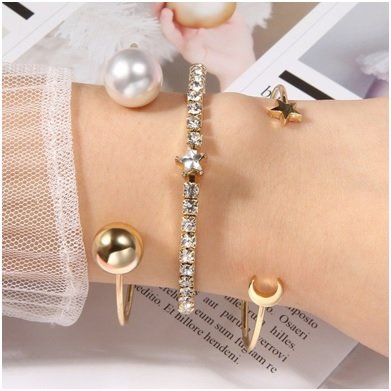 The Tahitians neck necklets can add a feminine and classic flair to anything you wear. These pearl neckpieces collection will make your eyes drool and you will want every one of them. You will wear them all year long as they truly go with everything! You will no longer have to pull out your gingham button-down or curl your hair to make them work as they can be styled in any way and can rock with any outfit.
From Akoya and Tahitians to Freshwater and South sea pearls, there is a wide variety of pearl types, sizes, and colors available. So get ready to pull off any of the pearls stated above and rock the fashion this season like never before.