There was a time when people would raise their eyebrows if you used artificial flowers for your wedding day. But times have changed, and fresh flowers are not always the smartest choice for a wedding. Artificial wedding flowers are now getting more popular and if you're thinking of using them for your special day, here's a guide to help you make the right choice.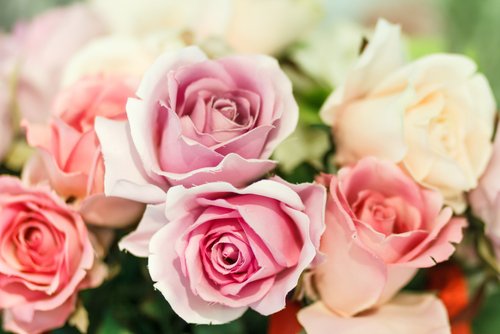 Types of Artificial Wedding Flowers
Here are the different types of artificial flowers you can use for your wedding day:
Silk – Most fake wedding flowers are made of silk, but they may also come in varieties of polyester and nylon. Silk flowers are versatile, so they come in many different shapes, sizes, and colours.
Foam – Foam flowers are cheap, so they're your best choice when you're in a tight budget. They look well combined with fresh flowers, and are also easy to arrange because foam is soft and pliable.
Paper – Paper flowers are also cheap, but you'd have to be extra careful not to get them wet, especially if you have an outdoor wedding. They look quite realistic, and you can only tell they're fake once you see them up close and touch them.
Polymer – Polymers are also known as fresh-touch flowers because of the realistic feel they have due to the combination of foam and latex materials of the petals. They might be the most expensive artificial wedding flowers, but you'll find that they're the closest to the fresh ones.
Latex – Latex wedding flowers are not behind when it comes to looking and feeling like their fresh counterparts. However, the disadvantage is that it doesn't have too many varieties. Since it's not a very popular type of artificial flower, your design options are thus limited.
Wax-Coated – This is a step up from silk flowers because it has a layer of wax that covers the silk material. It adds a realistic touch because it can imitate different textures, such as the veins in flowers.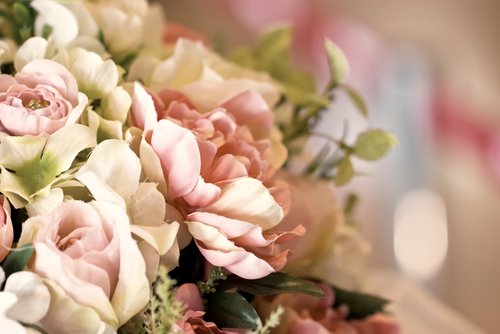 The Benefits of Using Artificial Wedding Flowers
Wedding Abroad
Lots of people make their wedding extra special by going abroad for the ceremony. Some people may find it romantic to wed in the church their parents got married in their hometown. Others may want to fly out and have a beautiful Carribean wedding.
If you want to get married overseas, artificial wedding flowers won't wilt. You can pack them in boxes, and they'll be safe from decaying or getting crushed because they won't be as delicate as fresh ones.
Avoid Allergies
If you or anyone in your family have pollen allergies, then having fresh flowers may not be the best option. If you're the bride, you wouldn't want to be sneezing the whole ceremony, would you? Having your allergies triggered would likely ruin your special moments and maybe even a lot of wedding photos.
Any Flower for Any Season
Flowers bloom in different seasons. But what if your heart wants a winter wonderland wedding, and your favorite flowers are peonies? Those don't grow until late spring or early summer, so there's a chance that you may not find any for your special day.
If you opt for artificial flowers, you can get any flower you want any season. You don't have to wait for the actual flowers to bloom because someone will replicate those flowers for you.
Lasts A Long Time
Artificial wedding flowers don't wilt and can last a long time, which means you can keep them as souvenirs. You can also give them away to your bridesmaids and guests as special gifts.
Of course, you can also preserve fresh flowers, but it'll require some treatment, and you have to do it within a limited time frame before they wilt. Pressing the flowers also wouldn't preserve their natural shape and texture.
Doesn't Attract Bugs
Fresh flowers may attract bees, which can disrupt the ceremony, especially when people start panicking because of the bees that keep buzzing around their heads. If you want to eliminate the risk of bees swarming your wedding, then you may have to get rid of the reason it could happen.
Advanced Setup
No bride wants to stress during their wedding day. As much as possible, they want everything to be ready and perfect for the occasion. If you have artificial flowers, they can be arranged in advance, because they don't need to be preserved to keep their freshness. That way, you can take your mind off the flower arrangements.
Final Thoughts
Artificial flowers are a great alternative to fresh ones for your wedding. They are easy to maintain because you won't need to water them to keep them fresh. You also won't have to be extra careful because they won't be as delicate as the real ones. It'll save you lots of stress, from finding your favorites to keeping them alive until the big day.