The biker movement is rightly considered one of the most influential powers. It unites people regardless of their age and walk of life. You cannot deny that badass men and sexy girls in leather clothes exude the vibes of romanticism. For bikers, a motorcycle is not just a vehicle, it is their faithful friend. It impacts their lifestyle and even the way they dress.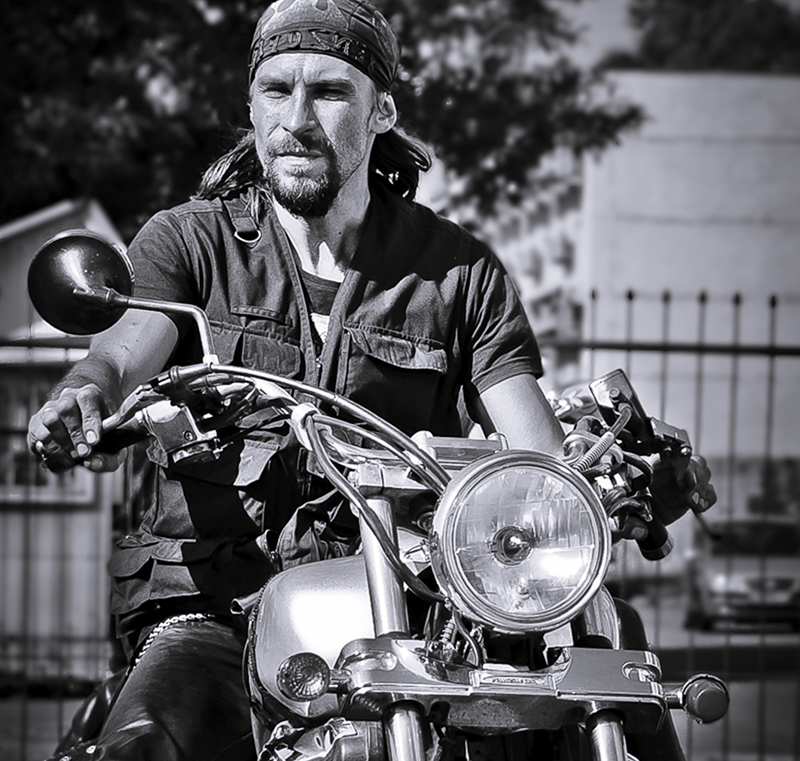 Biker Philosophy
The philosophy of the biker movement is comprised of 4 components:
Freedom. A biker should have no attachments. His only attachment is free riding.
Honor. Bikers have a code of honor, which they must treat with respect. A biker can't insult another biker. A biker must help beginners and people in trouble.
Loyalty. Every biker must be responsible for his actions. A biker must understand that his actions may impact thousands of like-minded people around the world.
Individuality. A motorcycle is a biker's best friend. It is an object of his/her worship. It must be cared for, cherished, and embellished in every possible way.
Biker Fashion
Biker style did not appear out of nowhere. For decades since the early 20th century, riding lifestyle and other circumstances put together a puzzle called 'motorcycle fashion'.
The most famous item of the biker wardrobe is a leather jacket. This item occurred in the 1920s as part of the equipment of American military bombers. 100 years ago, aircraft cockpits were not airtight, so high speed, altitude, and wind made the piloting environment almost unbearable. The US army gave designers the task of coming up with clothes that could protect pilots from cold while ensuring comfortable wearing. Tailor Irwin Schott offered outerwear that became a prototype for a biker jacket. It had a belt to adjust the fit, a fold on the back providing freedom of movement, and the statement oblique zipper protecting the chest from cold air. Pilots fell in love with this jacket not only for its functionality but also for its stylish appearance. After returning to civilian life, they slightly shortened and modified it for motorcycle riding.
Many people believe that bikers always combine their jackets with leather chaps or pants. This is not entirely true. Yes, chaps provide additional protection from wind, rain, dirt, engine oil, etc., but bikers understand that they convey unwanted sexuality. Therefore, more often than not, the most popular item of clothing for the legs is regular wide-fitting jeans.
Shoes
Biker shoes are not always beautiful but indispensably practical and durable. The very first motorcycle riders used to flaunt high boots similar to those worn by gentlemen on horseback. It was a great solution for cold and rainy weather, but bikers demanded something lighter for the summer. Eventually, they turned their attention to engineer boots. Originally designed for locomotive firemen, they went well with jeans and a leather jacket. These boots came with a high and shortened shin, they had a buckle for adjusting the fit, as well as a small heel that did not allow the foot to slip off the pegs.
English motorcyclists were not indifferent to creepers. Their rubber sole made walking almost silent. This footwear design has the joking name 'brothel creepers'. It is due to the fact that bikers cruising between brothels could remain practically unnoticed.
Vests
Vests are another iconic item of biker clothing, especially for those motorcyclists who are part of motorcycle clubs. Unlike clothing valued for practicality, vests are something like a biker ID. Their back is complemented with the so-called motorcycle club colors. The colors consist of several elements: the club logo, its name, and location. If any of these elements is missing, it is evident that a rider is not yet a full-blown member.
On top of club colors, vests often feature additional designations such as 1% (it refers to biker gangs), the year the club was founded, the position of a biker in a club (for high ranks) along with acronyms common in the biker community.
The Look of Lady Bikers
The founders of the biker movement believed that women had no place in motorcycle clubs. They did not accept women into their ranks under any circumstances. Girlfriends and wives could hang out with bikers but they could not be on an equal footing with men. Now, these restrictions have largely been lifted, although some of the most conservative clubs continue living in the past.
The fashion for lady bikers copies men's style by and large. The only major difference is an accent on sexuality. Lady riders enjoy leather jackets, vests, and shoes with thick soles, just like their male counterparts, although they are much more open to flaunting leather pants. And, of course, it is unthinkable to see a lady rider without jewelry. However, a penchant for steel and silver jewelry is one more thing that unites male and female motorcyclists.