The world of men's fashion is always changing and adapting. There are an array of clothing categories spanning from gym wear to black tie and everything in between. One newer fashion category you might have heard of due to more people working increasingly hybrid roles is workleisure. Keep reading to better understand what workleisure is and how you can incorporate this style with seven helpful tips.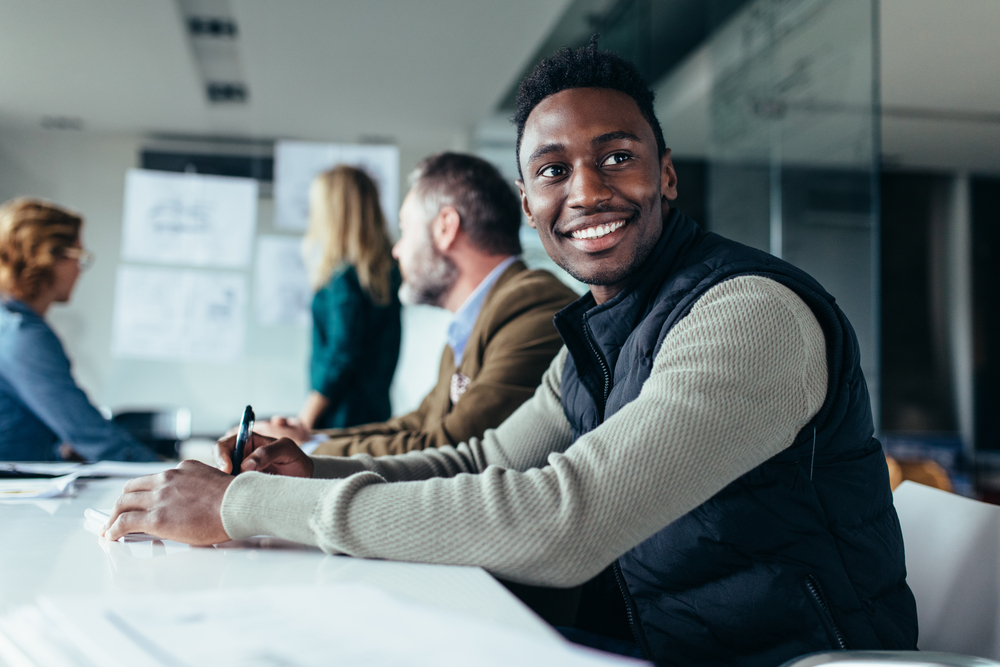 Source: Jacob Lund/Shutterstock.com
What Is Men's Workleisure?
Men's workleisure combines workwear with leisurewear. In other words, it's clothing that feels comfortable and relaxed yet is still suitable for the workplace. This probably won't be sweats and hoodies, but it could be chinos and polo shirts. Some examples of workleisure pieces include:
Joggers
Stretchy chinos
Well-fitting t-shirts
Polo shirts
Button-downs
Corduroy shirts
Sweaters
Sporty blazers
Cardigans
Slip-on shoes
If you can wear these clothes on the job, then read on to discover our essential workleisure tips.
Tip #1: It's All About Balance
Workleisure is a delicate balance between loungewear and professional attire. You can mix and match couch-friendly and office-friendly pieces to create a well-balanced look.
For example, if you decide to wear a slim fit tee, go with dressier pants like well-tailored chinos. If you opt for comfortable joggers, consider a nice sweater on top. Accessories can also go a long way in elevating your outfit. Try out a thin chain, a leather belt, a nice watch or another add-on.
Tip #2: Fit Is Important
If you're going to incorporate leisure into your workplace style, finding the right fit is crucial. A well-put-together outfit can fall apart quickly if your clothes are too baggy or too snug. Make sure the length and size of your chinos, joggers or other pants are right. Try your shirt, blazer or button-down ahead of time to ensure it offers the right amount of coverage without looking too slouchy.
Keep in mind that professional-looking clothes come in different fits, such as relaxed or tailored. The key is to find the design that makes you feel the most comfortable for your type of work. This will allow you to size accordingly.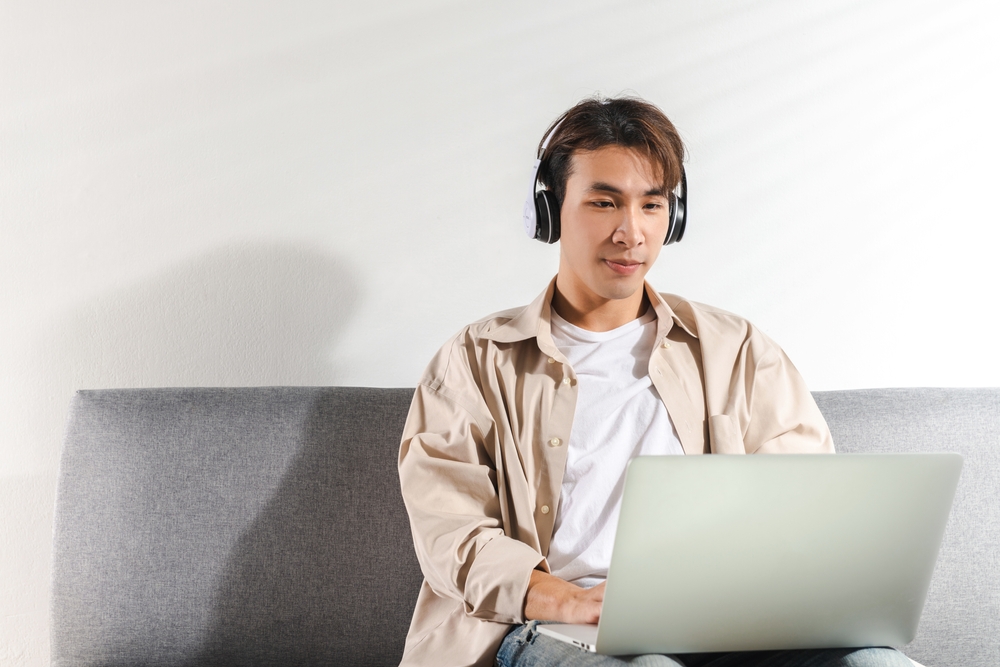 Source: tairome/Shutterstock.com
Tip #3: Dress in Layers for More Outfit Opportunities
If you're unsure of what will suffice for your work-friendly and lounge-friendly attire, consider layering. Wearing different layers can help you dress up or dress down based on your environment. This might be a great option if you work somewhere where unexpected meetings and visitors pop up. Or, it can be great when working from home and you have to take a few video calls. Examples of layers include:
A sweater over a slim-fit tee
A neutral-colored blazer over your polo
A sporty cardigan over your long-sleeve tee
Stay in your t-shirt as you're working off-camera, then put on your cardigan or blazer when it's time to hop on a video call.
Tip #4: When in Doubt, Wear a Nice Top
If you're on the fence about your workleisure look, focus on your top half. The upper part of your body is what people will usually see first, and it might even be all that they see when you're working remotely. Polos and button-downs are great go-tos, allowing you to pair them with jeans, joggers, dress pants, khakis and an array of other bottoms in different fabrics and styles.
If you can, pop your computer camera on ahead of time and check your appearance. In addition to making sure your background is professional, you should make sure the parts of your outfit shown on camera are boss-approved as well.
Tip #5: Necklines Can Make a Huge Difference
Necklines can make or break your outfit. And if you're wearing a casual top, they can turn a weekend look into a work option. Look for sweaters, polos and other tops with stylish necklines. This could be a mock neck, a textured turtleneck or a regular shirt with intricate stitching around the collar. Look at collared shirts, v-necks, crew necks, notched necklines and other designs, and consider what looks best on you. Necklines frame your chest and neck, so the right design can go a long way in highlighting your features.
Tip #6: Sneakers Are Okay With the Right Pants
Sneakers are a staple for any workleisure wardrobe. In the past, you may have felt uncomfortable wearing sneakers to work. However, with hybrid dress codes, sneakers are actually a great option. Make sure your shoes are clean and don't show any sign of wear and tear. Then, make sure you wear them with the right pants.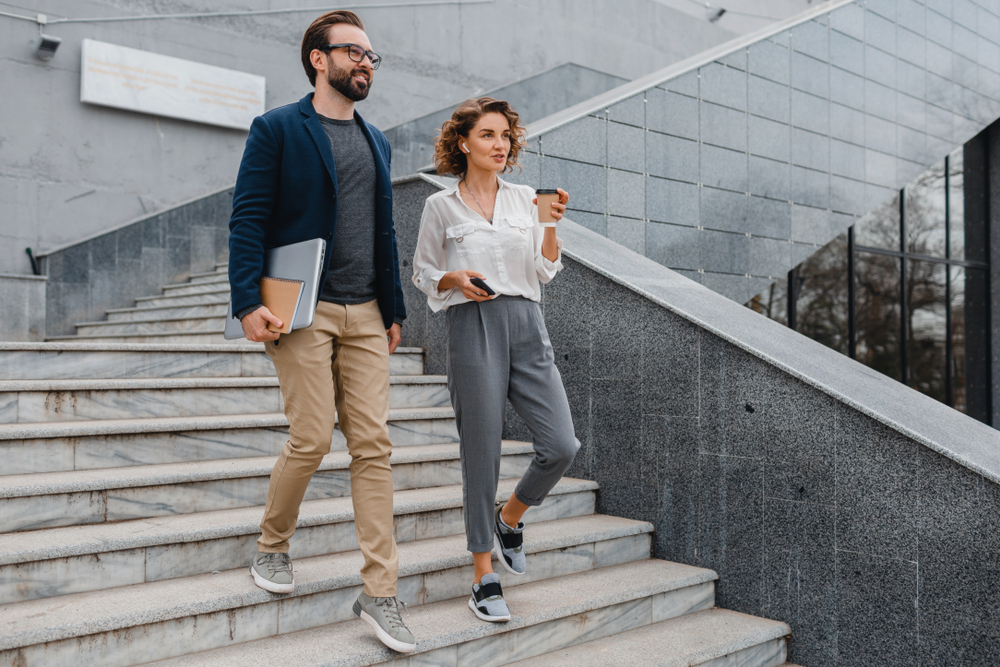 Source: Maria Markevich/Shutterstock.com
Casual shoes like sneakers coordinate well with joggers and other tapered-style pants with shorter inseams. If sneakers aren't quite your style, there are many slip-on styles that are easy to take on and off while still offering a professional and polished look.
Tip #7: Incorporate Just The Right Amount of Color
Grays and blacks are common hues for workleisure. Swapping neutral tones out for a subtle pop of color can quickly upgrade your outfit and create an eye-catching look. Look for chinos in blues, greens or even dark reds. If you opt for colored pants, make sure you wear a black, white, beige or other subtle color on top. If you're working from home and don't mind what bottoms you're wearing, add a pop of color to your top with a nice cardigan or a striped shirt.
Make Workleisure Your Go-To Work Style
Whether you're spending more time back in the office or switching to fully remote, workleisure is a versatile option to consider. It allows you to be comfortable without looking unkempt. Keep the above tips in mind and figure out what techniques make the most sense for your fashion preferences and lifestyle.