Most women wear sarees because it is attire that has the power to combine tradition with the expanding trends. There are various things you need to think about when you want to look gorgeous in a saree like selecting the perfect accessories. Women in India love jewellery, and they know that the entire look of their saree depends on the jewellery they wear. The saree's design, length, fabric, and details are necessary for making the right choice with your jewellery. Therefore, before you buy your jewellery decide on what kind of saree you are going to wear.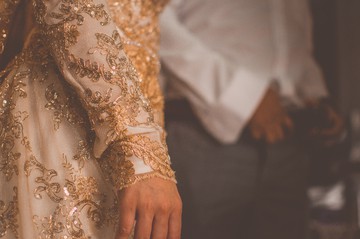 Based on the border:
Select according to the border of your saree! The colour of the border of your saree will help you select the perfect jewellery. Most sarees available these days have golden, beige, or silver borders. When your saree has a golden or beige colour, then it is best to go for jewellery made from gold or gold plated jewellery. If the border is silver, then you would look flawless in diamond, silver, or white stone. But some women might have sarees that are of some other colour. If this is the case, you do not need to worry! Simply choose the jewellery based on the colour of that border.
Based on the saree designs:
If your saree is fancy, then match it with fancy jewellery. These are jewellery made with stones, beads, silk thread, etc. When the saree has heavy work, then try wearing something subtle. You could also go for one piece of jewellery. If your saree is cotton then oxidised silver jewellery will be the best choice. You could go for simple studs or a pair of light dangling earrings. If you want to wear gold, then a thin gold chain and a few gold bangles will make it look complete.
More tips:
Skip the necklace if you are planning on wearing a big pair of earrings. Just make sure it does not look very chunky. If it is a simple saree, then wear a piece of statement jewellery that looks unique and bold on you. This will create a twist in your look. Colour classic jewellery can be worn for nude colour sarees.
Chunky silver jewellery is also in trend. Big silver necklaces would create that diva look with simple sarees. You can match a handloom saree with beads necklace if you want to look majestic and graceful. It would look absolutely lovely with a plain saree as well, and you can wear it for a simple occasion or a formal event. With chiffon saree, pearl jewellery would look elegant. This would be perfect for meetings and formal events.
With these tips, you will be able to pair your saree with the best jewellery. Sometimes, you might not find what you are looking for in the jewellery stores in your place, which is why you could buy jewellery online. You will find so many options to choose from in the price ranges you want and can order it from anywhere!