Blazers are an absolute fashion staple. But the blazer dress? It's the perfect combination of sass and sophistication and a great way to make a statement. Have you been wanting to try out this look but don't know where to start? Don't worry! We've got your back. Here's how to style your blazer dress like a pro.
Accessorise for Impact
Accessorising a women's blazer dress is a great way to make a style statement. Opt for delicate jewellery like small stud earrings and a thin gold necklace to add an extra class. For a more casual look, pair your blazer dress with simple flats and an added belt around the waist. Additionally, brighten up your look with colourful handbags or crossbody bags. Further accessorising options include wearing an oversized scarf or a wide-brimmed hat for a trendier style. Lastly, if you want to keep the focus on your blazer dress, choose neutral colours and simple designs when selecting accessories. This will ensure that the attention remains on the dress itself without taking away from its beauty.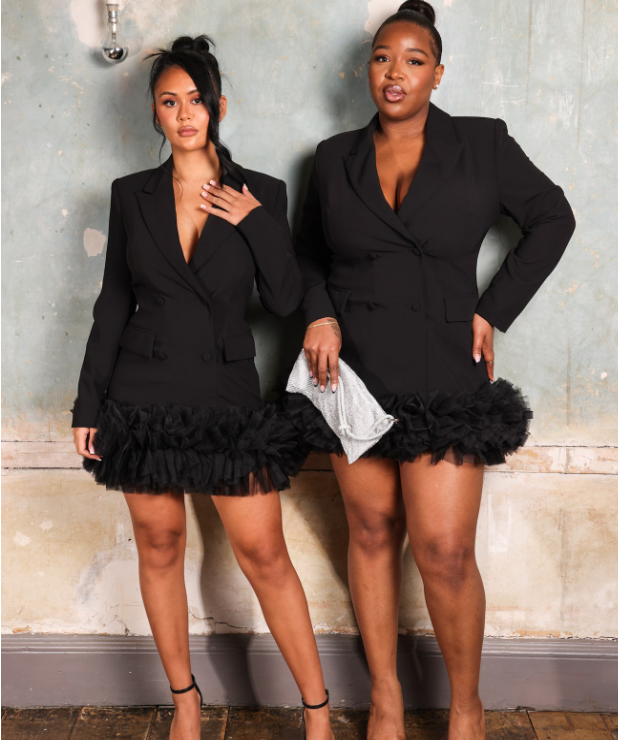 BLACK BLAZER DRESS WITH TULLE HEM
Choose the Right Shoes
The right shoes can really pull any look together, but they're especially important when styling a blazer dress. A good rule of thumb is that if you have an oversized blazer dress that you want to balance out, opt for delicate sandals or heels; if you want to emphasise the oversized look, consider chunky ankle boots or sneakers. For more formal looks, wear classic pumps or strappy heels; for casual days out, try loafers or oxfords for a preppy vibe.
Experiment with Layering
No matter how much you love your blazer dress, there will always be days when it just doesn't feel quite right—whether it's too hot outside or cold inside! That's why layering is key when styling your outfit. Depending on the occasion, add a plain white tee underneath for an understated look (make sure it doesn't clash with your accessories!), or even layer up with another oversized shirtdress for extra warmth and drama. You could even get creative and try layering two different textures together—think denim over velvet—for an effortless bohemian style!
Classic and Chic
A classic black blazer dress can easily take you from day to night with minimal effort. Pair it with a simple white shirt or tank top and black ankle boots to complete the look. Add a pair of statement earrings and sleek hair accessories like barrettes or headbands for a touch of sophistication. If you want to stand out, consider adding bold jewellery pieces such as rings and necklaces. This timeless combination will never go out of style!
Casual and Comfortable
If you want something more relaxed and casual, pair your blazer dress with jeans or shorts. This look is perfect for running errands or meeting up with friends on a weekend morning. Opt for neutral colours like white, grey, or light blue – they'll help keep your outfit fresh and modern. Finish off the ensemble with some comfy sneakers or sandals, depending on the weather. Don't forget to accessorise with sunglasses and a crossbody bag!
Formal Events
When attending a formal event, styling a blazer dress can be the perfect way to create an eye-catching, fashionable, and sophisticated look. Select a blazer dress in classic black or navy-blue fabric to ensure you look your best. When choosing your accessories, go for subtle statement pieces like pearl earrings and a metallic clutch. For footwear, opt for high-heeled pumps or pointed-toe nude flats to provide a polished finishing touch. Once you have chosen your outfit, it is important to take the time to accessorise with the correct details, such as cufflinks and pocket squares for an even more refined style. Finally, ensure your hair is styled in an up-do or half-up-do for an elegant and timeless look. If a blazer dress is good enough for the royals, as seen here, it is good enough for you! With these few simple tips, you can confidently enter any formal event looking stylish and polished.
Conclusion
No matter what look you're going for, there are countless ways to style your beloved blazer dress like a pro! With these tips in mind, you'll be ready to take on whatever comes your way in style! So try some new combinations and have fun creating unique looks that show off your personality and flair! After all—that's what fashion is all about!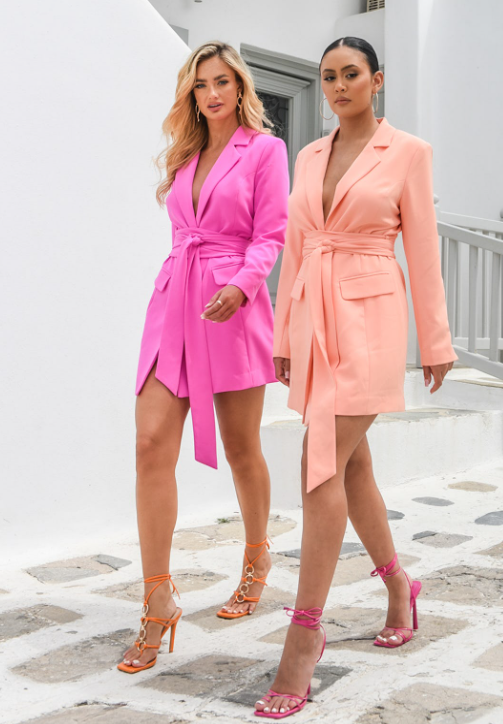 CORAL BLAZER LINED DRESS WITH BELTED TIE