Wild landscapes, dramatic love stories, and a dash of good old fashioned time travel. It is no surprise that Outlander has reached such dizzying heights of popularity. Now you have a chance to inject a touch of the magic into your everyday life with an Outlander shawl or wrap.
Fashion is a fantastic way to enjoy that Outlander style without going full-on kilt and allows you to liven up even the dullest of outfits with a nod to traditional Highland style.
Whether you are looking to embrace your long-lost Scottish heritage, or simply channel your inner Claire Fraser for a few hours, we have everything you need to bring your dream to reality!
We have put together some of the top wraps and Outlander shawls to bring the spirit of Scotland firmly into the 21st century; time to snag your very own romantic hero!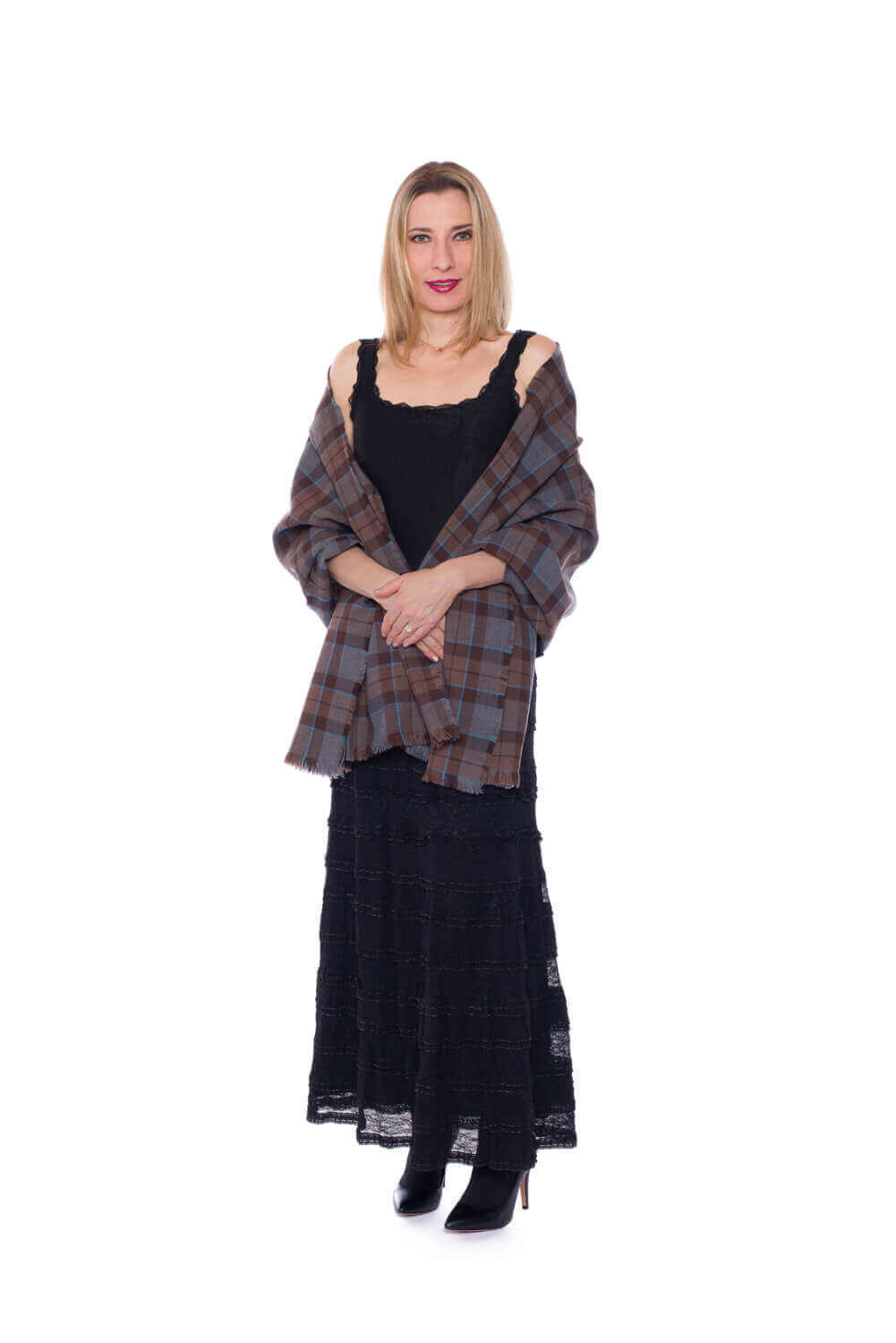 Perfect for an intense role play, or to add a tartan nod to an otherwise everyday outfit, this Outlander bodice is a versatile and beautiful garment. Made from 100% wool-free poly/viscose, you can rest assured that you will stay comfortable throughout the day.
This is a custom-made bodice, which will be constructed to your exact measurements, offering a stunning, bespoke product that is more of an investment than a mere purchase.
With both Outlander and Outlander Fraser tartans available, this is the ideal choice for festivals and reenactments or can be a stand-out piece accompanied by a plain white blouse and simple skirt.
You can even bring the look back into 2020 by pairing the bodice with a pair of skinny jeans and a white shirt, bringing the Outlander magic into the modern-day; this really is a versatile item!
Stay super warm and look stylish at the same time by investing in a 100% wool bodice. It looks the same as the Poly/Viscose Bodie.
This is a purchase that is more than worth the slightly higher price tag to enjoy a custom-created, 100% premium wool bodice, which is tailor-made to your exact specifications. There is no need to worry about showing up in an identical outfit to an event!
With 3 Outlander tartan patterns available, you can replicate an authentic look right down to the last detail, which is perfect if you are taking part in a faithful reenactment. Again, this can also be brought back up to date by pairing the bodice with modern accessories – a flexible, versatile piece that will be a valuable addition to any wardrobe.
The harsh conditions of the Highlands mean that keeping every part of your body toasty warm was a priority, and essential for survival. Thankfully, the invention of central heating and other modern benefits means that we can enjoy the stylish nature of such garments, and this allows you to have much more fun with your look!
These gorgeous knit cowls are hand made to the highest standard, and are totally custom created to your preferences! An array of colors are available, and these include:
Chocolate Brown
Highlander Grey
Highlander Blue
Ocean Blue
Midnight Blue
Thistle Purple
Forest Heather
Autumn Red
Autumn Brown
Bramble Heather
Pick the shade that is the best match for your complexion and hair color. Make sure you have a tone on hand to suit your mood and style! Stay warm and look fantastic all at the same time – this is a real win-win.
If you are looking for a unique way to stay warm this winter, look no further than these stunning Outlander shawls, designed and made in Scotland for a truly authentic feel. The perfect cover-up to any outfit, the 100% premium wool finish, means you can stay toasty even as the snow is falling! At 12oz, these shawls are heavy enough for you to feel like you are enjoying a constant, comforting hug, without being intrusive or weighty; what's not to love?
Add a Scottish feel to a formal gown, spruce up a dull jeans and jumper look with an official Outlander tartan, or simply enjoy an impromptu picnic any time, any place; with 4″ x 54″ measurements, you will have plenty of room if the fancy for al-fresco dining strikes you without adequate warning.
Finding the perfect cover-up for a formal event can be a challenge. In a world of eco-friendliness, even faux fur can be frowned upon, and the last thing you want is a heavy stole, which covers up the majority of your carefully selected dress. This Outlander stole could be the solution to your problems!
Made from 100% premium wool, you will stay warm and cost, even if your event is in the depths of Scotland! This can be a great way to acknowledge your heritage, or that of the happy couple, without going full-on tartan at a Scottish wedding, or simply add a little fun and flair to a plain outfit.
You can even indulge your Outlander fantasy without anyone realizing, all at the same time – a definite advantage! Add a little talking point to your look and stay warm while hanging around waiting for photographs.
This stunning lambswool stole is probably the softest thing you will ever touch in your entire life, and so it makes sense not only to touch it but to wrap the whole thing around you like a cocoon and pretend it's part of your outfit. The best part? It looks incredible!
Created in Scotland for true authenticity, and made from 100% premium lambswool, you can guarantee you will be the one staying warm while everyone else shivers.
The range of Outlander tartans means that you can pick the pattern which best suits your preferred style. Best of all, this is perfect if you need a quick nap on the go – just be careful you don't get caught stroking it too often; this may raise concerns from jealous onlookers.
Have fun with any of these Outlander products.  Indulge yourself and express your inner Outlander character in one of these stunning outfits.