Fall is such an inspiring time for getting warm and cozy. And it is just behind the corner, waiting for us to warm welcome it. As one of the most favorite season for many people, fall has so much to offer for joyful and fun-filled days. The earth-tones shades that paint the environment around us wake up the creativity in many people. That is why fall is considered to be one of the most inspiring seasons for DIY crafts. If you enjoy exploring nature getting gold as autumn days go by, but you are not a big fan of colder weather, don't worry. You don't even need to leave the luxury of your home and garden to enjoy the fall beauty. You can bring it in your backyard with this adorable and easy DIY fall decor ideas.
DIY Front Porch Fall Decor Ideas
You can start by arranging your front porch. You will be glad to present your neighborhood the creativeness you own in making your garden look like a real fall fairytale. With a small search on the Internet, you can find thousands of fall decorating ideas that you can draw inspiration from. In this article, we are going to inspire you with some easy DIY fall decor ideas that we are sure you will simply adore. They are all incredibly simple to make, they are super cute and so "fall". Once you glance at the ideas , you would definitely want to see them all as your fall outdoor décor.
The cold weather may not be the best to spend breakfast or lunch in the garden, but the rare sunny moments during the fall day are definitely perfect for a coffee break in the garden. And there is nothing you would enjoy more than feeling the fall spirit all around you. So, get inspired to transform your front porch into a paradise enering  porch. You can find even more front porch fall decor ideas here.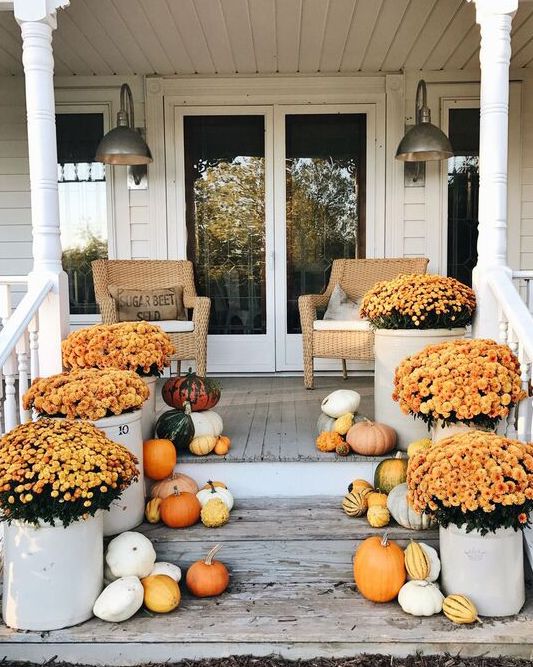 source
Are you decorating on a budget? Don't worry! You can always snag some leaves, pine cones, pumpkins, or branches from a backyard tree and transform them into an eye-catching fall outdoor decor. All you need to do is to wake up your creativity. Most of these DIY fall decorating ideas on a budget won't require you any special DIY skills. Just your ability to transform some materials you already have at home (and you believed you won't use ever again) into magical fall decorations. You wil enjoy, you will see.
DIY Fall Front Door Wreaths
First, you can start with some small details that can make a major impact. What do you think about a fall front door wreath? Christmas wreath is known as one of the biggest decorations for the holiday, and according to that logic, people always try to make some variation of it for any season. That is why you can found so many different types of front door wreaths for any season from spring to winter. For fall, they are all typically colored in orange, dark yellow, or burgundy. Decorated with small pumpkins, gold-colored leaves, sunflowers… fall wreath have something magical in them. You won't be wrong with dressing up your front door with any of them as they can make your boring outdoor look more stylish. Here are a few ideas that you can use as an inspiration when DIY your own front door fall wreath.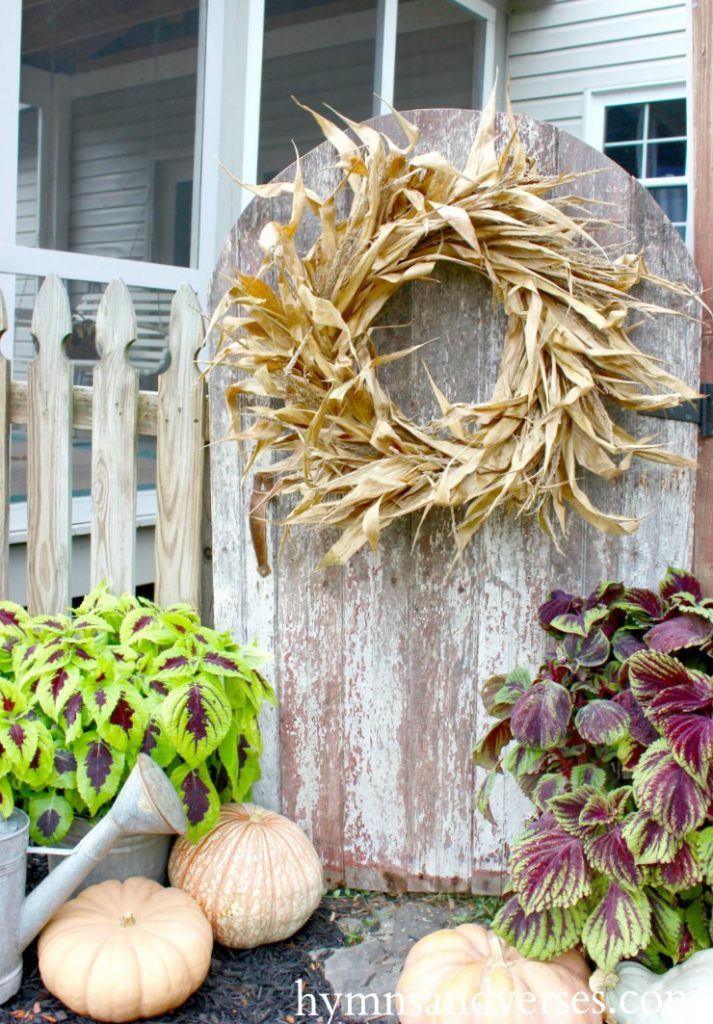 source
As we mentioned before, the most of the fall wreaths are made of matterials that you can collect during autumn. Some of them are small pumpkins, or sunflowers which are the most beautiful fall flowers ever exisitng. These simple fall wreath can be used as Thanksgiving Day decorations, so you will have to keep them well until then.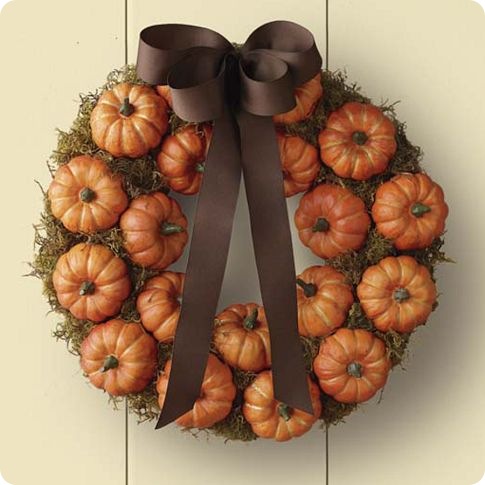 source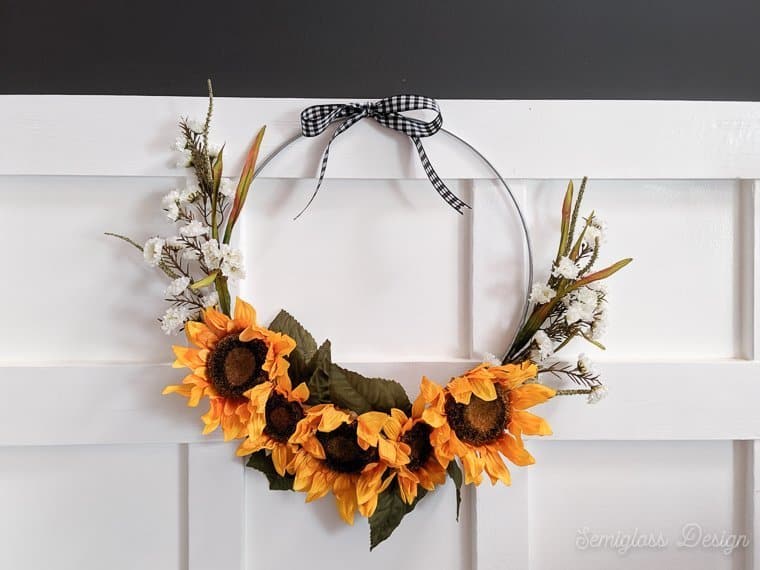 source
DIY Pumpkin Fall Outdoor Decor
Then, you can continue with some DIY pumpkins fall decor ideas. It is not a surprise that pumpkins make some of the best DIY decorations for autumn. There is nothing else that you relate fall with, more than pumpkins. And the best about this pumpkin fall decorations is that you can keep them and later use them as Halloween decorations for the holiday. If you enjoy thematic decorations you will definitely enjoy creating these pumpkin crafts. You can place them on your front porch as mentioned above.  You can also decorate your garden coffee table with a magnificent table centerpiece in vintage style and earth tones.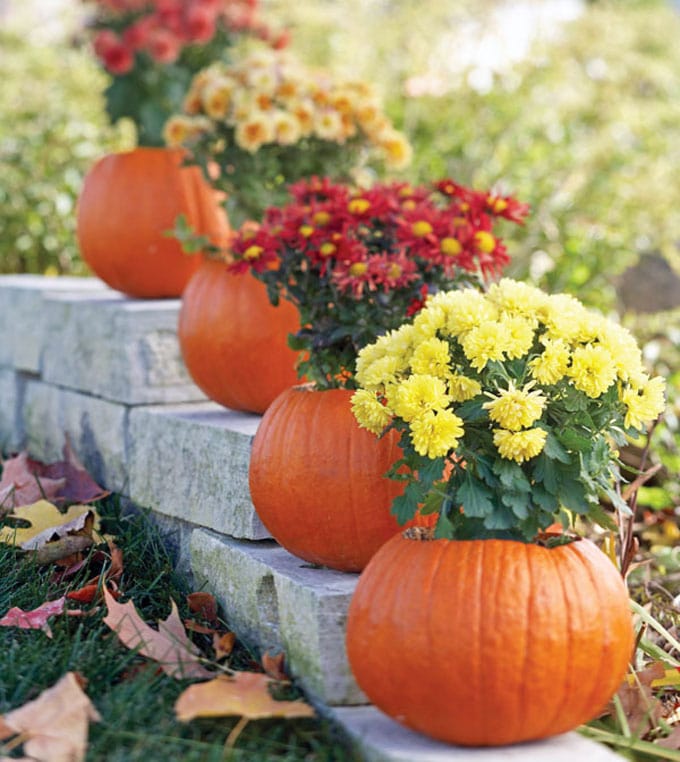 source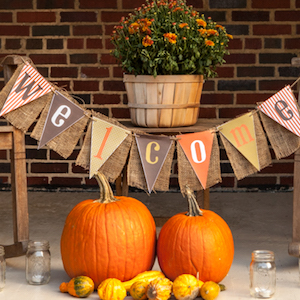 source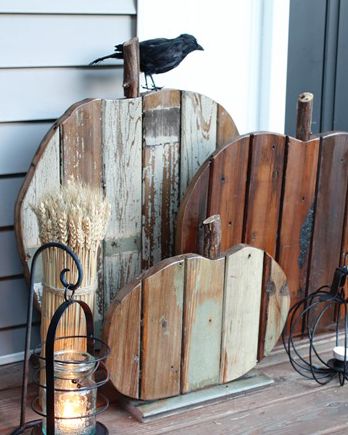 source
Once you get inspiration from the gallery above, we are sure you already have your favorite for the season. Are you in love with them all? Don't worry, these adorable DIY fall decorating ideas won't take you much time to make, so you can make them all. Or, at least the majority of them. Include the whole family in the making process and you will see happiness and joy all around you. Your kids will enjoy spending time in making something personal, and these DIY crafts for adults and kids will bring the whole family together around the same outdoor décor craft.