The Indian wedding, inspired by a legion of silver screen movies and larger-than-life marriage celebrations, has become a discipline in itself. The sartorial aspects of Indian weddings have been in constant flux, ranging from the distinct regional aesthetics from each part of the country to staple fashion choices including safas, bandhgalas, sherwanis, and mojris for men; and sarees, lehenga cholis, handcrafted jewellery, and Kolhapuris for women. The 2019 Indian wedding look for women, in particular, is delightfully diverse and deserves your attention today. Here are a few carefully curated ensembles for women – be they the bride herself or the bride's best friend – that are doing the rounds across wedding venues in India:
Sarees for Every Season
No matter which part of the country you are from, the saree—the quintessential item of women's fashion in India—enjoys a local presence, in a unique rendition, in almost every wedding. A designer saree worn with stunning jhumkis, an ornate haathphool, and hand painted juttis is a great choice any time of the year. For the hotter months, a sleeveless choli looks chic without rupturing tradition, while a pashmina shawl and full-sleeve blouse can accommodate almost any winter.
The Regal Lehenga Choli
Of all the Indian wedding dresses, none have enjoyed the exceptional popularity of the lehenga choli. A North Indian classic, the iconic lehenga choli is chosen as bridal attire across the length and breadth of the country today. The lehenga choli can be paired with palanquin earrings, colourful choodas, an elaborate raani haar, and a pair of printed silk mojris. A diaphanous organza cape and a glasswork-adorned potli bag can complete the attire with a note of moxie.
Irresistible Kurta Sets for Connoisseurs
In recent years, the humble kurta set, which was worn by innumerable women around the country, has started making a comeback in Indian weddings. The kurta set is the perfect amalgamation of style and comfort and allows a plethora of embellishment options for the fashion connoisseur. Any kurta set can be bedecked with pearl drop earrings, an intricate choker necklace, and leather ballet flats. Donning a kurta set is ideal at a wedding where you have to be constantly on your feet, posing for photographs and partaking in the grand celebrations.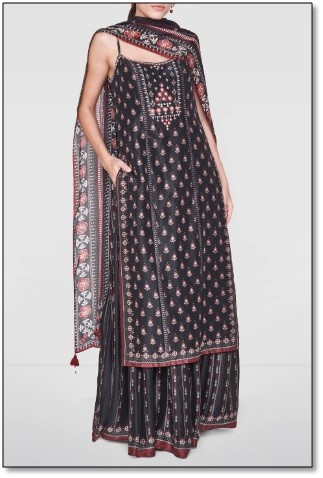 Kaftans and Dresses for the Unconventional
While dress codes may appear to be fixed for the traditional Indian wedding, these events aren't out of bounds for the experimental fashionista. You may wish to turn up in something a little unconventional to stand out in the crowd. A sultry kaftan or a spectacular dress set is certain to turn heads and start conversations. Each of these can be paired with shaka pola bangles, variegated bead necklaces, and bold gladiator sandals. Introduce a clutch or a pendant for added personality and you have a wedding attire of striking distinction.