Investing in a good quality lawn mower will not only result in a beautiful lawn but also can be used for a long period of time. 
Everybody wants a lawn that looks like a lush green carpet strewn across your backyard with flower pots accenting its beauty. The secret? Regular care and good quality lawnmower.
If you are a beginner at lawn mowing and you have no idea as to what type of mower you should purchase, below are some of the factors you can take into consideration when shopping for one.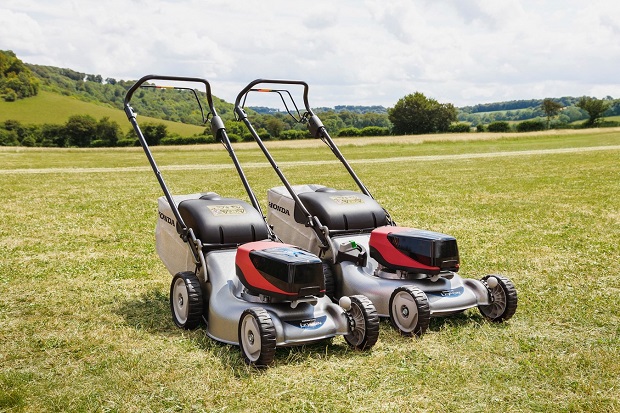 When you're looking for a lawnmower, pick the one which will have the engine size and capacity to handle the cutting of tall and wet grasses, leaf mulching, and bagging. Typically, walk-behind mowers have engines ranging from 140cc – 190cc.
There are different types and styles of engines in lawnmowers such as side valve engines, engines with overhead or direct overhead valves. Overhead valve engines have better fuel consumption and are a lot quieter, however, it is a bit heavy on the wallet.
One such lawn mower is the Honda hrx217k5vka. It is called a performance lawnmower and is one of the most reliable and dependable mowers available. It has several features and works best even in wet conditions, suitable for all types of terrain, and is powered by gas, which means it's cordless. It is costly so if you have a small patch of grass, this model is not recommended for you. But if you have a larger area of grass, you can consider purchasing this one because even though the price is a bit high, good quality cannot be compromised.
Before purchasing a lawnmower, you need to make sure whether the features of the mower, like oil and air filters, spark plugs, etc., are easily replaceable and readily available.
No matter the type of mower you're going to buy, whether it is a walk-behind mower or a mower that you can ride on, you need to make sure they can be used with ease. You'll be using the mower for years to come, therefore, making sure it works comfortably for you, is a key issue to be considered when purchasing one.
If you have a small lawn, then it may be a good idea to go cordless and get electric lawnmowers. These runs on battery, are much quieter and require less maintenance than the ones with cord. It also doesn't depend on gas or oil to run and can start up only with a click of a button.
Many manufacturers are creating cordless mowers now that lithium-ion battery technology has improved and became popular. So, there'll be a lot of electric mowers for you to choose from. As for the price, it is more or less in the same range as the gas-powered ones and also includes the same features.
Type of Terrain & Yard Size
You need to consider the conditions of your lawn before purchasing a mower. If you have a flat terrain and/or a small yard, a push mower would be perfect. The reason being, push mowers are lighter without the extra power to the wheels, less mechanical parts to maintain, easy to maneuver, and also easy on the wallet. A small patio seating area can be built on flat terrains, if you prefer relaxing with nature and the lawn you worked so hard to make it look perfect, topped off with various purple flowers (which are in season) around.
However, if you have a big and bumpy lawn, a self-propelled mower would be a good choice. This comes in front-wheel drive, rear-wheel drive, and all-wheel drive mowers.
The front-wheel-drive is good to pull the mower along but it loses its traction on hilly slopes. You then need to pull down on the handles which render the front-wheel-drive mower useless or less effective due to the weight of the bag pulling backward.
The rear-wheel drives are a good option for hilly areas and it also works great with bags.
All-wheel drives are required only for those yards which are mainly hilly and sloping terrains.
Get a Good Mulcher Blade and/or Versatile Bag
If you want to mulch your grass, make sure you have special mulching blades made of aluminum or anything that will make sure there's no grass buildup on the underside. However, you also have the option to bag your grass if you don't want to mulch it, but make sure the bag is easily removable and installed without any hassles. You can also get a mower that has both the features, mulching, and bagging, installed.
Imagine having to start your mower engine and then keep stopping at intervals because you came across a toy, sticks, or stones and have to remove it out of the way. It's a hassle. So look for mowers that have a blade brake clutch installed that'll stop the blades from working but will keep the engine running. Of course, it'll require extra dollars for this feature to be included.
If you have trees on your lawn, it's a good idea to get a mower that already has a bumper or you can add a bumper by buying it separately. This is just to make sure the tree and your machine do not get affected when and if there is a collision.
Lawn tractors are perfect for huge areas and each one of them has different features. However, even though they run on big engines, their speed is quite slow and is good for hauling snow blades or a cart.
These tractor engines have traditional carburetors but some have Electronic Fuel Injection (EFI) that increases fuel efficiency by about 25%.
They also come with features that allow you to mow lawns in reverse positions. However, the button has to be pressed down the entire time while reverse-mowing is done. Another method is by using a key to reverse the mower and then repositioning it to move forward.
Whatever type of mower you decide to buy, make sure it suits the conditions of the lawn and your walking speed for more flexibility. If you're buying a tractor or a ride-on mower, ensure whether it is comfortable to ride on it.
Buying a high-end mower may give you the best quality and also a longer warranty. Even if they are a bit pricey than the low-end mowers, they also include good quality components, long-lasting composite or aluminum decks, and top-notch engines. You may even get to save money as they may need fewer maintenance and repairs. Another thing you can do is check for reviews online about the lawnmower you want to purchase which may help you make an informed decision.