Flowers add so much to the decor of a wedding. You can use flowers as an accent or the main focal point. Let's take a look.
Flower Chandelier
Flower chandeliers are absolutely gorgeous. They add a romantic feel to the room. These arrangements can be done a few ways and can be used a few ways, as well.
First, they can be added around a traditional chandelier to add a bit of elegance. These can be used as the focal point of the room by using a large flower chandelier. If the center of the room has a traditional chandelier that doesn't need anything added to it, you can hang these above all of the tables. Think a center piece that hangs from the ceiling.
As far as the actual arrangement, you can choose to make rings of the same color and type of flowers. You can mix and match flowers and colors together. If you want a sleek elegant look, stick with an all white arrangement.
Flower Backdrop
The backdrop of a wedding can be a bit tricky. If you are on a cliff overlooking the ocean, no problem, but if you aren't don't worry. This is a beautiful option.
Choose the color you want the backdrop to be. If the bride is wearing a white dress, be careful of choosing a wall of white flowers. You don't want the bride lost in the photos. This is a good time to really work the colors of the wedding.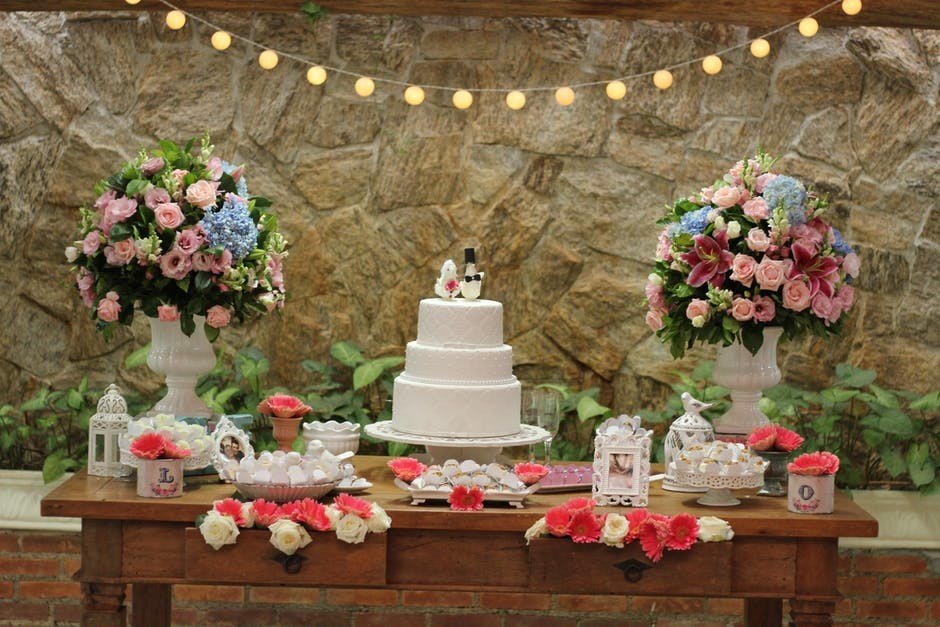 Another take on this is to make a wall of greens and put the first initial of your last name in an accent of colored flowers.
This backdrop doesn't have to be a solid wall. You can string flowers from a clear string (like fishing line) to give them a floating appearance.
Floating Flowers
This is done the same way as the floating backdrop, but this can be done anywhere. You can string the flowers from the ceiling over tables or line them down the aisle.
Hanging Wreaths of Flowers
Wreaths don't have to be hung on the door anymore. Hang these over the tables in the reception to add drama to the room. These are perfect for a rustic wedding. You can choose solid green or solid white or bright, bold colors.
Every wedding needs flowers, but yours doesn't have to be the same, overdone look that you've seen before. Don't be afraid to use flowers from the ceiling to the floor. Also, they don't have to be limited to a vase. Thing outside the vase.