Getting the perfect wedding dress for your special day can be such a bit hectic, and this is common for all brides. You will go through various stores and many online sites before you get what really appeals to you. Each dress is, of course, beautiful, but a queen has her own designated gown.
Now, as a plus size woman, you may want a dress that will accentuate your figure, show all the right curves in the right places without you feeling uncomfortable in any way. It's your big day, and you don't want nagging thoughts at the back of your mind about what could be out of place with the dress. There are a lot of dresses out there designed for plus size brides to be, all you need to do is know the best one for your figure, so we'll take you through three of our absolute favorites, for your picking.

1. Wedding dresses with a dropped waist.
The drop waist trend became famous in the 1920s, and their main appeal is how they accentuate your body shape and bring out your body's curves, from the shoulder right to the hip, but also do not keep all the eyes on your shape, since they transition into fullness at the hip, or even sometimes lower, like at the knee. This dress will perfectly bring out your bosom thanks to the top corset shape, waist and hips, then let free lower than the waist, which makes it a stunning yet unique type of gown.
2. Trumpet wedding gowns.

A trumpet wedding gown is slightly similar to the mermaid gown, and a bit to the dropped waist wedding dresses too, in terms of its outline. The difference that makes the trumpet wedding gown stand out, is the flare. It hugs your body right from shoulder to hip, then softly flares out from your mid-thigh to your feet. It is just a continuation of the dress, just a bit more flow-y, and devoid of elaborate ruffles. Its purpose, just like that of the dropped waist wedding gown, is to bring out your curves, whilst still maintaining the wedding dress style.
3. A-line wedding dresses.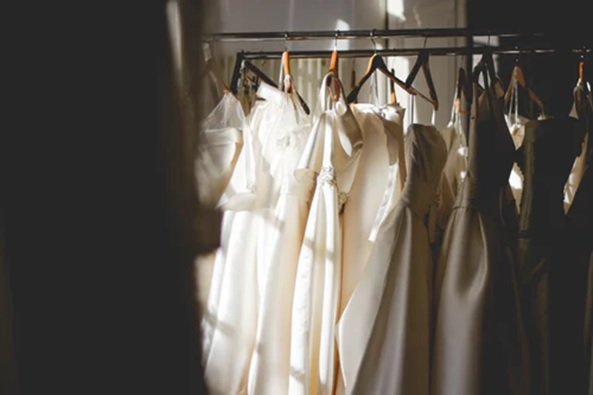 The a-line wedding gown got its name thanks to its skirt, which flares out to form a silhouette shape similar to the letter capital A'. Now, the a-line is really perfect for any body size, from slender to plus size, and you can get this gorgeous gown and more dresses at madamebridal.com. The flare usually begins from under the bust, but is more elaborate at the natural waistline. It will show off your neck, shoulders, arms and bosom, meaning it gives focus to your upper body, whilst your lower body is covered in the fairytale gown. This is for brides who want more coverage, which is why it is common with plus sized brides who are looking to be a bit more discreet.
We have seen that the trick is getting a dress that more of compliments your figure, and understanding your body is key. Hopefully, this article has given you a bit more insight on wedding dresses for plus size women, and how to pick them.