Hey friends if you like to control the clutter in your home you will need some fresh ideas. We have found a few tips and hacks how to organize your closet and keep your home clutter free forever. Grab some new ideas how to organize your shoes, your clothes scarves and so on and so on. You do not have enough space in your closet, and because of that it always looks messy. No matter how big it is, it is never big enough for the needs of your wardrobe, and even shoes are an additional problem in this whole general situation. The organization of the closet should always be adapted to your needs, and the way of using it. Here we present you some useful things that your closed needs.
The Closet Can Be Organized In a Multiple Ways:
according to functionality (shirts, T-shirts, underwear, pants, skirts, coats ..)
according to categories (sports, formal, casual, work clothes)
by color (black, red, white, colorful ..)
by seasons (autumn-winter clothes, spring-summer clothes).
If you have decided to organize by category, a convenient and simple trick would be to provide hangers in different colors (eg red for casual wear, yellow for sportswear, blue for workwear, black for formal wear). This way you will facilitate the organization and functionality of your closet especially if it is really a small closet. As for the underwear, it is recommended to place it completely on a shelf or in a drawer so that it would not interfere and would not cause additional clutter, while the shirts and jackets should be neatly stored on hangers.
Useful Things That Your Closet Needs
The clothes you do not wear often, set it on the top shelves, and in the middle the clothes you usually wear. Use the high shelves in such a way that you can place in deep boxes the seasonal clothes, clothes that you rarely wear, etc. Do not forget to put lavender bags against moths in the box. You can also use the top shelves to store your shoes that you rarely wear. One of the main rules for a tidy closet is not to be overcrowded. For that purpose, at least once a year, do a "big cleanup" and get rid of all the things that you have not worn even once that year, be it big or too tight things. You've probably never thought about it, but vertical storing clothes requires less space than horizontal. By the way, the same method helps not to disturb the order in the pile by pulling out one thing.
Below you can find some extraordinary useful things that might help you for better organization of the closet.
1.A bookcase disguised as custom built-in shoe shelves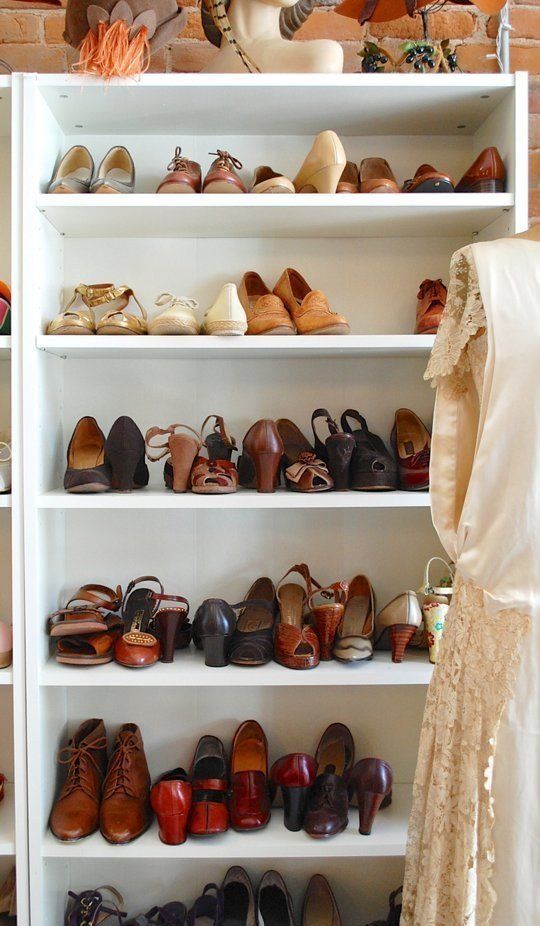 source
2.Non-slip flocked hangers to keep all of your tank tops in check.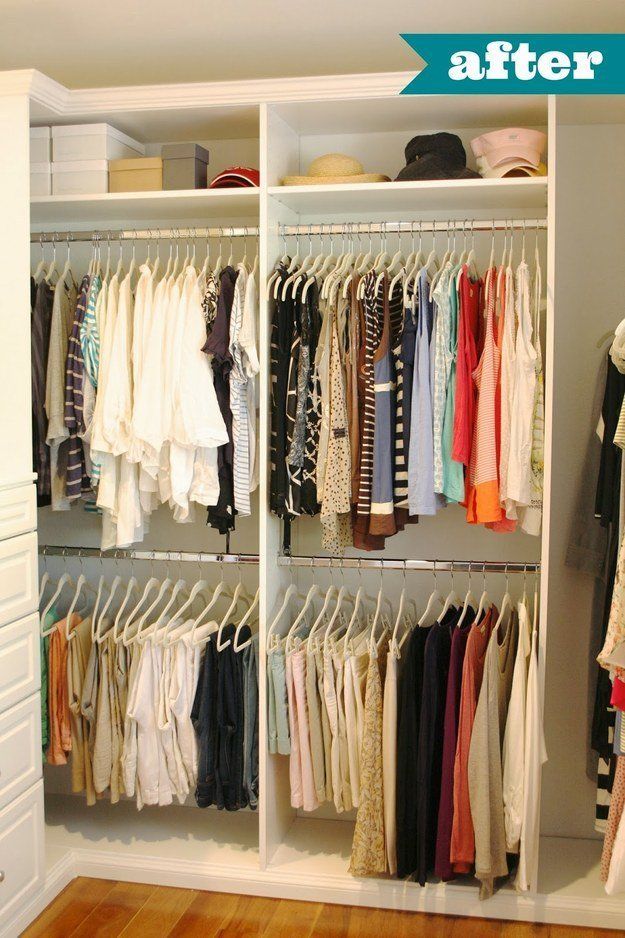 source
3.Pool noodles covered in fabric that will keep your boots standing straight.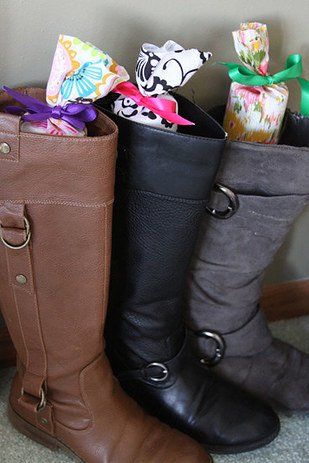 source
4.A circular belt hanger can keep all your belts in order and accessible — without the danger of all of them falling off when you go to pick out one belt.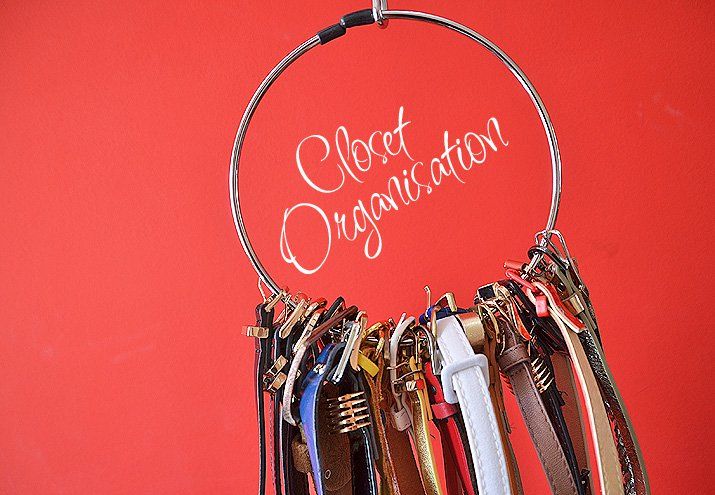 source
5.Valet hooks can also disguise themselves as rod space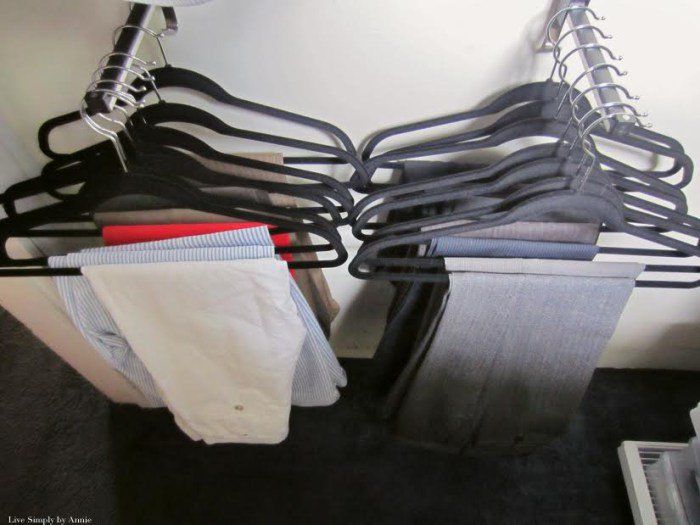 source
6.If you have lots of tights, a row of clothespins can make them easy to find (and put away).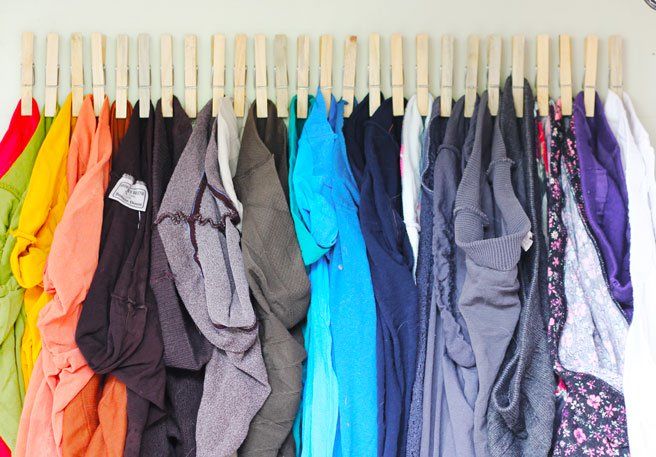 source
7. Condiment trays from the dollar store make great drawer dividers.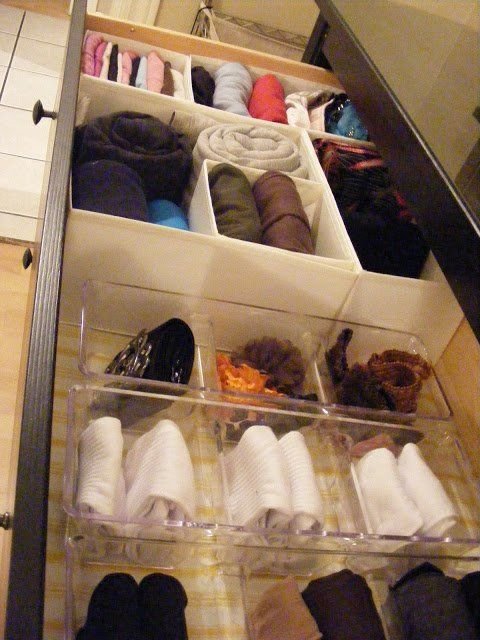 source
8.A magazine rack can make the back of your door do double duty.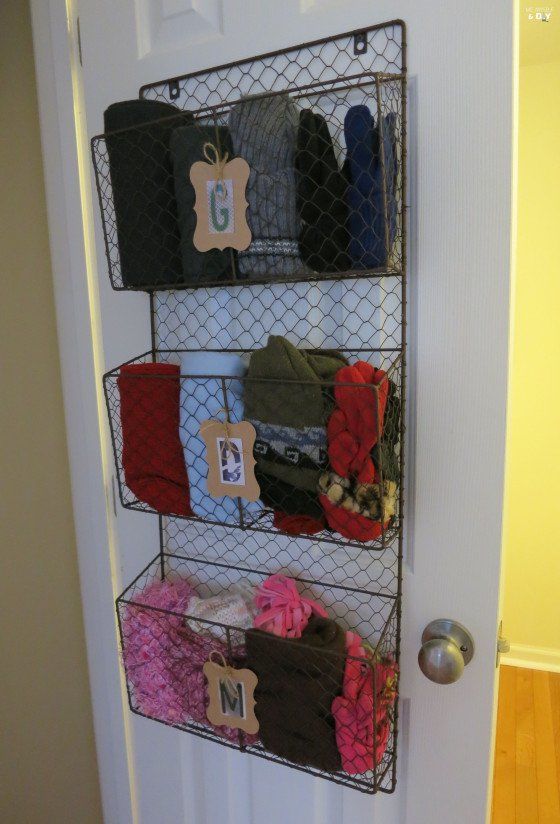 source
9.And if you have shelf space, paper towel holders make good bracelet and belt organizers, and magazine file boxes can keep small leather goods in order.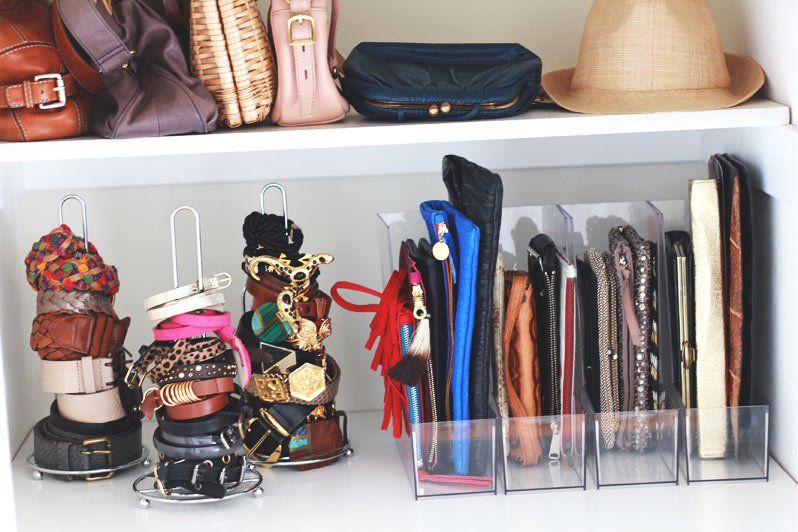 source