Thanks to the media and the celebrities, there is a very quick change of the nails trends. The fashion bloggers immediately accept the new fashionable appearances, and spread the novelties all around the world. That way the marble nails have appeared and became an ultimate trend that every fashion girl just adores.
The fall season is almost here. In this context, it's high time to replace the fruit manicure with some well-thought-out designs that are absolutely ideal for welcoming autumn 2022! Autumn leaves, cute pumpkins and animal print are hit this autumn 2022! Colorful tree leaves, animal print, trendy tartan, as well as a few playful and themed patterns, such as elegant mini umbrellas, feathers, pumpkins or even little black cats for a look worthy of Halloween … basically, all extravagance is allowed to welcome the autumn season ! As we've told you many times before, some trends in nail art come and go very quickly!
And this is exactly the case with the marble nail art, which is making a comeback. A manicure trend that has been active on social networks for several seasons, will once again beautify all hands. With that in mind, today we review the trend and learn how to make marble nails, like a true nail pro. Realization technique and a few inspirations you can find below in the pictures.
Marble Nails- Biggest Trend This Autumn 2022
The marble effect is so cute and fun, but at the same time very fashionable and sophisticated. But, what is more interesting, the effect can be gained at your homes. Yes girls, with some more patience and a bit of skill you can make a beautiful and fantastic marble nails бѕ ѕоурселф. See the eight tutorials and try it on. Of course, you can decorate them additionally as you wish. If you want to make a French manicure using this technique, you only need to put the tape over the surface of the nails to the part where you want your "water marble" to be visible.
It may seem complicated, but the only thing that can cause a problem is, if you don't have varnishes that are easily diluted in water. Everything else makes this kind of painting more than simple. In addition, with a little practice, you will be able to create such a design in less than ten minutes. In this article, I also bring you a few tricks that you may not have known about in order to make this kind of manicure as easy as possible. To begin with, I would just like to mention that I have tried several ways of making a marble manicure. The following ones, which I will present to you in this article, I consider to be the simplest and most economical. Some girls use a lot more nail polish when doing a marble manicure, but I think you can get great results with a smaller amount.
1.Kintsugi Nails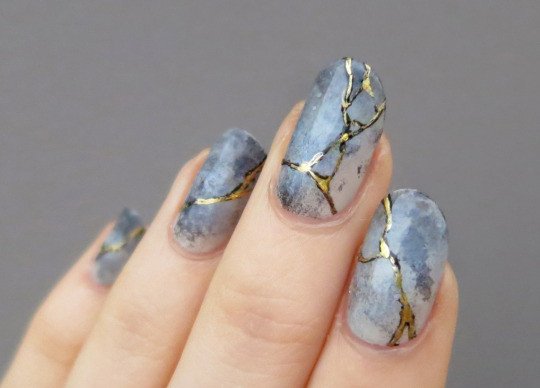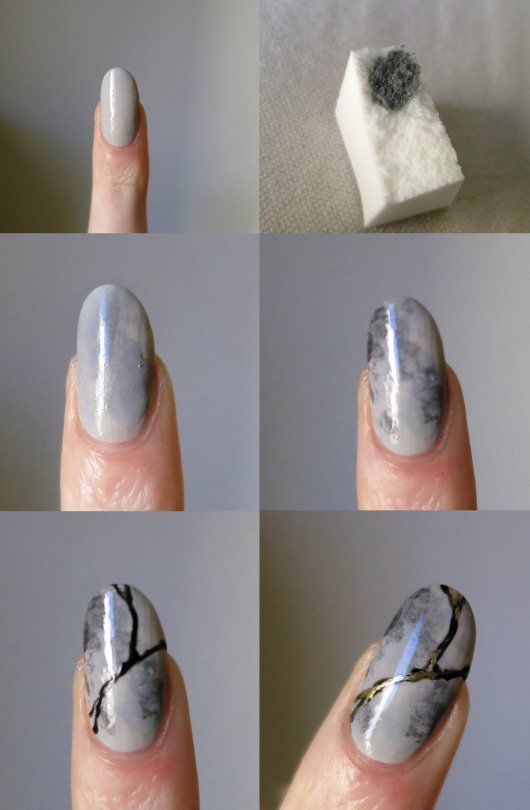 2. Turquoise Marble Nails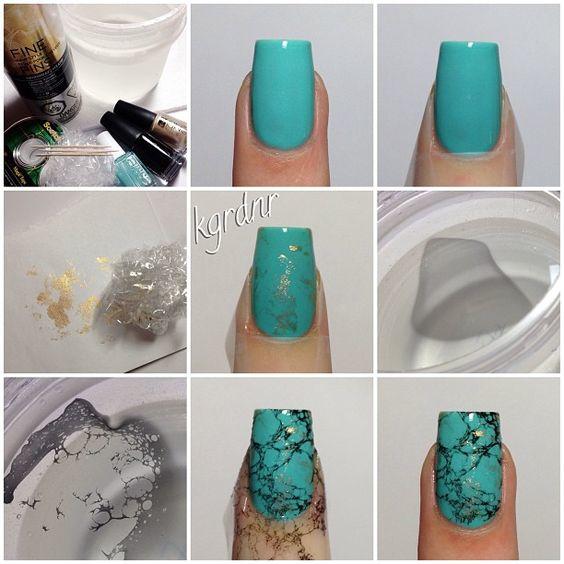 3. Waterless Water Marble
4. White Marble Nails

5. Subtle Marble Nails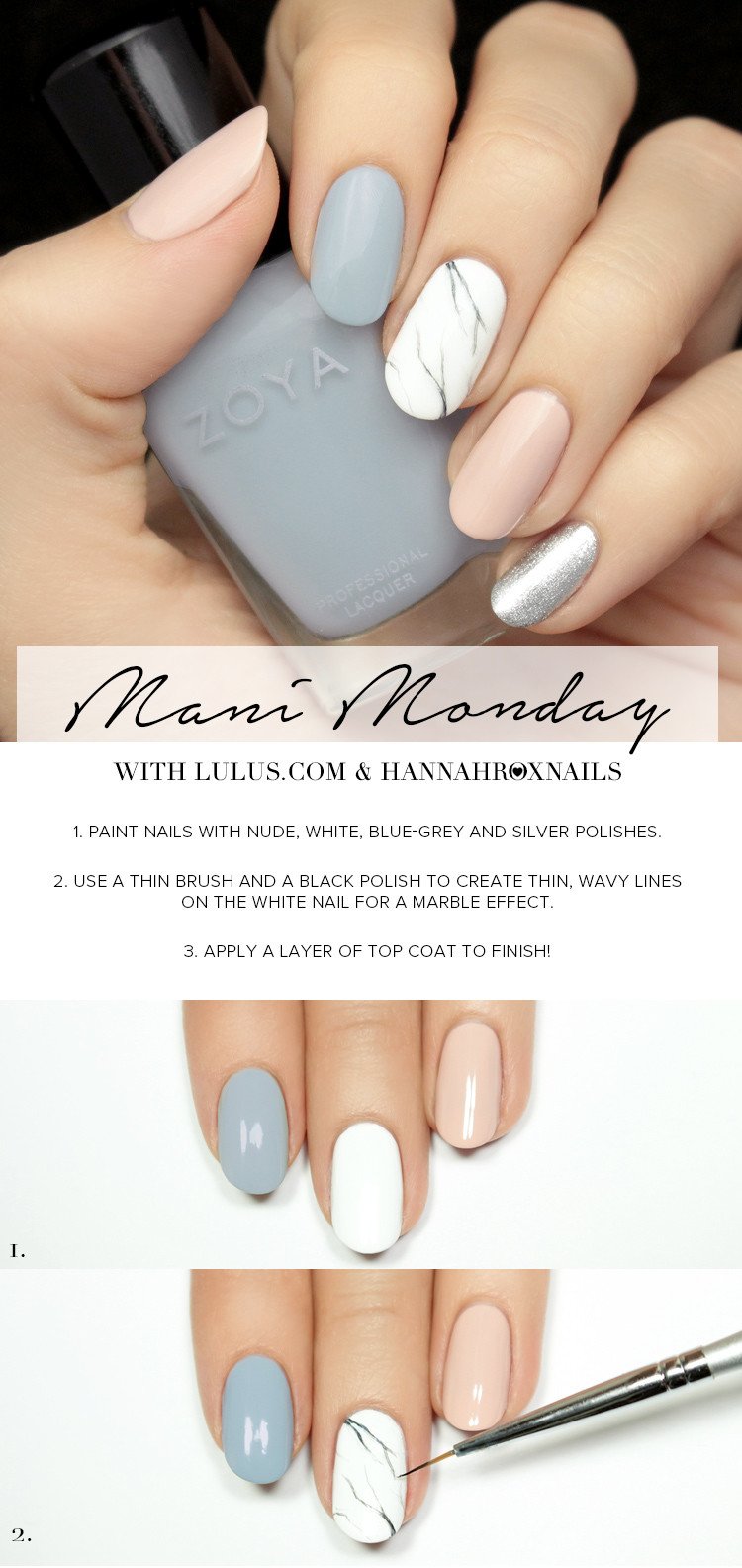 source
6. Splatter Nails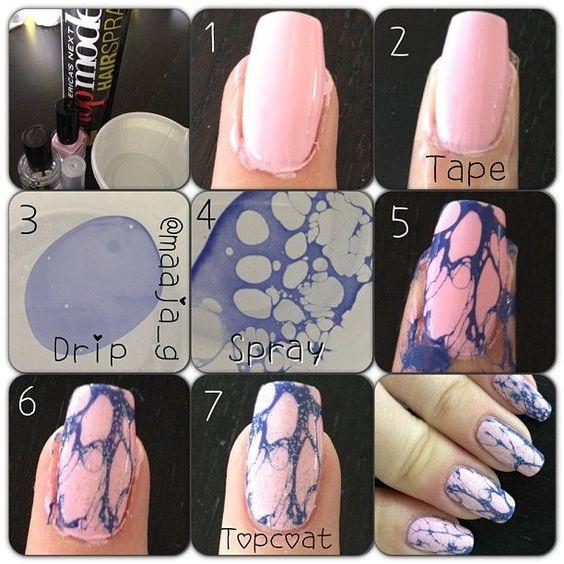 7. Marble Nail Art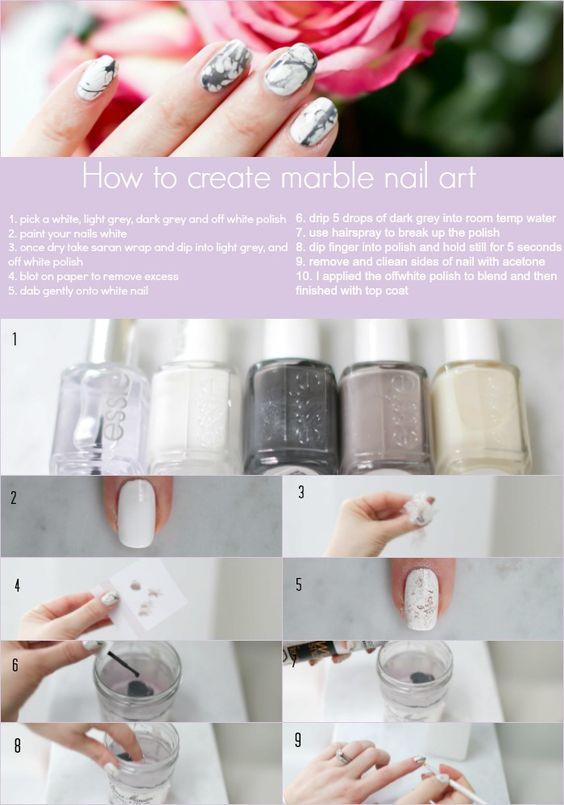 8. Rose Gold Marble Nails