The kitchen is an area of your home that gets used more often than most other areas. So it stands to reason that, if your kitchen were more organized and simple to use, your life would feel easier. In the kitchen you need all the space you can get. Especially, if you have a tiny kitchen, you know that counter space comes at a premium. A well-organized kitchen is the essential for your every day life, not just because it will make it look more spacious and beautiful, but also because it  will help you cook as efficiently as possible and waste less food. Bellow are some smart and affordable ways to organizing the kitchen.
You always need more space in the kitchen, and no matter how big a kitchen you have, extra space and good use of space is important. If you need an idea how to better use and organize the space in the kitchen, we bring you some ideas. The optimal organization of the kitchen space for families with children depends on the age of the child and the daily needs of the family. The goal is very simple – to achieve a space where cooking and the presence of a child are not mutually exclusive.
Clever Ways For Organizing The Kitchen
Everyone who spends time in the kitchen will agree that their favorite room of the house could always use a few more shelves or drawers, regardless of whether it is a large or small kitchen. Luckily, you don't necessarily need a bigger kitchen, just a few clever organizers.
Kitchens, especially small ones, can quickly become a chaotic place when cooking or preparing food. In order to make meal preparation a pleasure, good organization is of key importance. Not only will you be faster, but everything will be organized and tidy. Thus you will also speed up the process of daily cleaning. Smart and strategic organizing the kitchen, will give you space you didn't even know you had, but also an organized, functional and neat kitchen. How to make the most of every centimeter of unused space in the kitchen, find out below.
Find a place for everything and enjoy your kitchen again.  Take advantage of vertical wall space with open shelves that extend to the ceiling. Or, just use pullout hoses in your kitchen sink  just to bring a little order in it. The cups and saucers are giving you a headache? Not anymore. Now, you can place cup over saucer, in tidy stacks of no more than three or four, and your kitchen cabinet will  look better in the same moment you do it.  Or you can make a sliver of space beside the range more functional for storing your favorite flavoring ingredients. Add a pullout rack inside the door for spices. Get more ideas about organizing your kitchen from the gallery we prepared for you. Your kitchen will never look messy  again. And you will be thankful to us.
1.Gather Loose Lids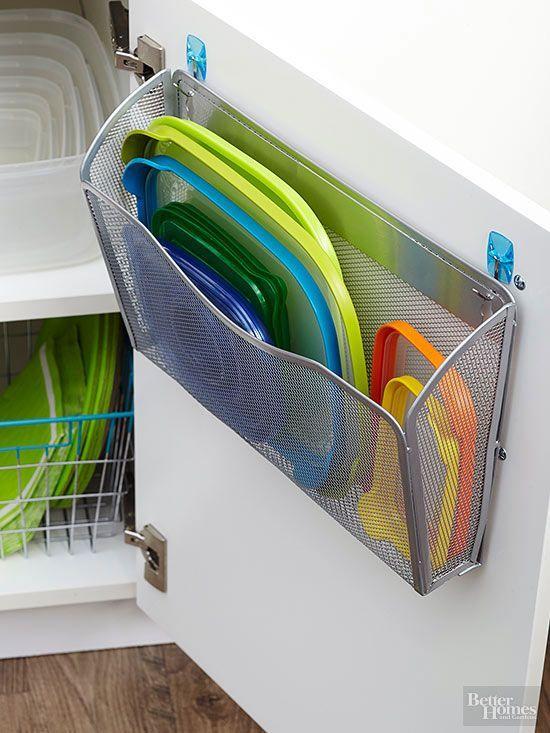 source
2.DIY Refrigerator sliding drawer

 source
3.Store things on the fridge wall
 source
4.Plastic Bag Holder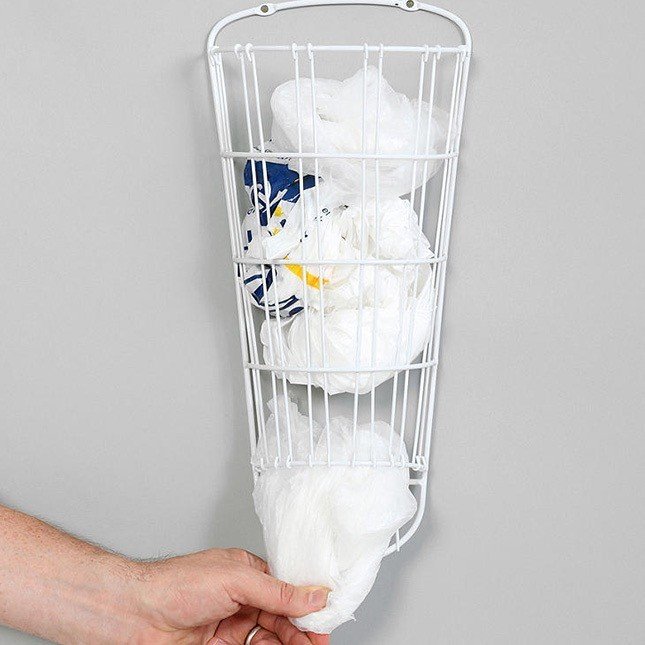 source
5.Wall Grid System
 source
6.This roll-up drain rack is handy for small space living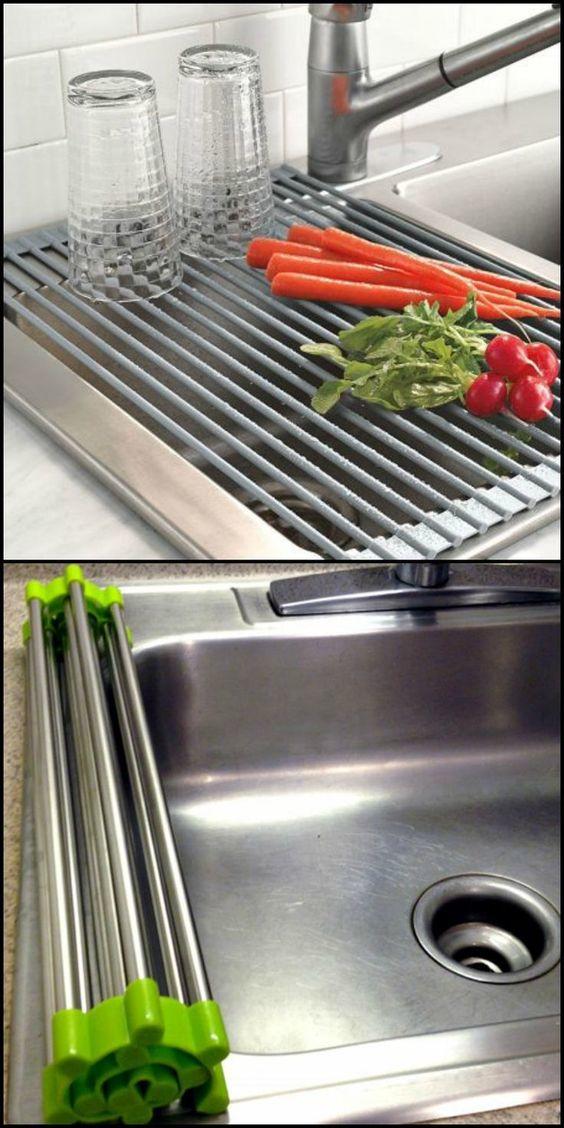 source
7.itchen Cabinet Hanging Rubbish Bag Holder Garbage Storage Rack Cupboard

 source
8.Over-The-Cabinet Basket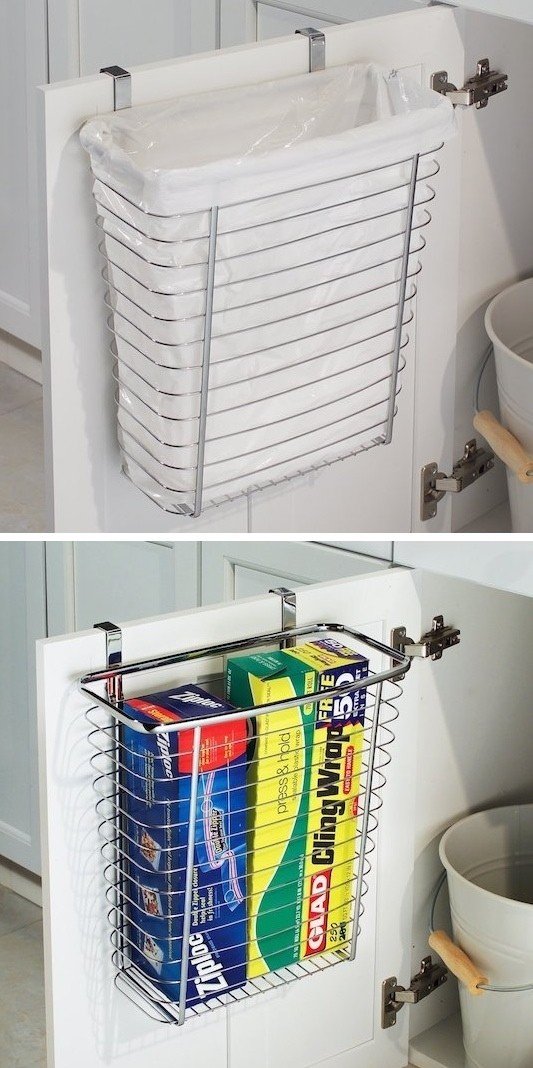 source
9.Glue magnets to the bottom of containers and stick them to the walls of a fridge
 source
10.Make your own spice rack to save the kitchen space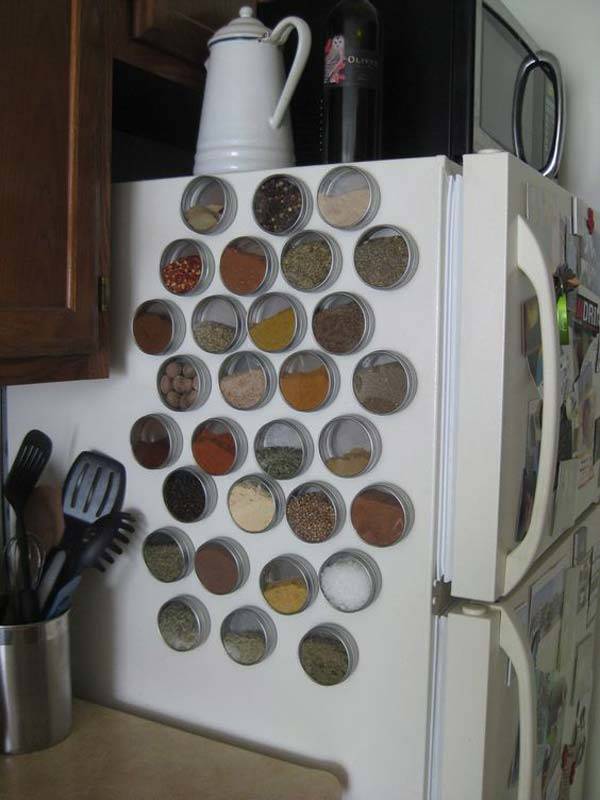 source